OMG I was so confused. Spinelli just POPPED UP random in Sonny's living room..it was WEIRD. Then he meets Jason. Sam was bitchy to Jason, all crying and crabby... something is up. She says she's coming down with something, needs sleep. He's like WELP! Take a nap, I'm leaving! ahahha. He left her with the baby after that? AHAHA.
Jason goes to meet Spinelli and they try to find out who the package delivery guy was. They track him down by the license plate. Jason knows it's the GOON Guy from Cassadine Island. (later we see the same guy skulking around Jake at GH)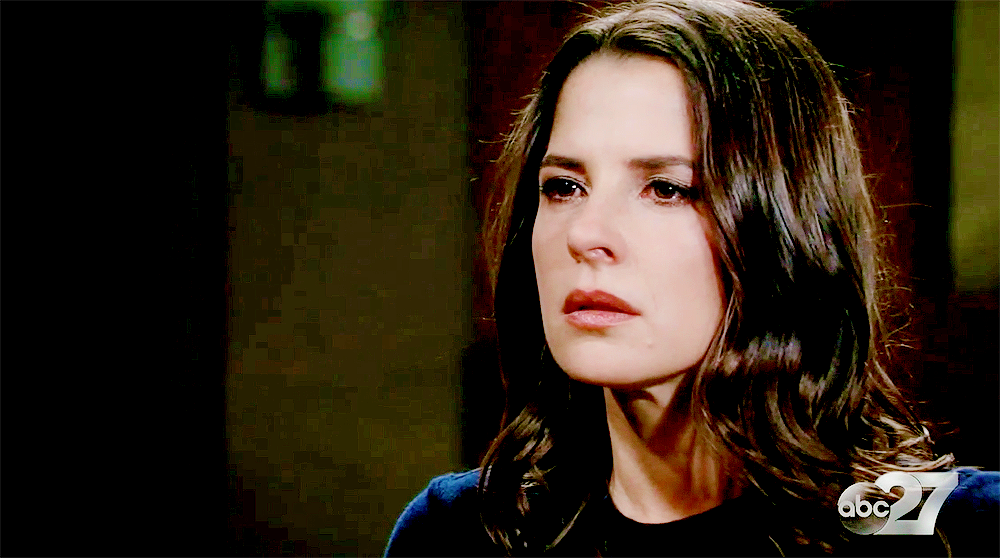 Liz stops by Sam's after seeing Maddox. She talks about the receipt that Jake showed her--and Sam gets all wonky. She hears voices "you'll never be safe"...then she "sees" Liz point a gun at her.
Geesh. @@ She realizes she's seeing things. Liz leaves. Sam naps and wakes up thinking someone is in there with her. The baby monitor has crying on it. She runs upstairs.
Anna tries to get Lulu to show Charlotte Valentin's goodbye video. Lulu's pissed. Says No. Anna pleads with her. Lulu says No. Then Nina stops by (with something for Charlotte) and overhears it all. Nina and Anna talk alone ...and it's very weird.
Charlotte comes back from Camp with a Lila's Kid's TSHIRT ON!! awww.
Nina says a great goodbye to her..very touching. Lulu sees it and realizes she should let Charlotte listen to her Papa's goodbye.
CarSon crap ..OMG it's the same old JUNK!! They could take an extended vacation. They contributed NOTHING to today's show.
REALLY great therapy scene with Maddox and Jake. Great acting on both parts and good dialog too. Should have been 10 months ago.
Amy was on ..talking about her BLOG. Nate tells her go get someone else to help her.