Tracy might meet with Larry...she tells Ned. Then she goes to his hotel room. Larry tells her about Turkey. The country. He went to an auction house there and there was a painting there, that actually it belonged to JL Holt aka "Your Father". I guess Edward left for awhile in the 80's and bought this. The painting belongs to the Q family. Larry wants a finders' fee. She says she'll find it herself.
She goes to Ava, who happens to need money for Lucy.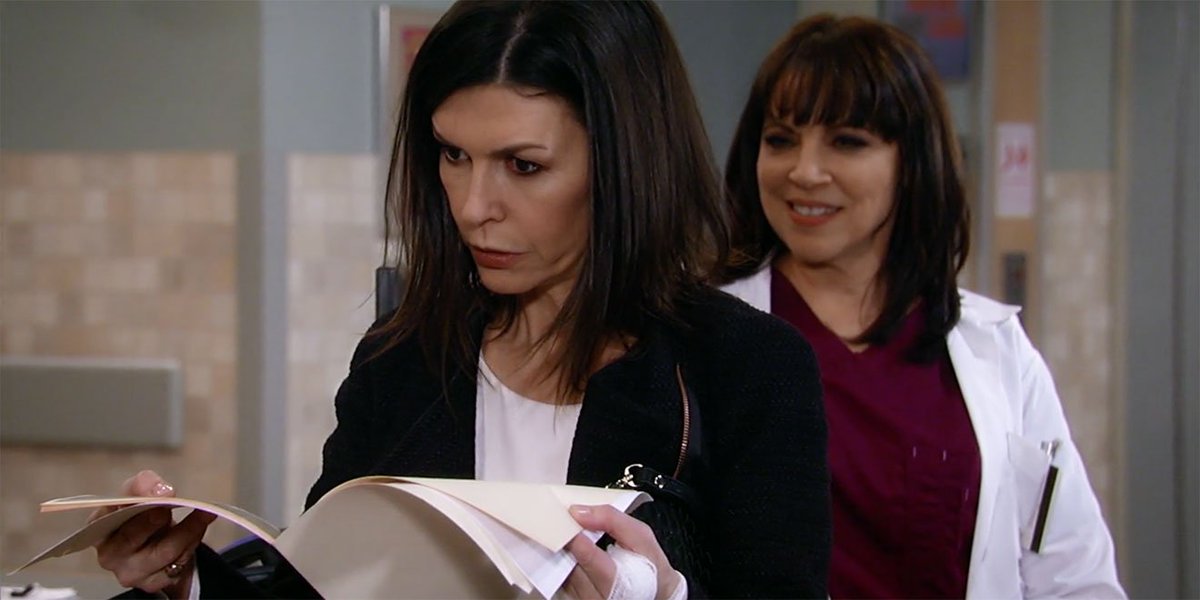 Dr. O has the file on Valentin for Anna. She goes to Dr. Maddox with it. Faison wrote an email... and I guess Valentin compromised a mission. He was a double agent and Anna turned over the information to the DVX, probably when she was a double agent.
Got it.
Do you care?
She's now tearfully telling Maddox about her double agent history. "Maybe they fooled both of us"!
She's probably Jason Bourne. You know, mind erased.
Big take away? Val said they slept together.
Alexis is hoping Juilan was coming...but it was the wind. She drinks. This is just unacceptable. UGH. REDUX!! Valentin comes to the door. He wants to check on Alexis as "family'. (For the Custody case basically) she tells him to get lost. He leaves. Knock at the door. It's "Julian" again! Alexis sees him all over..telling her to get rid of the bottle. He's a hallucination. Shocker.
Lucy is at CarSon's to tell them about the pills. AND GUESS who interrupts? AVA. Yep...she barges in and wants to talk about "Avery's School". AND Lucy caves when Ava offers her money for the charity.
YEP.
SO, Lucy tells them nothieng and LEAVES. Son of a bees wax---really? They'd better BURN those pills and NEVER EVER bring them up again! Seriously? You drag this crap up again, have Ava all breathless again, bring in Scotty AGAIN..and..and??????/
CarSon is the same old sheeze. Carly finally leaves. Sonny throws a glass. Whatever.
Ned and Olivia....Olivia wants Ned to adopt Leo. Ned loves him a lot-- but he wonders why Olivia won't marry him. "I do want to spend the rest of my life with you...but why bother getting married"??