Aw, such cute writers...acting like Liz and Hayden have some kind of relationship! When's the last time they talked??? Liz is all "don't be with him, he's an addict! I know my addicts"!! :eyeroll: See down below what happened....
Sam and Alexis blabbin about Julian. OMG I just realized I don't care about him or OJ.

Speaking of Olivia, she has Ava under a gun. Which is not the scenes I wanted for these 2. She makes Ava call Julian.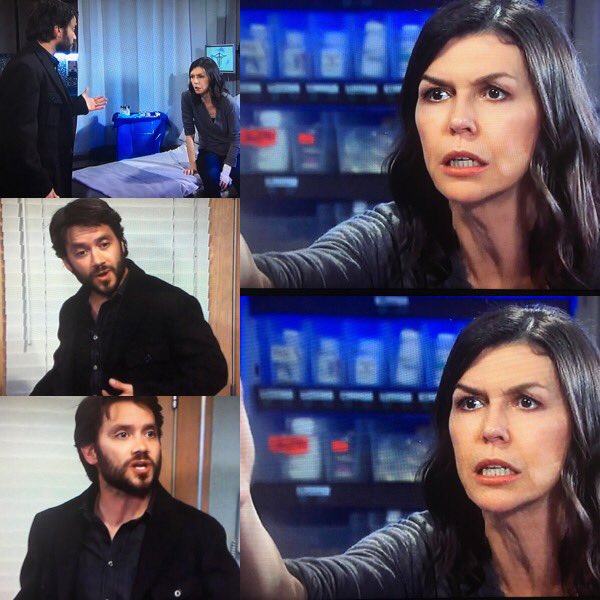 Anna figures out Olivia put Robin in the elevator because she flashed back to the olden days when she and Liv were in there together.
OMG OMG...LMAO ROBIN is attached to a BOMB in the elevator. I am NOT KIDDING YOU. Oh, and it wasn't Franco (Lulu, remember her?)
Anyway, she's on some pressure tile and if she leaves, it will go off. SO, Jason takes her place. He's such a hero. I actually for the FIRST TIME liked Billy Miller in those scenes. You know I don't think he's all that but right then, talking to Anna and Robin he was cute, charming and under pressure. Hmmmm. Okay.
The hospital is evacuating. SO, if Jason could just stand on it, roll a heavy box on it or something!! DERP.
Hayden and Finn managed to lock themselves into somewhere-- I don't know where they are, maybe the lab?
Griffin is staying with patient that can't leave.
Curtis goes in the elevator with Jason and they go up to the roof to meet the bomb squad.
SO Olivia tied up Ava, made Ava call Julian and then left. THEN SHE WENT AND KIDNAPPED ALEXIS. At the hospital. When Alexis was getting the car.
OMG. SO STUPID.