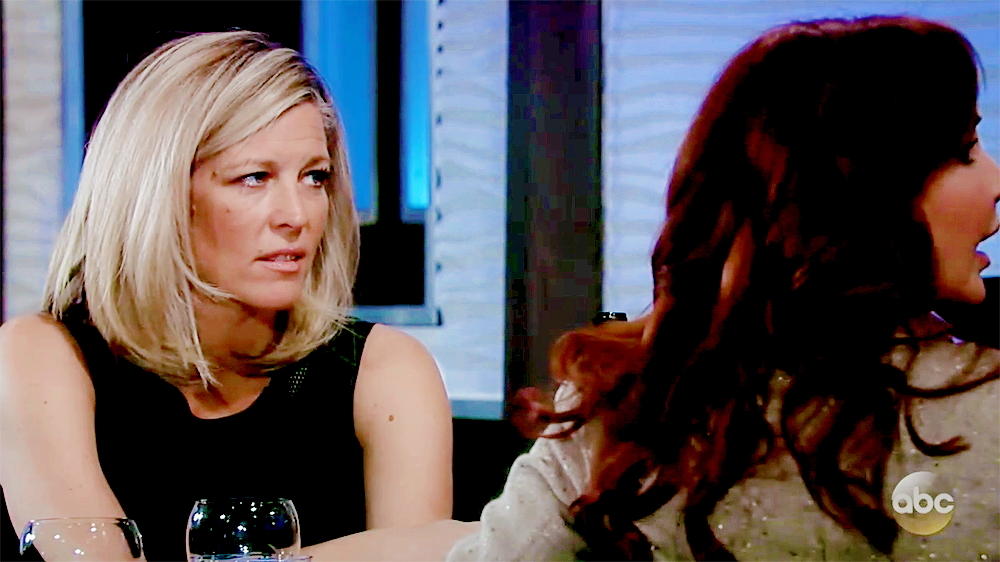 Carly hates Nell....
Nelle wants to work with Nina to be Charlotte's nanny. Which is a way to get her to stay on camera. After some back and forth, Nina says she has to get to know her better
Nina and she go to the Metro for lunch--yeah, THAT Metro where Carly and Bobbie are talking all about her. And Sonny. Summary.
Carly tells Nina not to hire Nell "it will be the worst mistake of your life" . Bobbie gets into it saying Nina can't pick a Nanny without Lulu's say so-- and that makes Nina hire Nell on the spot LOL
Anna and Val... Val is using his deep voice to tell Anna to stay out of the past. He starts stuttering. Won't tell her anything. They go into when she was a double agent. Val says she either blocked it out because she feels so bad--or she is lying to him. Anna ends up telling him she has cancer. He looks upset for a second. She begs him to tell her the secret. He won't (shocker)and she calls someone. No idea who-- oh, she called Dr. O for 'answers'. Hmmm, did Dr O work at the DVX?
Dante and Michael being all sad sacks, drinking coffee. Michael is summarizing what Sonny and Nelle did. Exposition. Zzzzzzzzzz
Tracy finds a syringe in Finn's room and thinks he's shooting up again
. F
inn says no it spilled on the carpet. He says he changed his mind to rehab. He starts laying into Tracy telling her she lives in her brother's wife's house, is lonely and has Daddy issues. Tracy throws a drink in his face. He apologizes and she says it's ok, most of it is true. She is alone.
Liz goes into Hayden's office. She explains that she went through it with Lucky. Later, when Tracy leaves Finn calls Hayden and says he needs her.