YOU KNOW IT, SAM!!
SUCH an up and down week for me. One minute I'm loving the show, the next I'm ready to tear my hair out! Let's take a walk outside, shall we? After all, Port Charles looked BALMY. (here it's 27).
I'm having blue cupcakes for breakfast. I kid you not! It's 22 degrees out, don't judge me.
THE LADDERS (going up!)
1. Kristina/Alexis: YES, more please. This is exactly what I need and love in a soap. I am also so happy Lexi is back to GH. What a terrible idea it was to replace her, no? The dynamic between she and Nancy and Hailey is just perfect. The discussion felt genuine and Alexis going to Parker was perfectly in character. She would go and confront a male professor too. Even Julian's little talk with her was meaningful. I really wish Sonny was around. Wouldn't it have dovetailed nicely to have this continue next week? But nope, he's off with Anna. (oh you wait, I will get to that!!)
SO, giant KUDOS to writers and actors/actresses in this story. :clapping:
2. Tracy's Brain Saga: Oh thank goodness for those worms!! We've gotten a Quartermaine AND a hospital story rolled into one!! WOO HOO!! WHAT!????!!! My one negative comment is that it was on every day. That's a story that needs to be on daily. Even if it's just a 'check in' with Dillon in the hall going: no, she's still in surgery. Just something.
You know I think Jane deserves all the money for her performance this week too.
3. Hammy Finn. God help me..but...he's intriguing. The dynamic between he and Tracy? Gold. And (help me again)...he and Griffin have this Good/Evil vibe going on. I hope you caught it in the bathroom before Finn shot up with his giant needle. Totally God vs Satan thing. Griffin is also very interesting. Two pretty guys battling for the soul of Port Charles. Supernatural? hmmm. :wink:
4. Anna: My kick ass Anna. (without SONNY)..she was amazing with Paul. Just tie his ass up..and when he comes to? Chloroform him!! OH YAHHHHH!!! Plus she looked so casual-glam going to the airport, no??!
5. NICO. I know that some of you see this as a 'fringe' story but I just think they sparkle. The whole "Baby" thing I could do without but watching RH and MS together is just worth it to me. Nina's heartache was so real. Just liked it. Oh, and OYSTERS!
THE CHUTES (going down)
1. Sonny and Anna Pairing: STOP THIS ABOMINATION NOW!! Anna is the last anti-Sonny vestige left on this show!! So, when he's on that plane with her instead of Mac or Robert I wanted to just kick him. Hard.
Sonny has to be in every damn story, doesn't he? Isn't it enough he has bipolar Morgan, the "coffee biz" and the gun-running terrorizing Ava going? Nope. Let's shove him into this one too! He should have stayed in PC so that Alexis and Kristina could have talked to him together in a timely manner. Right? Nope, let's put that on the burner while he goes on an 'adventure' with my Anna. Come on.
2. Whiny Carly. Ugh, what's worse? Bitchy Carly or Whiny Carly? She runs to Jason to stop Sonny-- because.you know, he's a gangster. And he might get hurt..sniffle..and..and..
-___-
3. Carlos: Be done with this.
4. Laura in the attic. She went to see Scotty..showed him the book and.....and?? Went BACK up to the attic to study it. NINE days ago! Come on now, why languish this? Since Scotty is in the mix wouldn't it have been good to have Ava be in it too? Maybe it hooked up with an art sculpture in the gallery? I don't know. I can't think of everything!!
5. If Lante is getting back together, are you going to show them or ??? Or..wait, SONNY's in there, so..that's why. LOL Who needs Lulu when SONNY can come on in and be in a scene?
6. Please stop with the newbies. Three are coming.. we already have a mess of 'em. The cast does not need to be this giant. I've said this a million times. With such a big cast, the rotation creates holes and fissures in stories that are just maddening.
7. Claudette story. I'm pretty sure 90% of us are ok if you drop it. Kinda like you did with the whole Rosie back story. That seemed pretty easy. Outdoor scenes? A for effort, D for reality.
8. The Ava mess. See that mess? It's Ava--Ava wanting Avery. Sonny doing this to her. Julian saying it's the "Family" doing it. The Mob OH THE MOB. I don't know why they need to continue this nonsense. Kiki got shot because of the mob... Ava had an out with the whole Paul Federal Plan but. Nope. Just keep it up. Now, the Scotty angle is fun, but I'm not holding out hope for that.
9, Can I remind everyone that Jason and Nikolas have done this time after time??!! Was it only to have Jason say "hands off my wife"?? Because if it was, um... I think we are as sick of it as Tyler Christopher. Sam running in there, threatening to call the cops on Nikolas was just dumb. Never mind the launch being used to get back and forth. It's not like Nikolas is going to jail. We KNOW he isn't. So... come on.
10. Whew, the chutes are getting longer and longer! Oh, look up there... we have Hayden who knows Nikolas shot her, just helping him after the beat-down. Caressing his battered face. Getting into bed with him when he gets out a knife from his nightstand.
Ohhh ,,,Zexy. (not)
This whole Rachel backstory is so not thought out, it's sad. And just a little tip: AGAIN, if you want us to give a sheeze about ELQ then you have to show it once in awhile.
ON THE FENCE:

I was happy for JaSam fans this week. JUST like I was happy for Liason fans when they were together. Like I said, no stake in this game so... at least Billy Miller seemed 'with it'. And before you get all Shipper on me, I don't think it's because he "likes Kelly more" either. Maybe he's just happy Jason could move into his cinder block storage unit. BTW, Jason doesn't seem to be too bothered about Jake (or Cam or Aiden) lately either LOL. To be fair, Danny's now Alice's problem so....



WEIRDNESS OF THE WEEK:

Was it me or was this out of sequence? Monica asks Griffin if "Tracy's personality shifts will last". THEN we have a scene of Tracy saying she loved Monica. I just felt they were flipped.




PROP OF THE WEEK:

Yep. Dead Bird. Which is probably some craft with fake blood on it (at least I hope so!!) And, come on..nothing says "Love in the Afternoon" like Dead Bird.




FACE OF THE WEEK:

Ohhhh BAD- MAD JASON IS HERE!! Watch out PC!!! Watch OUT!





NOTE:

These might be some of the last Liz scenes we see in awhile...this was when the contract dispute was going on.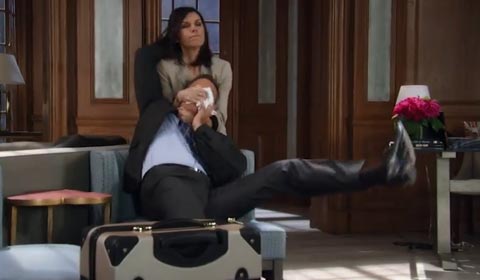 ONE MORE because I love it LOL. Paul's leg :) heh.
Notice I didn't mention the cameos...because...zzzzzzzz. I don't know those people and frankly? weird.
I feel like we have to cut the Rachel story somehow, be done with Carlos shot who? Paul shot Sonny..yada yada. One more area to leave behind? Ava and the mob. I get the Jeromes are all mobby in the past but how about we move forward? Please? Can we? Oh, and PLEASE: NO more Anna and Sonny! Yes, Fin and Mo are good together-- BUT THESE CHARACTERS do NOT belong going on some 'journey' together. And if you have them sleep together. HO HEY. Watch it. Massive Fan Attack.
I feel like because the Griffin actor was on Supernatural they are going to go all Good with him and Evil with Finn and have some kind of dynamic set up between the two. We've already heard Griffin's God talk. Hmmmmm.