Bobbie and Monica..FIRED? what? Oh Cyrus you must die a cruel and unusual death now!!
ON TO TODAY'S SHOW:
PS. I do like Anna and Valentin teaming up.. not sure why but I do.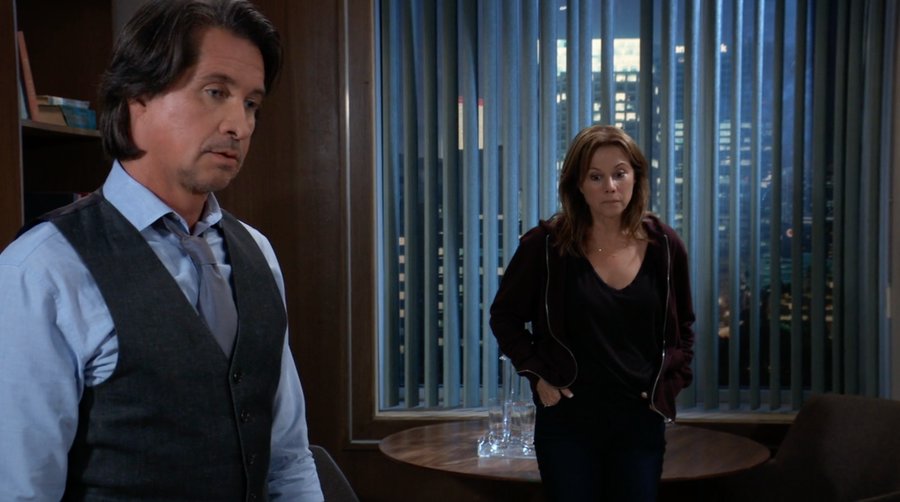 LOVE Finn and Alexis together and their AA connection. She tells him what happened with Neil. He has a 'emergency' meeting just for her. NLG is great. She thinks she 'killed' Neil. Finn's like nahhh. Jordan wants to talk to Alexis about Neil's death.
Molly and TJ talk about getting take out. TJ wants to go to batting practice with Brando..Molly is like WHAT? TJ "I think we can be friends". LOL..flashback to Molly and shirtless Brando. TJ gets into an argument with Cyrus over Monica and Bobbie being fired. Cyrus warns him.
Brando beat up. Jason, Sam and Spin find him take him to GH. Then Paxie walk in and he wants to "talk to him. Spinelli double backed to get the bug out of the garage. Maxie leaves and Spin tells Peter he knows about he and Shiloh's connection in the past.
Peter, Maxie and Anna having dinner. Valentin comes in, mentions Anna's sister. Paxie leave. Anna asks for Valentine's help in going after her sister. She needs his logistics and expertise. Alex wants to meet her.
Curtis cooks dinner for Jordan at her office. Or brings it in. He has on a chef's hat. It's cute. He bought her Sweet Tea from Baltimore. They talk about Trina still being mad at him about Taggert. Of course she's guilty and thinks about not telling him when she should have.
END: NEIL DIED FROM AN OVERDOSE!!
SPinelli catches Peter on tape asking Valentin about Nelle Benson and that she could ruin his life.