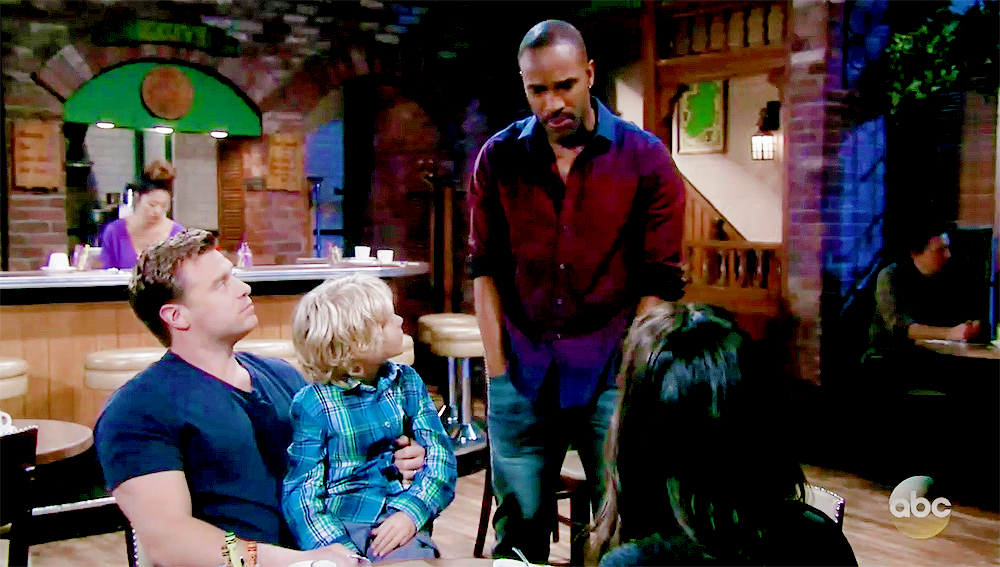 Danny, Jake and Rocco all being played by the same kid?
Alexis calls 911 then leaves. She goes home and drinks. Jax comes over (See below)
Ava runs into GH, nurse says it was a hit and run. Ava's all upset. Julian comes to, tells her to call Sam, Lucas and Olivia to bring Leo so he can see them all "one more time". She says "you're not going to die" He says "I didn't go back into the business for you...(dun dun dun)....BUT!! Before he could say it, VALERIE walks in!!!
Boring Jordon, Maddox, Val and Curtis. Zzzzzz why didn't they make Maddox a Q? It would have been so much better and tied him to people.
Idiot Worm Nell puts a ROOFIE in Sonny's drink. (No, it's not 2005) Which if you think about it, is stupid. Sonny could have finally grown as a character but nah, throw a roofie loving blonde in there.
UGH
So, she undresses him, gets into bed with him and then strips herself and lays down. He's passed out.
Jax is going back to Oz... Lady Jane is ill. Joss is staying back. Jax goes to Alexis before he goes. He sees the blood on her sweater. She tells him she may have killed Jules. Cries. He wants her to go to rehab "tonight" she begs him to let her go 'tomorrow'.