Maxie and Spin talking about Georgie...she wants Georgie to come to PC to see James, Flea and Mac and.. meet Peter. Barf. She tells Spin that Mac and Robin even like Peter now. Ugh.
Peter getting money together...he goes to leave but Maxie comes in! Wants to have sex Lol. She says Georgie is coming for a fall break and she wants him to get a 'Real Home" so they can visit. She wants to go "all in" with him and have him meet her kids. They kiss.
Bobbie in the hospital... Lucas calls the cops. Jason is trying to calm her down and get a timeline down. He then asks Spin to locate his phone because Sam has it. Spin tracks it to the Pier.
Chase tells Willow that Shiloh escaped..she drops her boxes. Brad overhears it. Lucas comes up later and tells them all Shiloh has Wiley.
Brad says to Lucas "I put all of this into motion".. Lucas thinks he's talking about trying to get into the DOD.
Joss is telling Krissy CarSon wants to send her to boarding school. Krissy is raiding the fridge at Sonny's lol Doesn't she live with Alexis?? LOL. Anyway, Krissy is talking her INTO liking Boarding School--she knew kids from Yale that went there.
Jax tells CarSon Joss thinks they are sending her away. "You need to communicate better". Jax thinks sending Dev to boarding school is great. Sonny's like "of course you do"... Sonny also thinks Josslyn going to live with Jax is a great idea. Hahahahaa. I'm loving this.
Later in the kitchen: They explain to Joss about Dev and boarding school not her. Joss says well, maybe I DO want to go now lol. But she decides she's pretty messed up at the moment and should stay home.
Jax and Sonny talk outside and Jax wants to know the real deal with Dev. Sonny's like um, there IS no deal.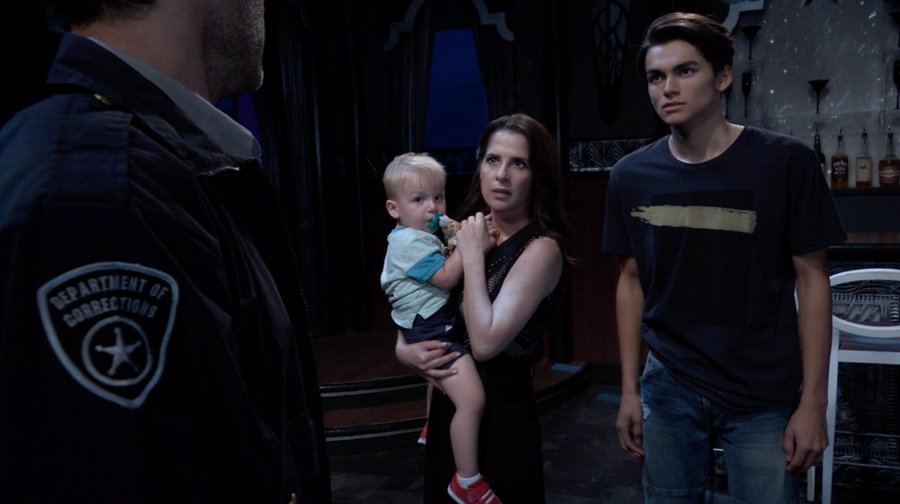 On the boat, Shiloh tells Sam 'Fate has brought me everything I've ever wanted"... Dev wakes up. Sam tries to talk Shiloh into letting Dev and Wiley go and taking her but he won't leave without his son. Peter's taking too long. Shiloh says "You're right Sam, I have too many hostages"
He decides to let Dev and Wiley go. He tells Sam to drive the boat to Canada. Why would he let Wiley GO? To keep that damn story going.
So-- they leave. Shiloh tells Sam actually HE can drive the boat himself...but first he's going to 'take care of her"
END:
Dev tells Jason where Sam is (one of the worst performances I've seen in a LONG time. Sorry but I'm going to say it. Wow, it was so bad)
Joss tells CarSon and Jax Dev probably ran away
Peter is trapped between the pier and the boat because Jason/Dev are there
Maxie finds a 350K withdrawl slip in the hotel room after Peter leaves