I'm too psyched. Got a new iPhone 11 today! I had an iPhone 6 with 16GB space which is like. NONE.. The 11 wasn't much more than the X with my deals so.. whoo hoo!! GOOD PHOTOS for once!!
OK, today's show.. here we go--Carson Baby predictions:
Boy-named Corbin
IF it's a girl (which I don't think it will be) she will be Ruby. (I was wrong LOL)
Carly's still in labor--Jason is going to tell Michael about why Carly needs a C-section.
Jason tells Michael about the condition.
Carly and Sonny go into the operating theater... Carly's acting scared. Laura's playing this perfectly. Dr tells them what they'll do once the baby is born. They may get to hold it before surgery. The baby is born, it's a girl.. . CarSon says she's beautiful.. The surgeon says the case is mild and should be fixed well.
Willow and Mom are talking in jail. Willow tells Harmony Shank is dead. Harmony thinks he deserved his end.
Alexis and Krissy jogging in the park. Her trainer won't let her eat dairy. They talk about Keifer and suddenly Kendra comes around the corner. Krissy is like "Don't I know you from somewhere"?? Alexis thinks it may be from Charlie's. Kristina leaves. Alexis tells Kendra A LOT about her life--then Kendra gives her A SUPPLEMENT to take for her program! UT OH!! Then, when Alexis is looking it up on her phone to see if it's legit, Kendra looks at a photo on HER phone of she and Keifer.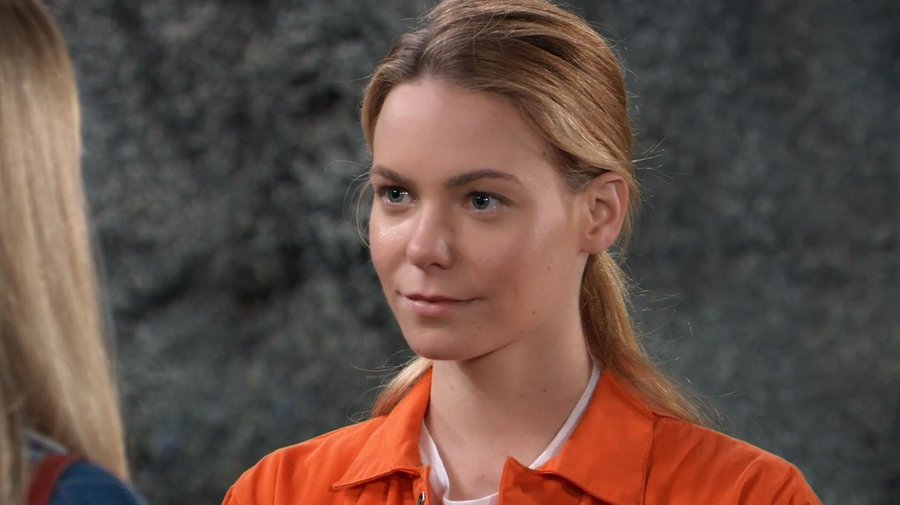 Nelle is going garbage patrol in the park. Guard lets her talk to Joss because she gave her a kidney. LOL Joss tells her Michael has a new 'smart, pretty, nice, girlfriend". Nelle smiles sly smile. She says she won't be in prison forever. Joss says she will--then Nelle smiles and whispers "I forgive you" to Joss. ALL CREEPY LIKE!! They spar a bit, then Joss tells the guard Nelle is making her uncomfortable.
Sam is called to the PCPD by Jordan who's acting all pissy and mean. Wants to question her again. Sam calls Diane and Jason. Diane comes. Jordan reads the nurses' statement-- that she overheard them talking and Sam shot Shiloh because she wanted to basically take him out. Not self-defense. Diane is like NICE TRY, JORDAN we are leaving. They go to see the baby but Jordan stops Sam and puts her under arrest!!!!!! wowza! LOL!!
Joss goes to GH sees Michael...she says she saw Nelle. They wait to hear about the baby. Later they go into Carly's room. They tell them her name and then Sonny says it's after a neighbor he had. "She you loved her or hated her or both"...."She kept secrets and didn't suffer fools" WOW..this is after the make up artist that passed away this year. Donna -- and what a tribute. Maurice even gets a bit teary =eyed. How nice.
TAD MARTIN IS NELLE'S NEW LAWYER!!!!! Martin Gray will probs get her off. She tells him she had a bad childhood....cries, says she gave up a kidney..cries, Michael didn't love her..cries..the baby died. Cries. He'll take her case..he thinks the parole board will be sympathetic. SO good to see Michael--he is SUCH a good actor.
DR Terry is on tomorrow-- they must have heard me bitching lol