Nina and the Necklace. She's having some guy look at it. Curtis and Valentin are talking at a table about her and she comes by. There's a body guard there that she has on her and Curtis takes down--Valentine hired him?? Did I miss that?? Oh because Cassandra is out of her coma and on the run. Why does Cassandra hate Nina? Because she put her in a coma? Does she know she put her in a coma?? Anyway, Valentin hired a guy to watch Nina because Cassandra is on the loose. Nina says she's going to hire Curtis to be her bodyguard.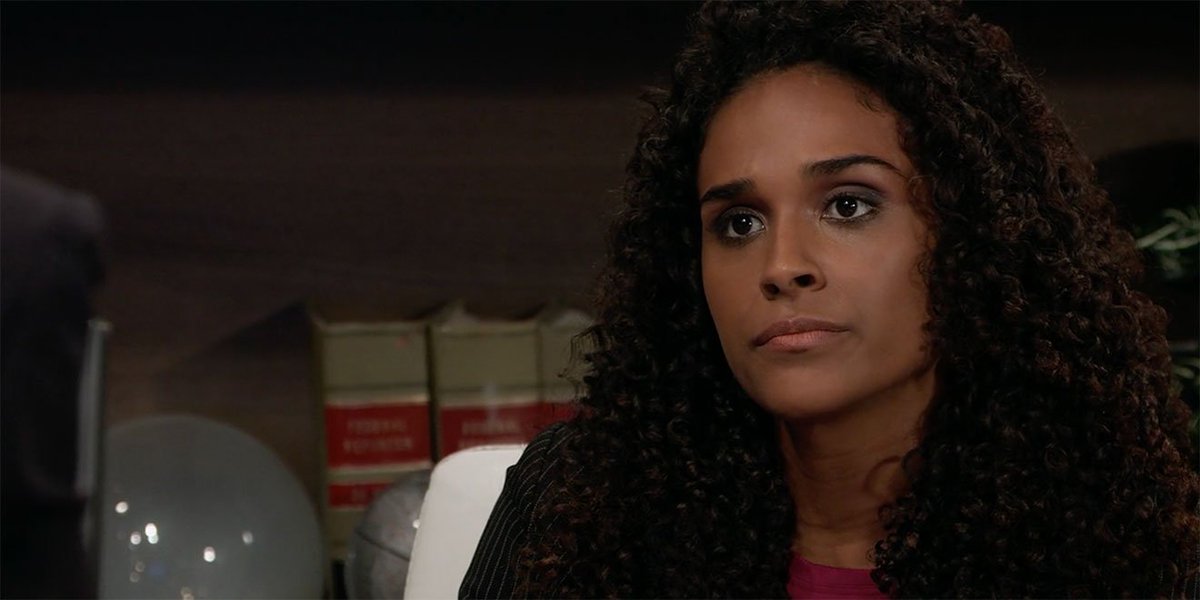 NEW JORDAN...Briana Henry
Body in the Basement has a Bullet to check and they are looking at Frank Smith's contacts to see who it could be. They see Luke and Laura..the Disco.. DA wants to interview Laura.
Carly thinks Mike is ready to go somewhere, Sonny's not. Mike overhears them talking. He comes out and says it's time for me to go. He said Avery thinks her "other name" is Courtney because he can't remember it. Good scenes AND THIS SHOULD be a WHOLE SHOW!! it's wonderful dialog about Mike losing himself and wanting some dignity in this decision. Maurice sobs...I'm tearing up. Great stuff. They decide Mike will do a day treatment program and sleep at home at night. He'll also look at residential while he still can.

Party at Monica's...Drew's Birthday. WHAT DID I MISS..why are they doing this? I swear I watched some yesterday but it's like I skipped a show?? Anyway, Kim finds out Drew told Sam about Oscar and Kim is PISSED. I guess Jason isn't there because the celebrates the day 'he woke up as Jason Morgan"... not his BDay. This is the weirdest party EVER. WTF. White balloons?? PUNCH?? And Sam, Kim and Monica there? Wouldn't you take him out for a beer...and invite Curtis maybe?? This is weirdddddddd. Oh Oscar is there. Sam saw he was bleeding and finds out he was in a fight.
Kim is telling Drew he was wrong to tell Sam.. she totally ruined his party lol. Sam tells them they were in a fight.
PS> Baby Lila mention by Monica.
PETER AND MAXIE stuck in an elevator. And you couldn't think of something more original???? OMG he's freaking out, anxiety attack and ..he takes off his shirt. -____- They play "would you rather". The elevator gets going and Nina steps on.
END: Jordan and DA show up at Sonny's to talk to Mike