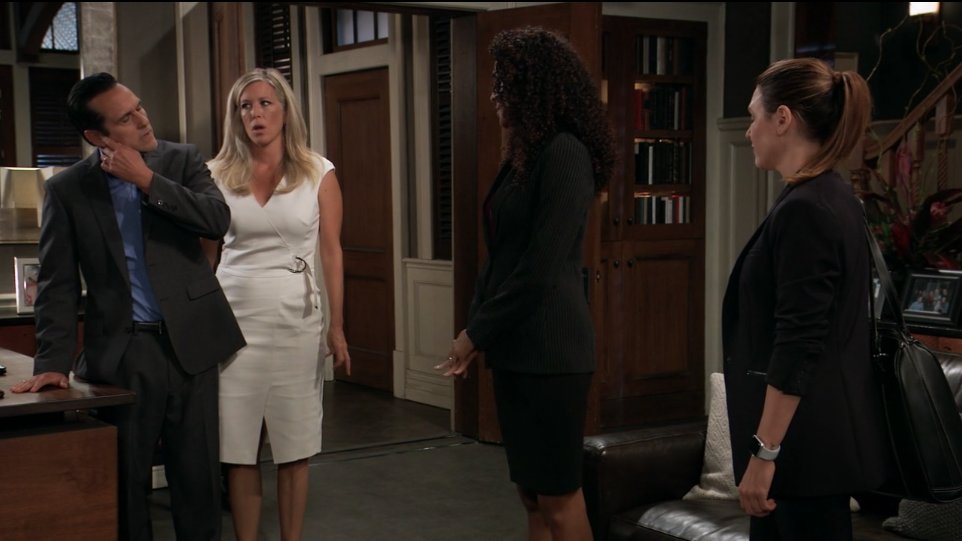 Um..Why are you here again?
For Carly...wearing white after Labor Day..

I'm goin' in! I'm writing this before I watch episodes I missed because sometimes it's just more fun that way!! From what I saw on Twitter, I didn't miss much and I got the bigger 'surprises' so let's give it a go.

Thanks to David for having my back on Friday when I missed posting-- 8 hour workshops and people for dinner will do that to you.
Since it's fall, I suppose we should have some pumpkin something. I'm not a pumpkin spice coffee lover though. Oh, and I don't like cider. Guess I'll go for the donuts. :giggle: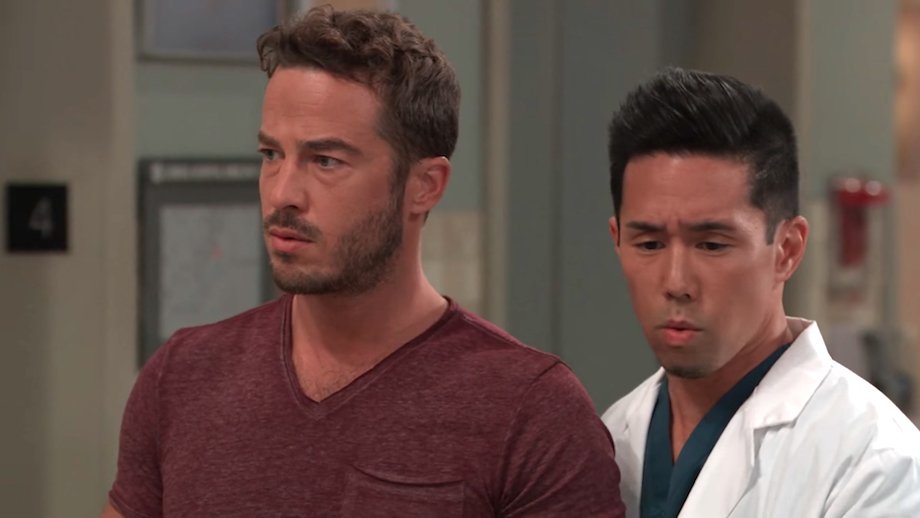 So, something's wrong with Wiley?
Really? Like what? Some sort of rare condition that only a few have ever had in Port Charles?
Wow... interesting. Imagine that. Out of all the babies in all the world..
Yeah, imagine that.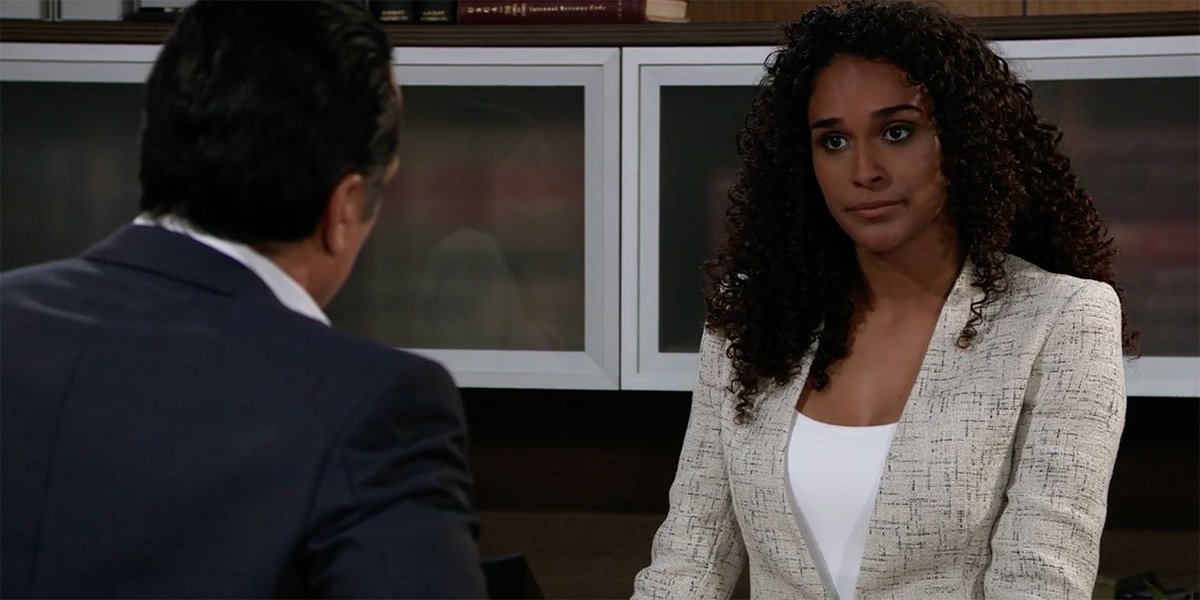 So..even though you wanted to buy the bar and your Dad was skulking around the place like a damn guilty choirboy, you're saying you know nothing? Well.. I won't get my PCPD finest on this but I be Curtis can solve this mess!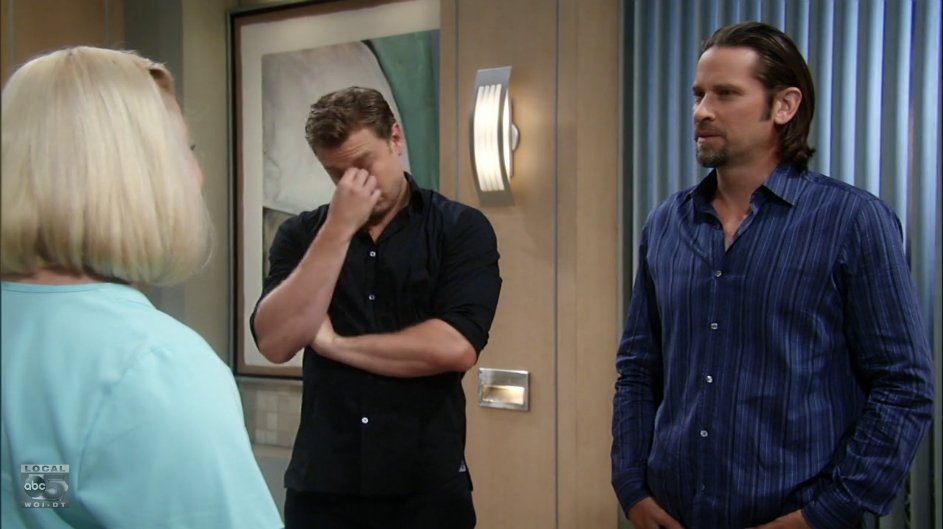 You're telling me the vending machine is all out of Snickers? Great!! just great!! DREW, let's blow this popcicle stand!!
I love my job...I love my job.. I love...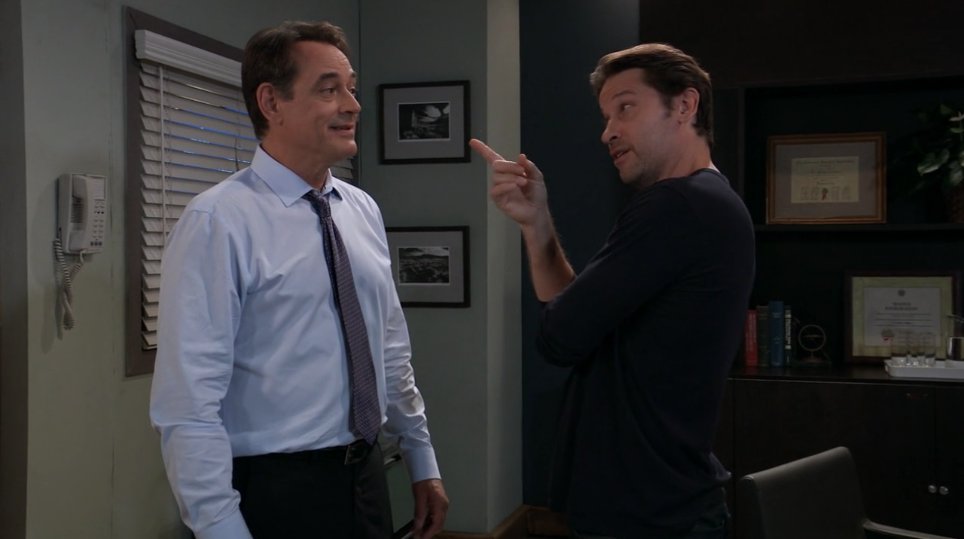 If anyone is going to figure this out, it's me Doc..! I've actually had a twin that looked nothing like me, but played me for years in another town, during another time. Everyone thought he was me, even with a different face! AND--get this..I thought I was a twin..but turns out my cousins were twins, and one has a different face but people believed he was the other twin! So--see, I KNOW Twins. SO...watch your step.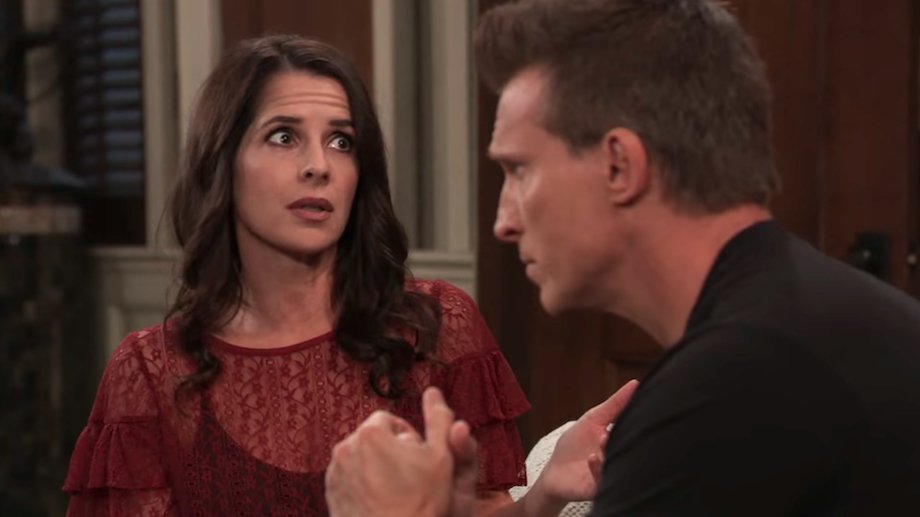 Well, I got a new shirt...and it's scarlet so-- something big is probably going to happen.
Won't involve sex between us though, right?
NOPE. It's not THAT fancy of a shirt.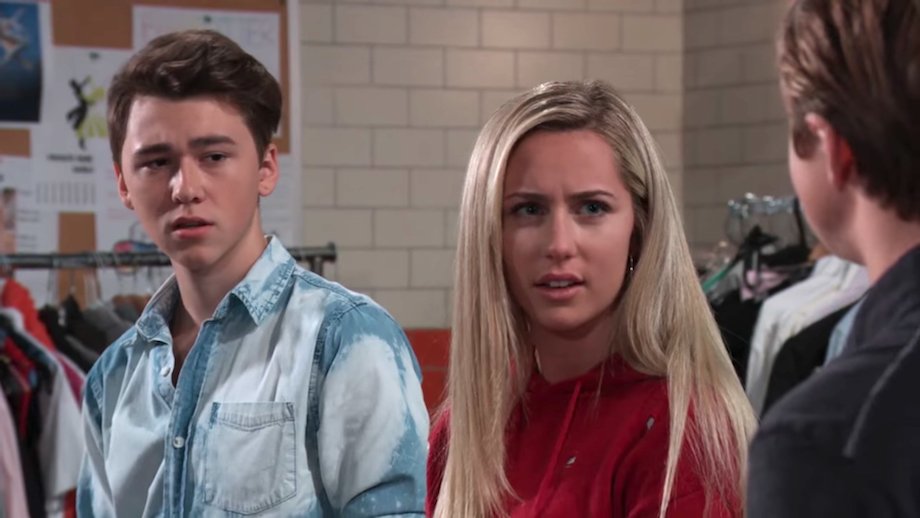 OMG Cam.. you're like So lame.. I didn't even like that kiss, although it did taste like Skittles.
SKITTLES! Isn't that our thing, Joss--- I mean you know I love Skittles, right?
Hey, Oscar. You have a tumor. Put that in your Skittles bag, bro.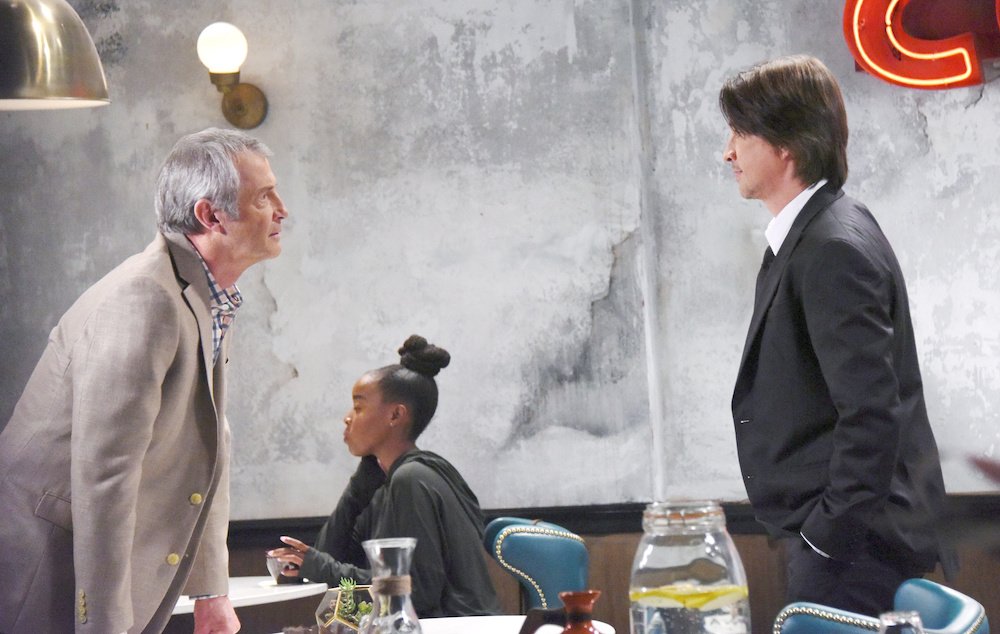 SO! I'm back...
And you are???
Come on.. remember? We had one scene in Berkley months ago...think hard...
Um.. the waiter?
NO! I'm your father!
Huh.. first a brother, now a father...interesting.
Yep.. and I'm here because...well.. there must be some reason.
Can't wait to hear all about it. Said no one ever.
SIDE NOTE: Props to the hairstylist--lady in the back is on point!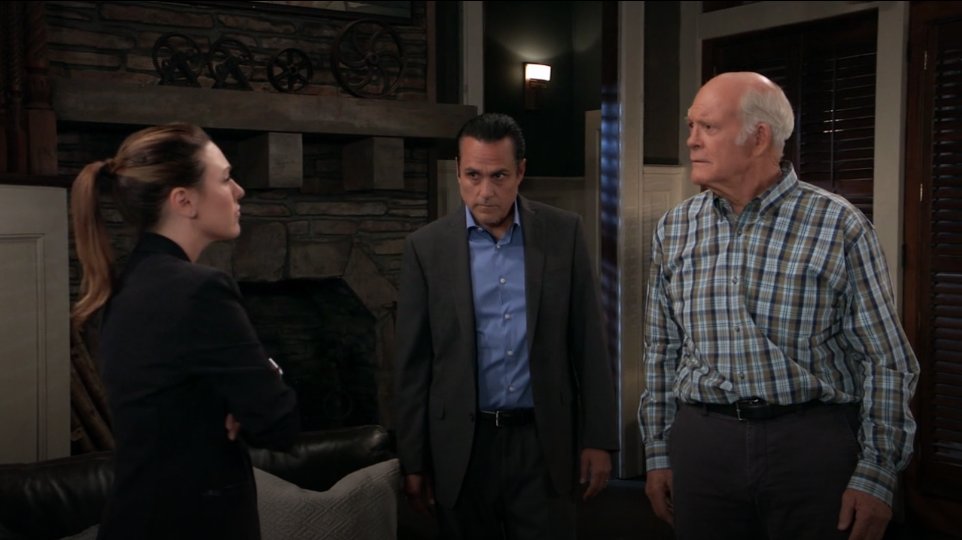 SCENE OF THE WEEK:

Since I only saw a few, I really have to go with Mike outsmarting the DA and Jordan about being confused. Alzheimer's patients have lucid moments, are still clever and can so amazing things. I think we forget that--and that every moment is doom and gloom. Nope.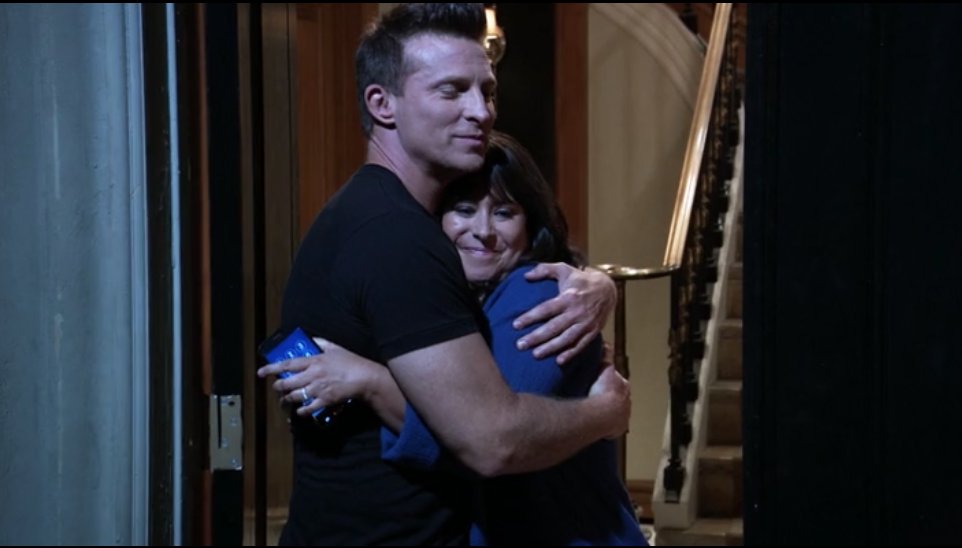 HUG OF THE WEEK:

Gah... they finally wrote Robin and Jason they way they should be. I loved their banter "Let us never speak of this again"!!




GREAT STUFF OF THE FUTURE

: Jon L tweeted this pic..looks like Laura and Spencer will be back! I think they didn't SORA him because they love NB so much. I do too but.. a teen Spencer would be awesome so I'm torn. They could bring back Felix's bratty little sis too--remember her? We'd have 5 teens then, which this show needs to bring in the younger viewers. (We oldsters love teens too--it's what got us hooked in the first place!!)


NUTSHELL SUMMARY:

I think this is what happened this week: Brucas Baby has a heart problem DA found out the body was her Dad's (which I called eons ago) Finn's father is in town Robin and Jason are friends Cam tells Oscar he has a tumor Ryan has lunch with Lucy and a session with Franco.



DEAR PRODUCTION TEAM

-- So, we have an ongoing story about Mike with Alzheimer's that did include other players like Felix, Michael and Josslyn . Stella's been in there too. What a great opportunity to have Olivia come over to sit with and talk about the old days. Krissy's been around, maybe have a few family scenes with more than 2-3 people at a time? Oh, and what about that baby switch? Can we step up the pace on that, please? You have Ryan and Kevin dancing--and Genie coming back. But wait. WHAT IS THIS FRESH HELL? You decide to give the new pony-tail girl not ONLY the zip drive containing Drew's memories (which by now no one cares about) she ALSO HAS A DEAD DAD and Sonny revenge to get busy with!! Wow... Then you threw in a tumor for Oscar (??) when you had aged Cam and could have had a normal teen angst story brewing. Maybe introduced some friends?? Don't forget the whole Ava/Kiki/Griffin thing with seems to consist of slaps and shirtless scenes. Speaking of shirtless, Peter's around Lulu and Maxie like some parasite we keep trying to rid ourselves of. In addition to all of this, for some reason Finn's father shows up again (??? WTF). Oh, almost forgot, there's also this whole "Nina's baby" story --which mirrors every other "I didn't know I had a baby" tale that ever existed. We just lived through Anna's hell--must we live through this as well? For the love of all things soapy listen to me: TIGHTEN THINGS UP. I might not know much but I know that having Finn's Dad show up can't be great for anything. Get rid of the riff raff and get Scorpio on full time doing WSB biz with Drew, Jason and Anna. Marry Curtis and Jordan and get TJ and Molly back. Maxie should be having a tough time with Nathan gone and Lulu and she could move into together at Lulu's house since Dante's gone. There! Probs solved.
Phew. That made me feel better!!