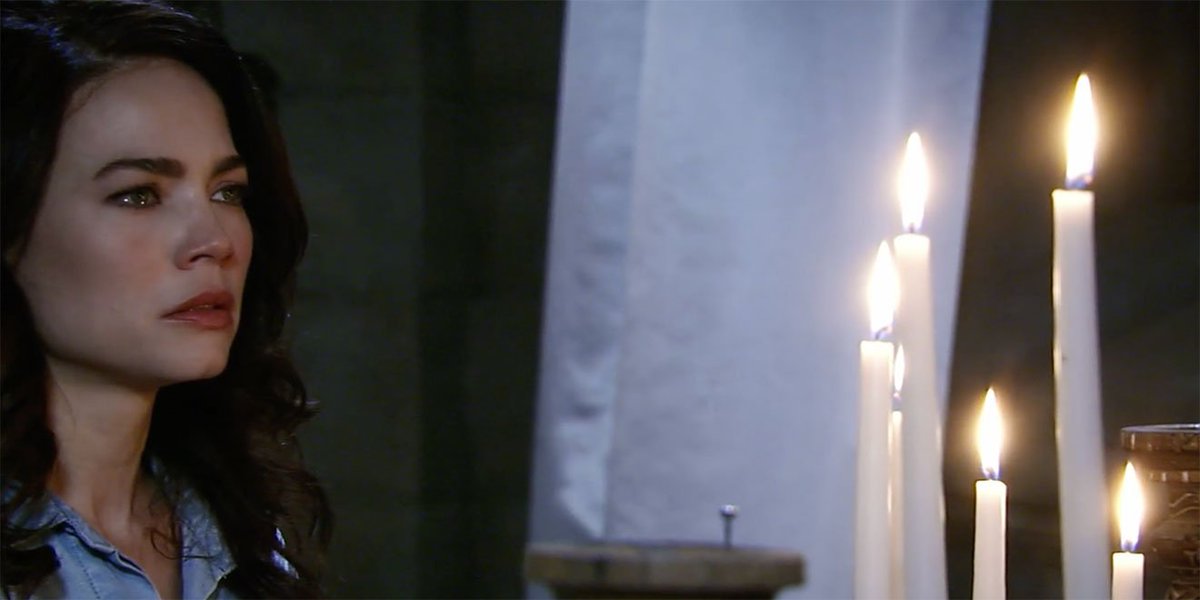 OMG Liz is a damn nurse. So she's standing in the church asking GOD to bring Franco to her?? !!! Although look at that pic up there. She's so gorgeous.
Kids are Frozen. They try to warm them up. I so hope Oscar loses a toe. Joss goes to GH with Harrison and Kim and Drew work on Oscar. Kim gives him CPR-- and Oscar comes back to life.
Nelle and Carly are sniping. NO one is knocked out or bleeding. Damn it. Oh! Nelle has cramps!! Carly doesn't believe her. She gives her water. She may be dehydrated. They stop. She and Carly talk about having a baby...almost get along and Sonny knocks on the door and says he'll try to get them out.
Griffin says Michael should be admitted based on the 'follow my finger' test. He needs rest.
Josslyn goes to GH sees Sonny and hugs her.
Mike is trying to tell JaSam where Franco is trapped. Jason says he'll find him and to go help Sam get to Charlie's.
Jason finds Franco. Franco begs for help. Jason talks about Michael's rape--and what he did to Sam. Franco is like I HAD A TUMOR!!!!!!!! A TUMOR! Jason says he doesn't care, he's going to finish him off. Then SAM pops in and tells Jason she and Michael have moved on with their lives and made peace with what happened to them. She would rather have Franco live than lie about how he died.
They get the cabinet off of him. Franco says thank you and leaves. If you are a JaSam fan, watch the scenes after that. VERY Sad--very well done. Sam loses a dog tag that Danny gave her ????? Um, okay. Jason finds it. She won't even touch him to take it back! WOW...she tells him to keep it!!
Sam and Mike stumble into the church and find Liz. Liz tells Sam Franco didn't show up. He thinks Liz is married to Lucky. Mike talks to Liz about having Alzheimer's. GREAT scenes.Mike cries about having it and how Sonny looks at him now. Sob.
Mike makes it to GH.
Liz is still waiting.... and....Franco walks thru the door--they kiss.
Still no word on Stella, TJ and Molly.
Both Michael and Nelle are in GH for observation. Joss wants to wait for Oscar.
AND IT'S AN AFTERSHOCK!! Sam and Jason are in the trailer... Drew is in the freezer--looks like Jules brings in Molly tomorrow.