Veteran's Day-- here's to Navy Men (my Dad!) .... Having the day off is nice, even if it's 22 degrees here and like FOUR with the windchill.
GOOD LORD I am NOT used to this.We had the best October!!
OMG! Guys, we were talking on twitter and I can't believe I didn't think of this: DENTAL RECORDS!! Screw DNA --MRIs whatever. You can't CHANGE TEETH--and teeth stay the same! Unless "Real Jason' had all his teeth pulled, right?? I mean, hell Monica should be able to tell by teeth. I am so disappointed in myself on this. I watch and read true crime DAILY and didn't think of this? Oy, I need to be fired from life lol.
CarSon are at the "restaurant" Sonny owns-- Jordan comes in. She wants to know why Sonny posted bail for Klein. Sonny tells her he wanted to talk to him and that Klein's boss called from Port Charles.
Alexis talks to Monica about the 2 Jason's --Monica says she's fine and to take care of Sam. Then Alexis sees Dr. David he says he's sorry he missed the launch party. Hmmm, wonder if he was busy tracking down Patient 6??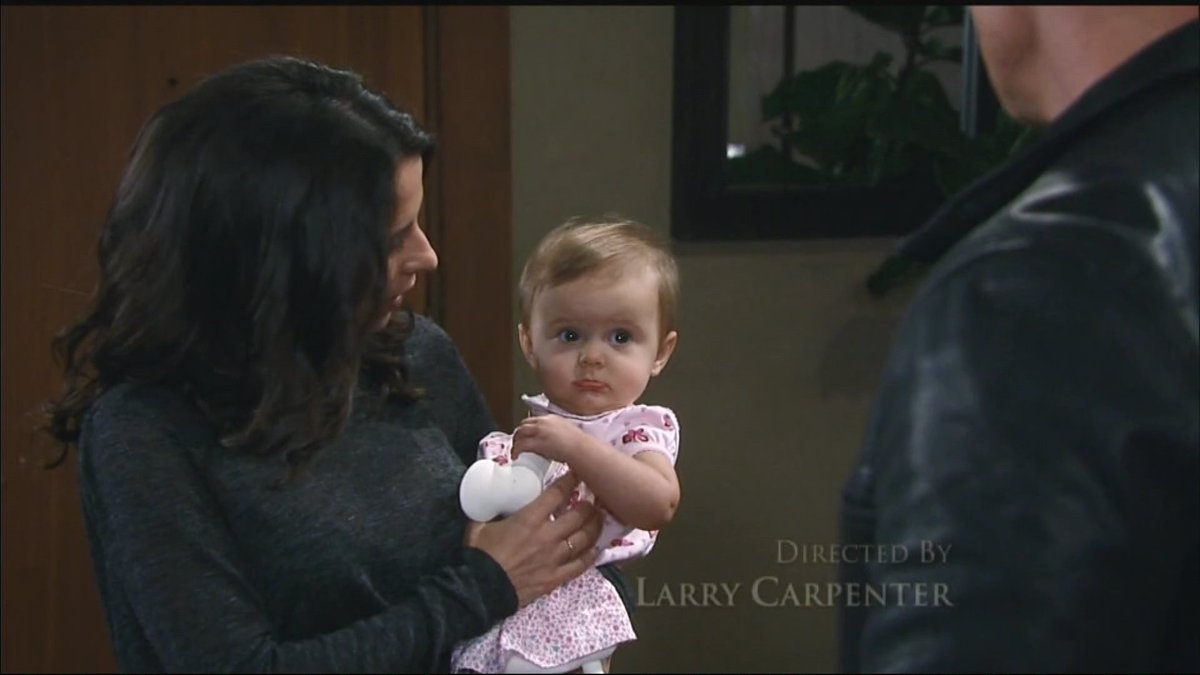 Sam and Jason. Sam is kinda stunned. He asks if Miller is there. She says no--and then you can hear Scout on the monitor. Sam says "that's my daughter' and this time, it's Burton's turn to look stunned! Sam brings down Scout. He says she's beautiful "Her name is Scout"?? Sam says "Emily Scout"...Burton says "After my sister"... He tells her he just wants her to be happy. There's a ton more dialog including a little something where Sam talks about "Alexis and Julian" and "real love..." when she's really talking about she and Jason (Burton). See below for the rest.
Ava and Kiki...trying to figure out how to get her face fixed. Kiki ends up taking the flash drive when Alexis comes over to talk to Ava about Julian. She says Julian is in real trouble. Ava didn't know about it. Ava says that Julian won't let her visit or use the money she sends.

Kiki goes to GH. Both Griff and David tell her it's too risky to do the surgery because the method is not tested.
Dr. Bensch is looking to invest in Port Charles real estate. I'm telling you HE'S THE BOSS!
Miller goes to the Q crypt. Either audio has to fix it or he needs to STOP WITH THE LOW REGISTER GOD!! I'm not THAT old but I can't hear shit he says. LOL..Oh, Monica walks in. I can hear her fine. She says she knows about the "other Jason"... but OH! that's right she doesn't know the twin story!!! Miller tells her. She's all WHAT!!? That skank Susan Moore! LOL She also flashes back to having talks with both Jason's. She says to "Alan" Wish you were here to witness this miracle.
Ok, so...Miller gets back from the crypt in time to see Burton holding Scout. Burton was telling her about Lila and how sad Sam was-- anyway, Miller tells him to put 'his daughter down or he's going to kill him'. Sam says we can't keep doing this. Then CARSON show up. (Because of course they do!!) THEN JORDAN shows up. BOTH DNA tests came back as "Jason Morgan' Ergo, they are identical twins.
You can run DNA tests that go out further in the genetic chain but PCPD didn't do that (yet).
OH! Alexis calls to visit Olivia Jerome but has to ask her lawyer first!! Her lawyer? NORA Buchannan! She's on tomorrow!