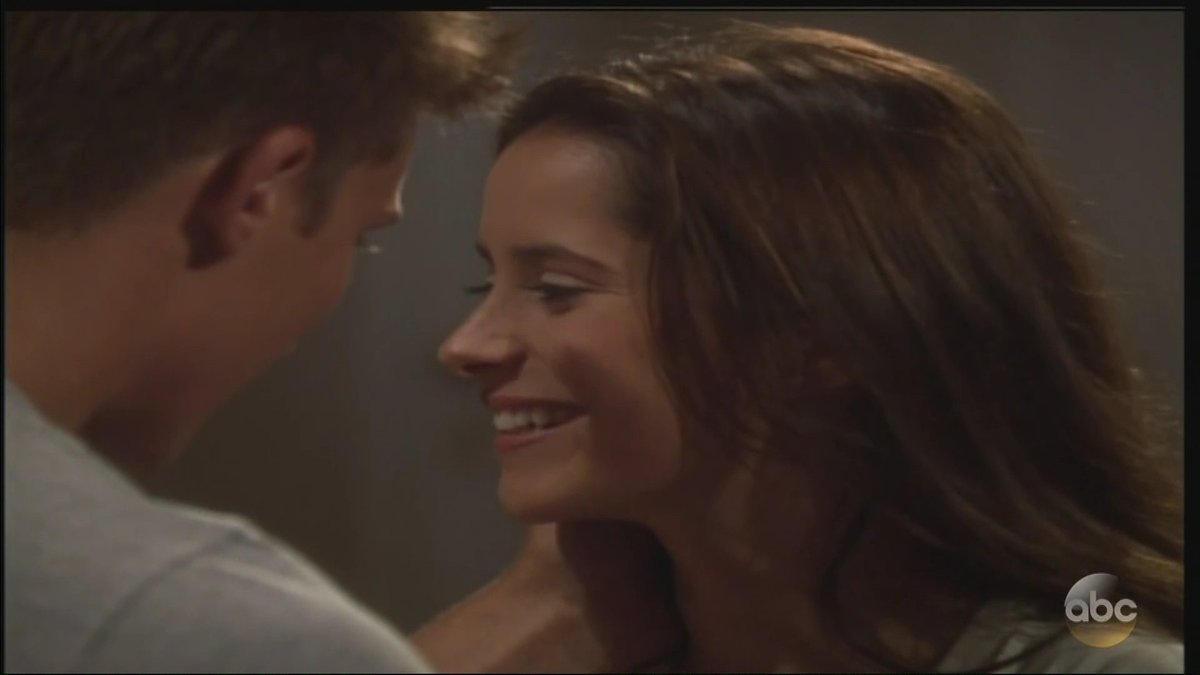 BRIDGE DAY!! If Robin says he's Jason--he's JASON. "Somehow I knew you'd be here" she says to Burton. Oh..you know he's gonna be Jason! Robin says "how can this be possible"?? Jason explains that he has an identical twin. Let's think about this-- wouldn't ROBIN have figured that out!? LOL
She's not sure it's him then he says "Icing on the cake" which he said to her in Montauk -- when they first kissed (flashback--OMG THEY ARE BABIES!!)
They hug-- then he says Carly and Sonny are going to prove he's Jason. He doesn't care, he just wants to know who's behind all this.
Robin tries to explain why it's hard for Sam to admit she thinks Jason is Jason--
Sam is at Crimson. Totally forgot she 'owns' it now! She's all glam jam siting at her desk! Nina is afraid that Miller's money won't be good and the media company will fail. She's afraid he's not the Real Jason. Nina mentions them fighting over SILAS!! hee hee. Nina thinks Sam should talk to her about Jason and how she's feeling.
Sam says "so you think I'm afraid to face this"?
Are you afraid of being in love with 2 different men? Sam explains that she loves Miller and their life together (she says it about 99 times). BUT then flashes back to her convo with Burton the other day about not being able to love someone because the timing isn't right (or close to that).
Man Landers stuff: Amy comes clean and tells Chet that she's been paying his bills. She makes a heartfelt plea to him. BTW, if he's supposed to be addicted to pain pills and almost just OD'd, he's looking and acting pretty good.
Maxie sees her PG test sticking out and hides it.
Amy and Chet make up, hug.
Maxi is just going to tell Nathan about the PG test and she gets a text about the Inquisitor breaking the Man Lander's is False story. She runs out.
Franco, Liz and Jake (the other kids are at "sleep overs" lol) Jake wants to watch a "Twin Movie"-- Liz tells Franco they should tell Jake that there's another Jason running around. Franco doesn't think so. Then, Franco's picture shows up (Maddox sent it back to him). He leaves with the painting. Takes it to Ava. Ava tells him he's probably right not to tell the truth because Liz might for sure, leave him. Kind of talks about her own life and Griffin. They are the "baddies" and the "goodies" are too good for the 2 of them.
Later, Ava googles 'unethical plastic surgeons to find someone to do her face"!! LOL
Curtis and Miller: Miller wants Curtis to tack down Dr. Maddox. and..get this, Jordan comes into the gym and also asks him to look for Maddox. HE's like: Um, you and someone else, lady! He hacked Maddox' phone and knows the IP address.
Liz calls Miller to come and see Jake and they tell him about the twin thing. And that some people think the twin is "him"-- which is weird. But..Jake is like whatever, I love YOU Dad.