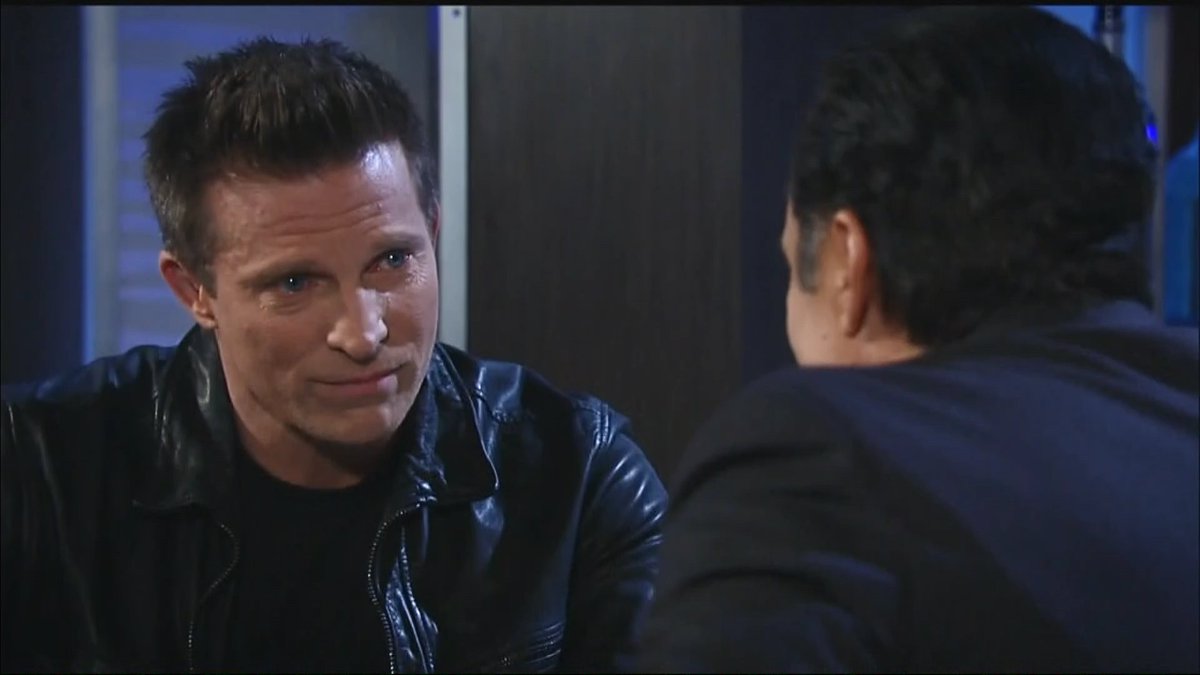 Burton and Sonny talking about Perks and how Morgan was going to run it. Ugh, whatever. They also mention Faison and Obrect. Sonny will talk to her when she gets back from 'out of town'. Sonny tells Burton someone messed with Morgan's meds. Burton's eyes are SO BLUE on my new TV set. Like jump-out blue!!
CARLY barges in ugh. She tells Sonny she invited Oscar and his mother. Sonny is like OMG...cut it out. He and Burton share a 'what ya gonna do' smile. Awww, there's good chem between those 3!!
Nelle is talking to some newspaper guy about getting Man Lander's story money since she knows "the truth". She wants all the money up front. He gives her 3/4. She spills it all. Says that Nina was involved too and Crimson knew when it ran the story it was a lie because that's her brother.
Carly wants to invite Oscar and his mom to Thanksgiving Dinner. It has to be Tams because there's a promo of her sitting at Sonny's.
And..Oscar's mother says she'll come to Thanksgiving dinner-- but he's afraid of what she'll think when she finds out Sonny's in the mob.
Griffin and Ava. Ava's begging Griffin to fix her face. He says NOPE she says Pleaaaaze. Nope. Pleaaaaze. Later, they both go to the Metro. Burton comes over to talk to Ava and pay Griff back the money he lent him at the Abbey. Carly sees this and is furious!! "SHE KILLED MORGAN!!" Ut ohhh...and Burton gets angry. "He was my godson--I repaid you, now we are done". Ava tried to explain why she did it but he's not having it.
Carly rails at Ava, says she's as vile inside as out..and Griffin will find that out soon enough.
Amy rushes in to get Nate at GH because Chet is gone!! She's freaking out.
Maxie is taking her pee stick test when there's a knock on the door. Chet is standing there?? HUH? WHAT?? Hmmm... I guess Twitter put out Man Lander's address out there so he went to the apartment. He wants to talk to Nate about his sister. Maxie is like "Don't you remember me from High School-- I was a cheerleader"!!! He like NOPE. Chet says he wants to go away and not have Amy find him. Maxie calls him a coward. Tells him Amy paid for all his bills!!
Then Amy and Nate walk in--that will be tomorrow.
AND MAXIE NEVER LOOKED AT HER PG TEST!! ugh....
Hmmmm, they are talking about military people .and San Diego's military base. Maybe Drew was a soldier boy. Remember Helena called him "Soldier Boy" . Well, ok..so Oscar and Joss find a "Oscar McSomeone" on My Face--and he was a pilot in the Iraqi war. They wonder if it's him--we see his photo and it's rando guy. We've never seen him that I know of. JossCar kiss
END: Sonny is texting someone and smiling. Jason is on the bridge!! Oh it's gonna be ROBIN!! Tomorrow she's on!!!