NUTTY DAY!

This will be short and sweet.
Val and Nina. Valentin 'explains' to Nina that Cassandra is an old business associate. He says she 'very complicated'.. and he's going to "work" with her. He tells her about the arrangement about catching Cassie in drug trafficking. She's really not that thrilled that he's working with Anna tho.
Monica, Jordan and Anna talking about Dr. Andre Maddox!! Jordan tells Anna they are looking for him because of Jason. Monica leaves and the two of them talk about DNA and twins and things. Anna said she feels badly for both Jasons because she knows what it's like to have one show up.
Diane is in the Metro and Alexis comes in to talk to her. Diane is NOT happy with Alexis talking about Julian anything. Diane calls Scotty a "chowder head" LOL Alexis explains how bad off Jules is and badly beaten. Alexis won't be able to live with herself if Julian dies in prison. Alexis leaves.
Diane is sitting there and Miller comes in and she has to tell him she thinks the OTHER Jason is Jason!! AND she's resigning as his lawyer!! OH LORDY!!
Burton is at Sam's penthhouse-- it's a flashback or flashforward and he shoots Miller and wakes up screaming from a nightmare. Carly comes to see him--and they hug. She babbles on an on about how much he means to her. She's also trying to get him to figure out who he is. There's fingerprints but the federal ones may be compromised.
Sam and Miller. Miller is going to FIGHT for his life. He's mad that Jason has HIS face. Miller thinks that Sonny just wants the other guy to be Jason SO badly, he'll make it happen. He's afraid they'll have to go into court to fight for things like his SS# . He leaves to interview a manager for the media company. (who is at the Metro and looks so bland). AHAHA he asks Miller if he's "really Jason Morgan"!! "I've recently had a twin resurface" .... don't hear that every day!

When he leaves...Sam has a First Jason flashback. She looks forlorn. Carly comes over. She says "you know that Jason is Jason (Burton)... you know it" Sam just looks at her, doesn't say anything. They talk some more. Carly tells her that the REAL Jason won't fight for her like Miller will. Because that's not the real Jason--he just wants her to be happy.
Alexis goes to Valentin and asks him what his association is with Olivia Jerome. She thinks he's bankrolling Nora to be her lawyer.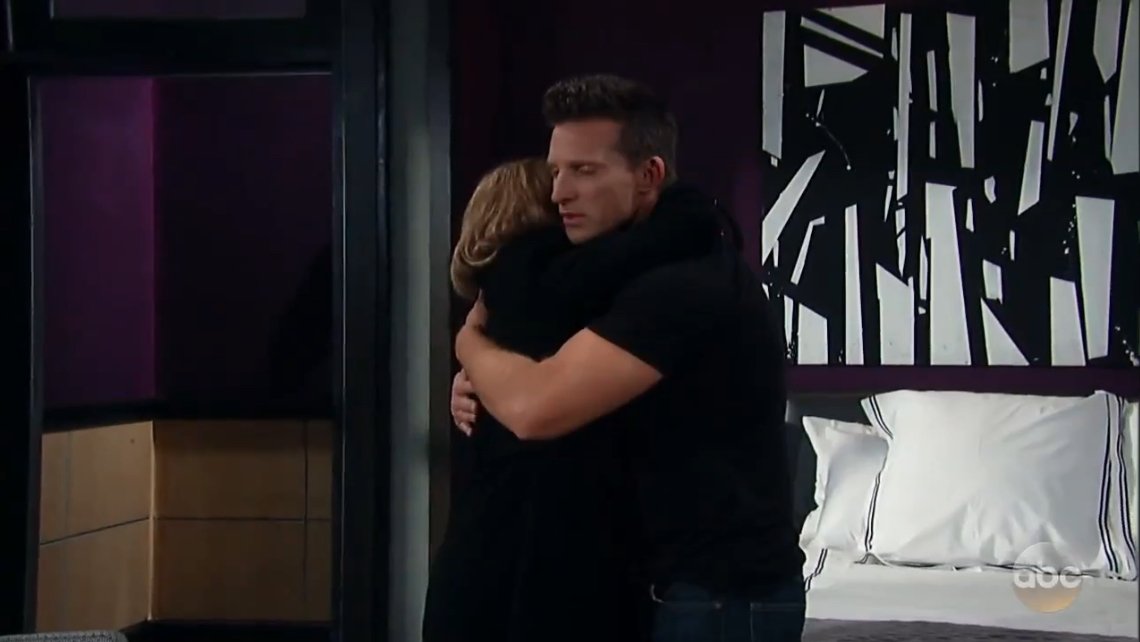 GAH!!
MONICA!! I was so happy so see her at the door. I got chills!! "I just want to look at you....I am so happy to see you". "you've always been so independent"--- He says he was unfair to the family. She says it's water under the bridge. They love each other and hug.
Jason goes to see Diane too--she explains how he can find out who he is (maybe). They need to get his case files from 1993.
Someone with black gloves touches Andre's passport on a desk. Can't tell where.
GOOD show...good Carly/Sam scenes. Good Monica/Jason scenes.