Kiki and Dillon AGAIN...now talking in front of Kelly's. Wake me later.
Franco and Tom. Franco tries to strangle him again. Monica gets mad. Franco says to Tom "I will end you". Monica comes along-- fires Tom and tells him she remembers him from Emily years. Franco is like yeah! She says 'not so fast" --because he was violent he has to leave GH too. Oh, he's only suspended for 2 days.

Kevin has a box with something in it that Monica wants him to do? Not sure what. Oh! See below.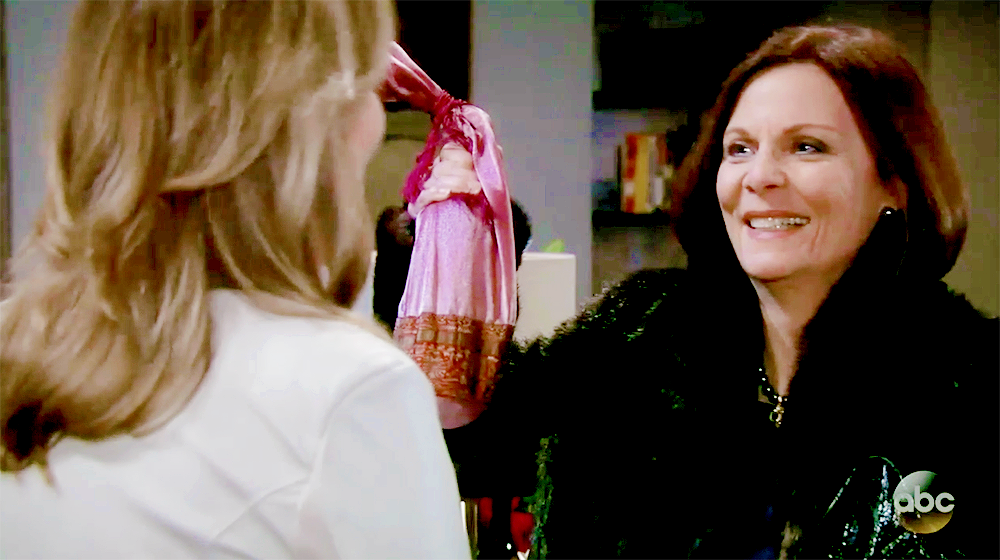 Laura is staying with Lulu and Dante. She gives then a Metro "Honeymoon Pass" for the night. Rocco is of course, asleep. Tracy goes to visit Lulu but sees Laura instead. Laura thanks her for helping Lulu while she was gone and being a good friend to her. They are going to have a drink. Tracy convinces Laura to wear her mink coat, and go Naked to see Kevin. Yep.
Kevin answers the door in a Santa Suit.
Lante went to Metro, all kissy...fire/beer.
Anna and Valentin. Yada yada. Anna thinks she knows his "eyes". Then he talks about Shakespeare and posthumously revenging things--then, he and Anna may have been friends "in another life".
Anna finds out that he went to school IN ENGLAND and when she leaves, he takes out his box with Anna's photo in it as a teen (??) So ..I guess they knew each other when they were younger?
Later, Franco goes to visit Heather for "Advice" ... and she tells Franco Liz is a catalyst. To make him nuts.
END: Kiki drops her wallet leaving Kelly's. Tom picks it up and creepily gives it to her. He follows her.