Drunk Alexis..Krissy is moving out. Jules is moving in. Yep.

Julian tells Ava he's going to save Alexis from her drinking because it's 'his fault"... He also says they have 'love for each other' and he wasn't really 'going to go thru with' killing her. He's trying to make us feel sorry for him.
Blink. I loved Julexis but they wrote the story to implode them and back tracking now? DERP.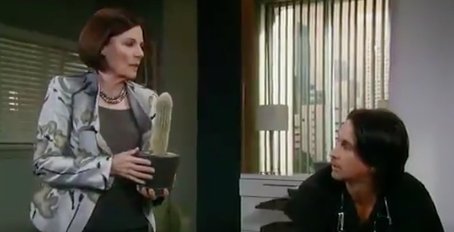 Hayden is 'dying' ... her mother is out of jail (SHOCKER). Tracy brings in Hayden's penis cactus (you'll have to see it to believe it). Her mother is made Hammy Finn gave her lizard DNA.
Hayden wakes up. She's not dying? Wow, so surprising.
Dilly and Kiki just having a boring covo ...zzzzzzzz. He and Val were talking at Kelly's, Kiki over heard.
Franco in the cage. Different Day, same sheeze. He breaks out, calls Liz and goes to see Heather.
Finn said it was "Christmas Eve"..so... ?? Is it? will we have the Christmas Story ?? I'm not holding my breath