Everyone is in the park where it's snowing. I hate fake snow, it never melts on people's hair. Just sticks there. Wait until you see Laura's hair..its' covered!!
Friz.... it's about TOM and Liz thinking she knows what Franco did but it's not what he did. Blah, blah...The police called Liz to tell her Tom is missing. She wants Franco to stay overnight. Jake made Franco a stocking for the mantel. Awww. Franco's all awww... He still wants to tell her the truth
Julexis. Alexis chugs vodka. Wants to know who was on the phone "There are some things you don't know" says Julian. He ordered a Christmas tree for them to decorate. Later he says he loves her and they kiss.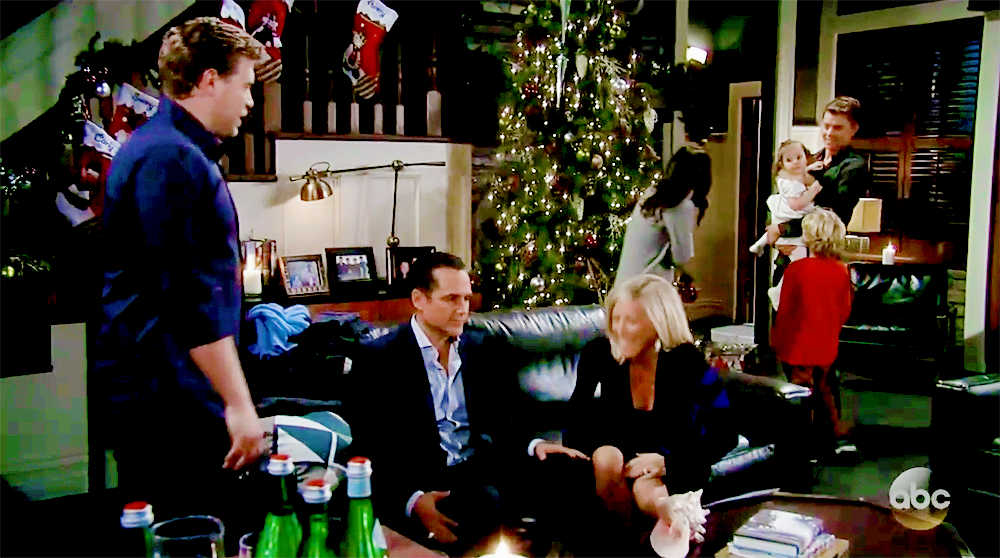 Michael and Kristina decorating Sonny's. Sonny wants to put up Morgan's stocking because he's "always with us". Avery looks cute. Then, NELL walks in. UGH. Then JaSam comes in. I guess Joss is in Aussy Land?
Michael gives Sonny and Carly a photo of Morgan as the Little Drummer Boy. Carly got Nell a necklace with 3 intertwined hearts for her, Joss and Nell. puke
Emma, Anna , Lante and Laura go to Wyndemere. Lulu gives Charlotte a gift that Nina already bought her!! LOL!!! And then Char gives it to Emma!! ahahaha.
Emma goes wandering around the house. When she and Anna leave, she gives her a photo that is Anna in the WSB.
Monica tells the kids what Christmas is about.

Dante and the Police come in to talk to Franco because Tom Baker was found dead. (Oh Heatherrrrrrr).

On a joy scale, GH was a 2 today.

Jingle Jingle!