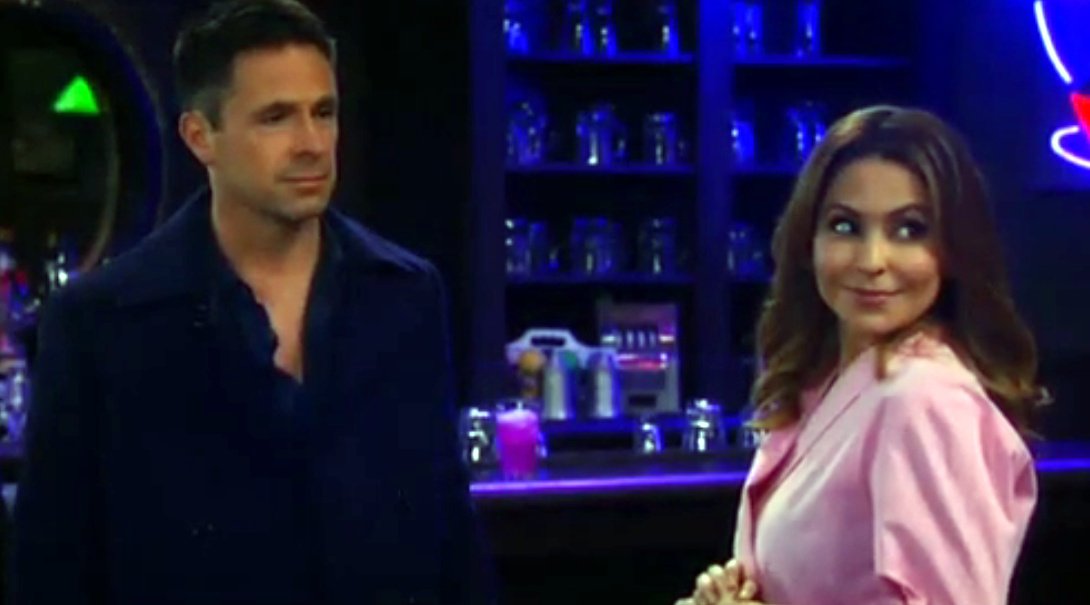 Olivia had her photo shoot at The Rib..No idea why. Maxie and Dillon were there. Dillon is SO boring as a photog/film guy. geesh. She goes with Julian to the office to review the photos. He says they are all too much for Crimson. She says they are fine. They are arguing about her boobs when Alexis walks in. Alexis sticks up for Olivia.

Dillon takes cheesy pics of Maxie. But, she IS adorable.
Nate and Nina talking about their respective partners.
Laura toasts the happy couple but... doesn't mean it. When Hayden leaves she gives Nikolas her Mama advice *sigh*
Epiphany introduces Sonny to the new doctor. Griffin talks to Sonny about his history and progress. Sonny hedges because he doesn't want anyone to know he's better. Then Griffin asks Epiphany how he's doing in PT!! She told on him and when Carly leaves, Griff says "Why are you lying to her"??
Stuff about ELQ and the lawsuit for the shares. I guess Jason is suing Nikolas. Alexis is talking to Michael and Tracy. I don't get it, I guess I missed most of that but it was also on so long ago and not mentioned that I forgot. Tracy tells Michael to leave when Hayden comes in. Hayden shows her her ring. Tracy smiles. BUT! Then Hayden tells her she signed a pre-nup. Tracy's mad. Hayden says she's got something on Nikolas-- BIG something.
SPENCER's absence is so glaring. Yes, NB is taping a new show but geesh. Like with Joss, just put them in boarding school already.
Tracy had some kind of an episode...mini-stroke maybe?? Rumor is she has a medical problem..soooo....
OH@@ Epiphany will be in Crimson too!