THINK...THINK..THINK!
As I look over the blank page before me, staring out the dirty window, (heh) my mind is just wandering all over the place. I'm trying to come up with new ways to say the same old things I say week after week.
It's getting very hard.
I could pretty much sum everything up by saying: no secrets revealed, baby Avery was yet again passed over like a sack of potatoes and the mob? Well, alive and well in Port Chuck ready to be taken over by young bucks and a lady in a red dress.
I know you want the full shebang so here we go!
I'm going to have a Snickers, maybe it will make me less cranky.
I'm going to do some of the blog a bit differently this week. I need to for my sanity. Excuse the whatever is going to happen---
I'm out of the mob.
RUBBISH!
He IS out of the mob...
Horse-feathers!
I'm OUT of the mob...
BOLDER-DASH!
Carlos shot Sonny.
Um, no he didn't.
Yes, he DID...
Okay then...welcome to the five-six whatever families. Wear black next time.
Yeah, and every third Friday is pot-luck.
With this ring I thee...
Ping! zap..OH..ouch...ouch...eee... BEEP BEEP BEEP BEEP ....
Oh no! NO! Patrick? What the hell!
I'm going to have to operate.
Is that safe?
It's never safe! Sonny may NEVER BE THE SAME!
NO! He MUST be THE SAME!
Yes...wait and wait, it will be several days for his recovery. Several. I suggest you go home and support each other. A lot. Sonny will need your FULL support.
I SHALL SUPPORT YOU!!

Meanwhile on the docks, the new mobular boss makes a move....
Anna killed Carlos Rivera...I have the key to the box that the gun is in..
You do?
Yes..here, you can have it.
Ok, BANG..you're dead. Bye Sloane
Oh my gosh, you are Jason Morgan!
Um, no I'm not, m'am...
Forgive Grandmother she gets confused
I'm not confused, this is Jason Morgan, look at those eyes..
Um..well, I ..um..
We are just here for Chinese food and memories..
NO! NOT TRUE! You the real Jason!
Well...
I know, let's renew our vows to make her feel better!
Um, OK! but only if you leave those two knick knacks behind...they are weird.
On to the next day.... .(you may sip your tea now..)
Wait, you're telling me we are in bed again?
Yep...so everyone can see my pecks.
And we can tell everyone what's been happening all week..
How can we possibly do that?
Don't worry, we get another chance at Kelly's when we eat ribs..
We do?
Sure we do...because that's what we do. Talk about stuff so people know what's going on in case they've missed part of it.
Well, as long as I get some ribs, that's cool.
Give me my baby...
No! Never!
Whore!
I killed Claudia, I can kill you too!
Ma'm, I'm here to keep the peace...
Give me my baby...
Whore!
Maybe we should..I mean.. there's a court order and all..
Told you we should have ran to the island!
Sure, no one would EVER look there, Morgan. Duhhhh.
BOYS! Stop it...
Um, give me my baby, my milk's coming in..
God, Ava, she's like a year old now...
So..I didn't get to see her at all..
WHORE!
Ok, ok...here's the baby...she's not going to like it though...
Oh, yeah, she hates it, can't you tell? BYE! See ya!
Hey, my face is on Maxie's body...what the..what?
Just shut up and enjoy it, will ya?
But..I am thinking of Lulu..
So? I am thinking of Dante.
Lulu..
Dante...
Wait...so... this shows my 'playful side' ?
Sure does! Nothing says "Willing to be a dork" like a bib!!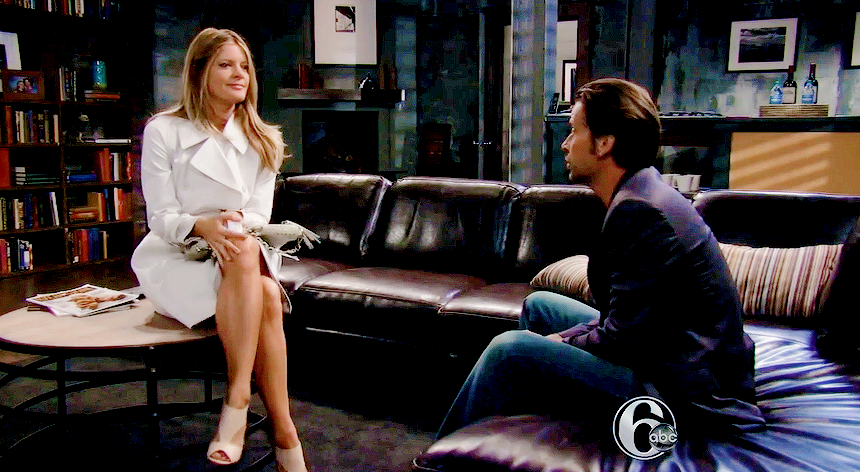 Hey, wanna move in together?
Sure.
What about here?
What are we going to do about mope-along Kiki?
Dunno.
Did you hear her say she's working for a "Japanese Investment Firm"?
(Pause)
AHAHAHHAHAA....;CRYINGLAUGHING:
Hey, Do you smell gin?
Hmmmm....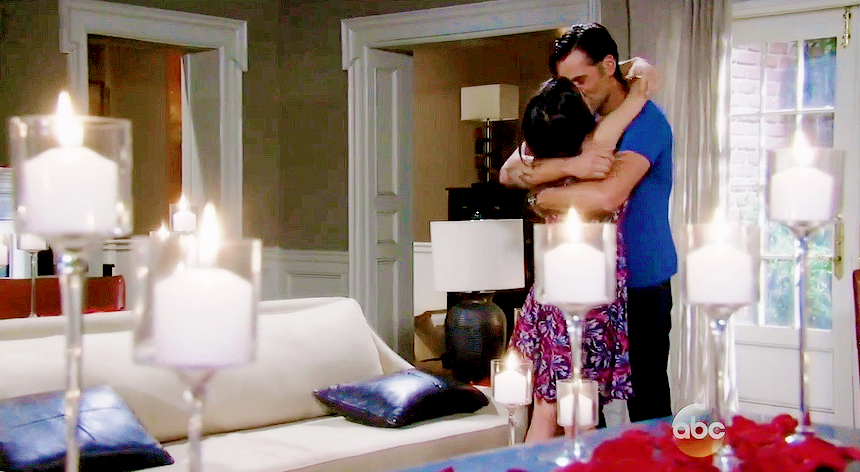 OMG..I want to marry you!
OMG...me too!
It's perfect! !!
We are perfect!
This is perfect...!!
What could possibly go wrong?
I gave you a ring pop..so nothing.
Nope. Perfect.



SCENE OF THE WEEK:

Darling Baby-Pants played Peek-A-Boo with the blankie!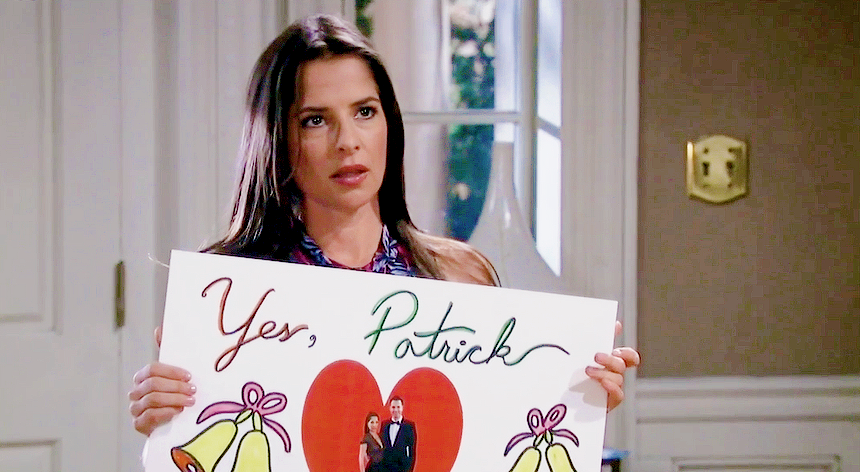 PROP of the WEEK:

Aw, I made it myself!





FACE OF THE WEEK;

Billy Miller. This was his face the entire "I was suppose to just go get Chinese Food, not this other sheeze" stuff. My face too. For the love of all things Soapy END THIS NOW. I've said this every week for like 20 weeks!
So, basically it was Dillon's 'movie' which turned into a confession by both he and Val that was taped by his assistant. ERGO, it's going to come out sooner or later (please be sooner). Sam and Paddy are engaged. Sonny's..well, whatever. He's just in limbo now. Probably Mo got some vacation time. Paul killed Sloane and gave Anna the head's up on the Carlos' stuff. Anna and Sam are going to PI together. SamTrick is engaged. (Poor Emma).
Oh, and Laura's back.
I have no idea where Lucas is, I guess he doesn't work at GH much anymore--or he'd stop in and see his sis. Kristina? No idea. Bobbie--um, where ever. Monica? (aahahhaha STOP LAUGHING). Tracy? Probably in the living room. Brad? Felix? Dr. O? Why isn't she in checking on GH's most famous patient? That whole thing with Olivia having Jules' baby and he still thinks it's dead? Hmmmm. Oh well.



NEW WRITERS

stuff starts Monday, people. So, let's see how this is all gonna roll. I'd better not be getting 10 weeks of drunk Kiki and Morgan the mobster. Nope.