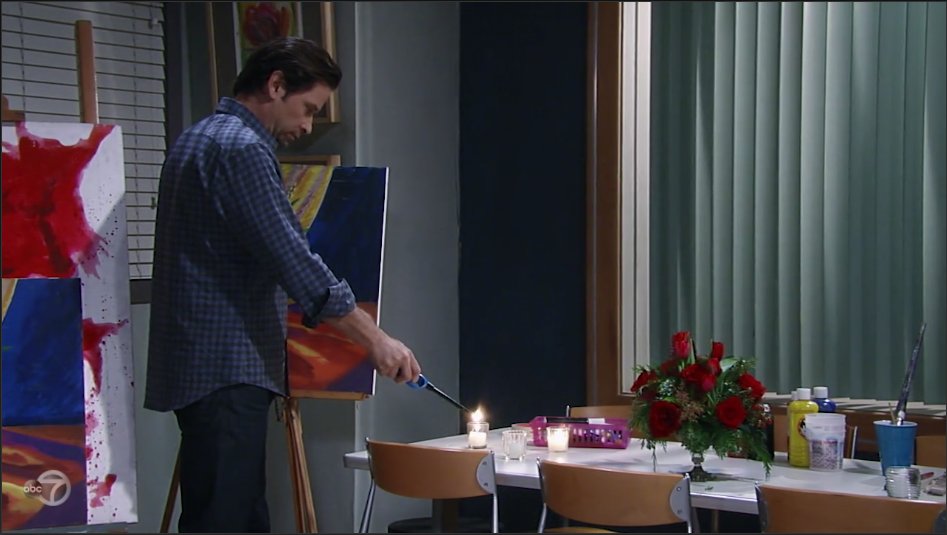 I watched yesterday's show. Trying hard with Post-Tumor Franco no?? Just once I'd like to see a soap guy give a girl a crappy ring! Or at least TINY LOL
Maxie and Lulu outted Nellie!! YEAH!!
I guess Dr. Kim is working at GH as an OBGYN. Nice, jump right in. Good to get her mixed into the canvas. What IF she's in on the whole Jasons switch? She knew Drew, she's a doctor-- she came to PC. Hmmmmm. maybe??
TODAY'S SHOW:
SaSon goes to find the burner phone location and they go in an it's BRITTA!! She says Faison is gone, left a few hours ago. Jason tells her about Danny and tries to pull her heartstrings to give them information.
Idiot Oscar wants Joss to delete the DNA test from her phone. (they came in). He wants to give his mom "another chance to tell him herself" .
Drew is out--Jason convinced the Navy guy to let him go because of what happened. He's not happy Jason helped the situation. Later, they walk home and run into Friz (see below)
Carly is donating to Toys for Tots. She runs into Dr. Kim. They talk about Joss and Drew. And the Jasons. Joss comes in with Oscar to talk to his mom. Carly bitches her out because she's grounded and walking around all over.
Friz is going to take boys to see Santa. Franco wants to marry Liz on Christmas. Carly stops by to yell at Liz. Liz is like DUHHHHh weren't YOU going to marry him? "Just wait until Jason finds out" says Carly.
In the Park, ONLY JAKE shows up with Friz (of course) and Drew and Liz explain the whole mess to him. God, that kid can CRY!! wow...he was so good. He's upset, doesn't want "the other Jason" as his dad. Meanwhile, Franco and Sam are exchanging barbs about Jason
Franco "I bte you want him back"
Sam "I bet your're afraid he'll go to Liz" Something along those lines. lol
At the END:

Kim confirms Nell is PG-- they tell Carly "Congratulations Grandma" says Nellie LOL
AND..OMG Dr. Kim just goes to Killys and STRAIGHT UP TELLS him Oscar's his SON! geesh!!! No build up, no NOTHING!! ahahahaaa. WELP.