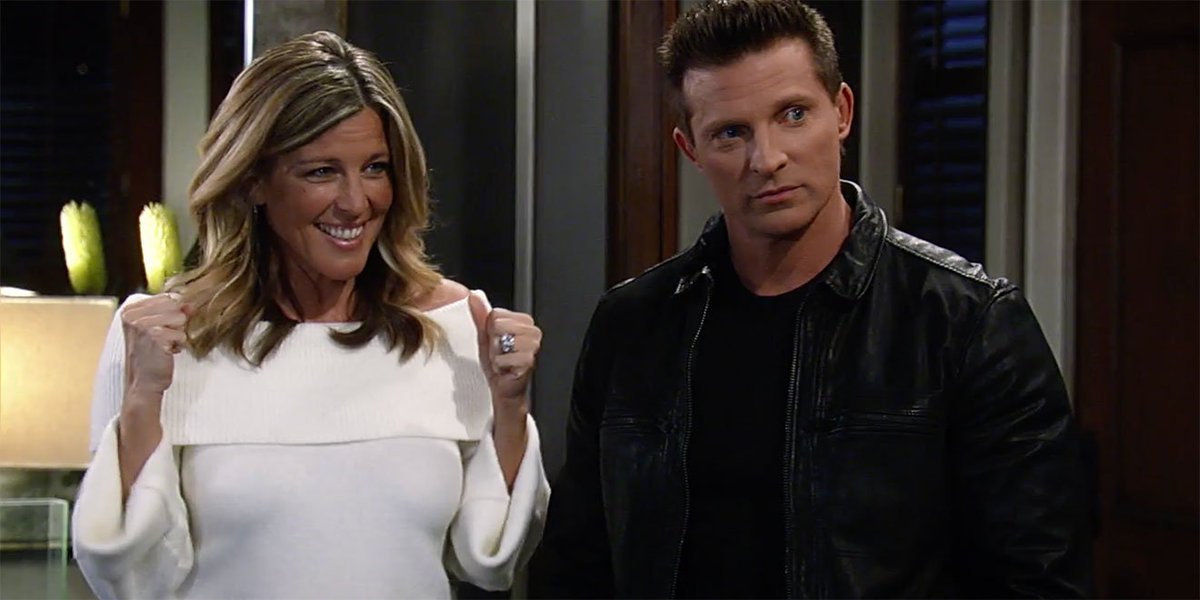 CarSon and Michael such a good scene-- Liked it even tho they talked about Morgan. Then Jason came by and everyone was happy. OMG. then Michael asks to hear his baby story--his whole history!! AHAHAA Carly will have to tell all the dirty details!! Geesh, it's all set to soft piano music and Sonny makes himself sound so noble lol. NO meat hook mention! Then Nelle comes at the door --fake faints-- and says she slid off the road and has no where to go. They give her tea. Sonny's like ..ugh. Carly gives her dirty looks.Later, in the hallway, Carly's sitting down and says to Jason "Isn't she doing what I did to you so long ago? Show up pregnant?" Jason says "yes, but you weren't manipulating me, we were friends and you told me the truth." Carly mentions the key chain he gave her then with "Caroline" on it. She got him a key chain that looks like it with a key to the house on it: "This will always be your home".
Aunt, Molly, TJ-- Curtis and Jordan --awww.. Alexis is there too. The heat and electricity go off and they decide to go to the Charles' Pub.
Ava and Griffin stopped by Jules' bar. Jules isn't happy that Griff is there. Ava and he leave to go to Mass. Julian is all alone.
All of a sudden, Julian finds the entire crew from TJ and Molly's and then Ava and Griffin too. Alexis is not happy being there.
Julian fights with Griffin...Alexis fights with Julian. Stella and Jordan fight. Molly and TJ decide to sneak out the backdoor. Everyone still fights. Then, the kids come back and say the homeless shelter is full and need stuff. Julian invites them all to the Pub! Aww, everyone working together.
LESLIE is at the wedding!! Naxie...Dante... Happy Couple... Bobbie --Lulu. Leslie flew in on a private jet-- and rented an ATV to get to the church. She brought her significant other MARCHELLO who's ITALIAN and SEXY As ALL HELLO! Nice. He's going to marry Laura and Kevin since the minister can't make it. RUBY MENTION--Bobbie gives Laura Ruby's hankie for the wedding. Laura has on a beautiful royal blue gown-- Maxie has on ..um..not sure. They are married. All the roads are closed so they have to stay at the church.
FUN FACT: Charles' Pub has Lobster Mac and Cheese.
REASON TO WATCH: Wedding (Leslie--and hot Italian guy) and The whole Carly/Nelle parallel thing. I couldn't type it all up.