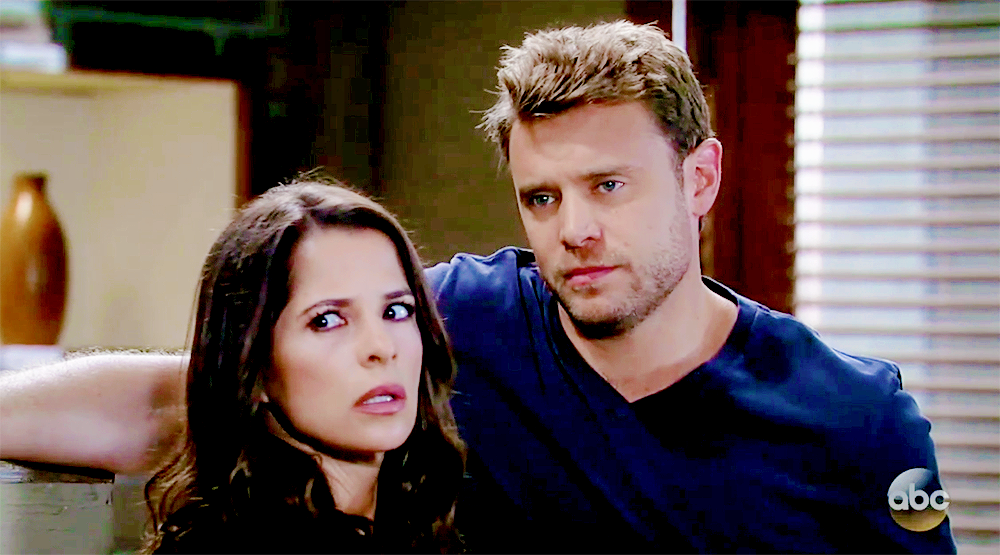 Sam is talking to Hallucination Sonny. AGAIN. *sigh*
Laura is talking to Real Flesh Blood Sonny. Sonny tells her he'll find Spencer with his "connections".
Carly and Bobbie are talking about Spencer being gone.
Nina posted bail. Laura is going nuts when she finds out and yells at Nina in the PCPD.
Laura follows Valentin out to the docks and confronts him. Yells, screams (good STUFF!!) He says he didn't do it. She pushes him...he pushes back-- and then turns around. Laura takes a shovel and WACKS him on the head LOL.. he's OUT! Nope, he gets back up. then Jason comes around the corner and puts him in a headlock.
Charming.
Ava threw away all her make up and she's drinking. She orders a case of vodka to be delivered lol She has to sign for it-- and the guy sees her face. She says BOO!
Josslyn and Carly discuss Oscar-- who's apparently working at Lila's Camp. Carly says it's tough to be the mom of a teen.
Sam goes to see Ava about ..?? not sure I think Avery. She thinks Sonny will be a bad parent. Sam is telling Ava about karma and how much she's had to pay and Sonny hasn't. She's being all weird. The whole scene is weird.
Sam goes home and gets a gun.
So, in the end, Sonny gets a text with Spencer's photo. Monday, someone (male) shoots him when he goes to find out the source. IT's going to be GARVEY, the idiot guy we didn't even know from before. UGH