So the BIG news today is Carly has on Jeans and a long sleeved top! Holy moly. Almost fell off the chair!! Joss is bitching about being grounded.
Jason is torturing Valentin...Water....then he gets out a knife. Valentin still says he doesn't know. After awhile, Jason believes him and lets him go.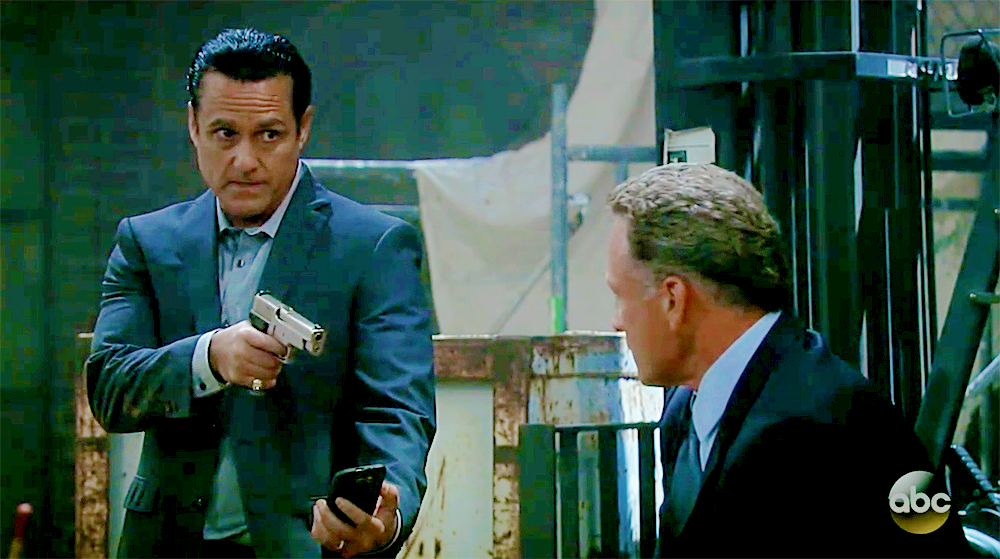 Sonny gets a text with Spencer's photo. It says to go to the Black Duck Distillery with 200K or Spencer DIES. Sonny goes. He gets shot and we see the hand is a man's. Sonny falls to the ground. Sonny's faking! He shoots Garvey when he goes to get the money... Fake out! He had on a vest I think?? Yes, a bullet proof vest.
Sonny asks where Spencer is. Guy tells him...then Sam shows up. Whoops. Garvey tries to get up. Sonny shoots him in the knee cap.
Then, Sam pulls out a gun and threatens to shoot Sonny! Oh lovely day in PC!!
Oscar comes into the PCPD with Valerie to talk about Spencer. it's his post it note with Spencer's famous person on it for a game? SO weird. I guess there was a footprint. ?? Then he texts Joss. Carly grabs her phone and says she wants to meet Oscar.
Oscar comes over with 2 things of flowers and is wearing a tie. Carly is snarky to him about the party and drinking with Joss. We get a nice lecture about underage drinking.
Oscar plays the piano! He doesn't know who his father is! (Please let it not be Sonny lol) It's probably Garvey, right?
Carly ends up liking Oscar and thinks he's "So cute"!!
Mac's on..eating at the Floating Rib.. random. He and Nate talk about marriages and how to keep them 'Fresh". Too bad they can't put Flea and Mac together. OMG Mac has been reading "Man Landers" LOL. Geesh.
Maxie surprises Nathan by coming in! Of course Mac left by then! Kirsten looks good.
OK, that's it! I will be off for 3 days.... see you Friday!