One last hurrah for a bit.. I'm going to give you the "highlights" of some of this week because I basically stopped watching half-way through. When I think of all the possibilities -- when I think of all the beats missed and history just messed with so badly--I could scream. You know I'll probably watch at some point. Right this minute I just can't deal.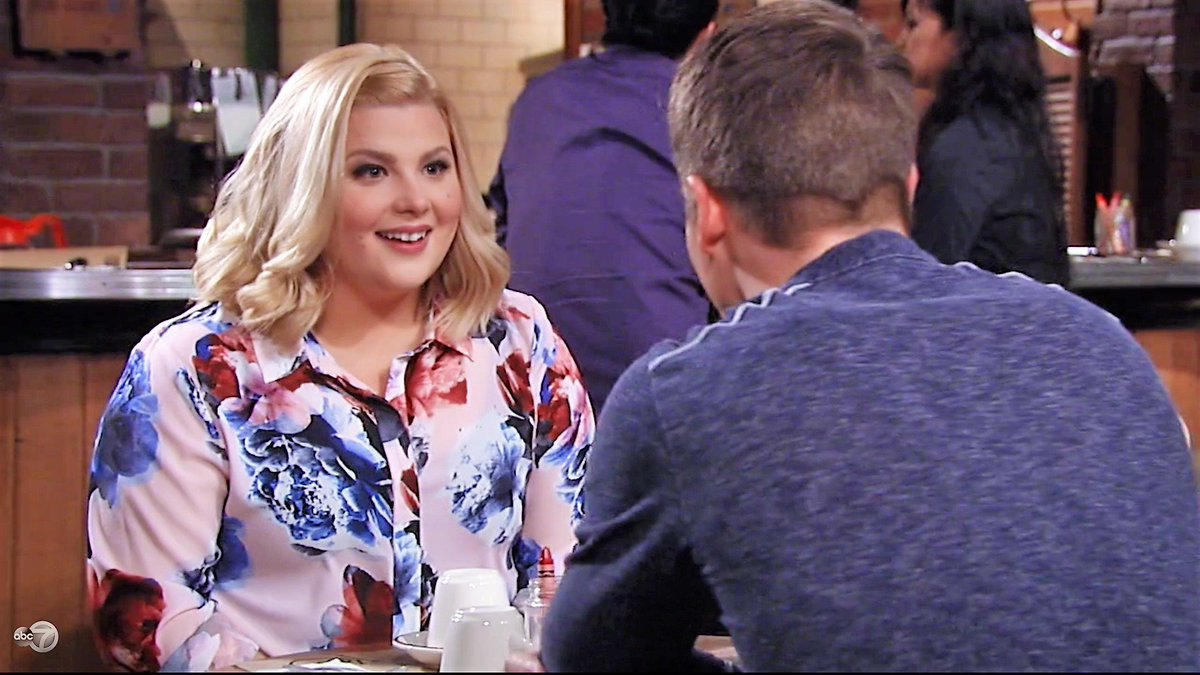 Hi! Remember me, Dillon? Yeah, we went to HIGH SCHOOL together!! OMG...didn't you see me at ALL last year at the Nurses Ball? No? Well...whatever...its' THIS YEAR'S Nurses Ball so I guess I get a story!! HOW COOL IS THAT!? OMG and guess what!!!? Like Kristina is my best friend or something. I'm not sure. I do talk to her on the phone all the time. No. we've not actually had a scene together but whatever. OMG I loved you so much in high school. WHAT? YOU Love Game of Thrones?? ME TOO!! SO MUCH! Wait, you have a GIRL FRIEND? Oh that sucks and I'm so mad now. I mean.. weren't you waiting for me since we graduated???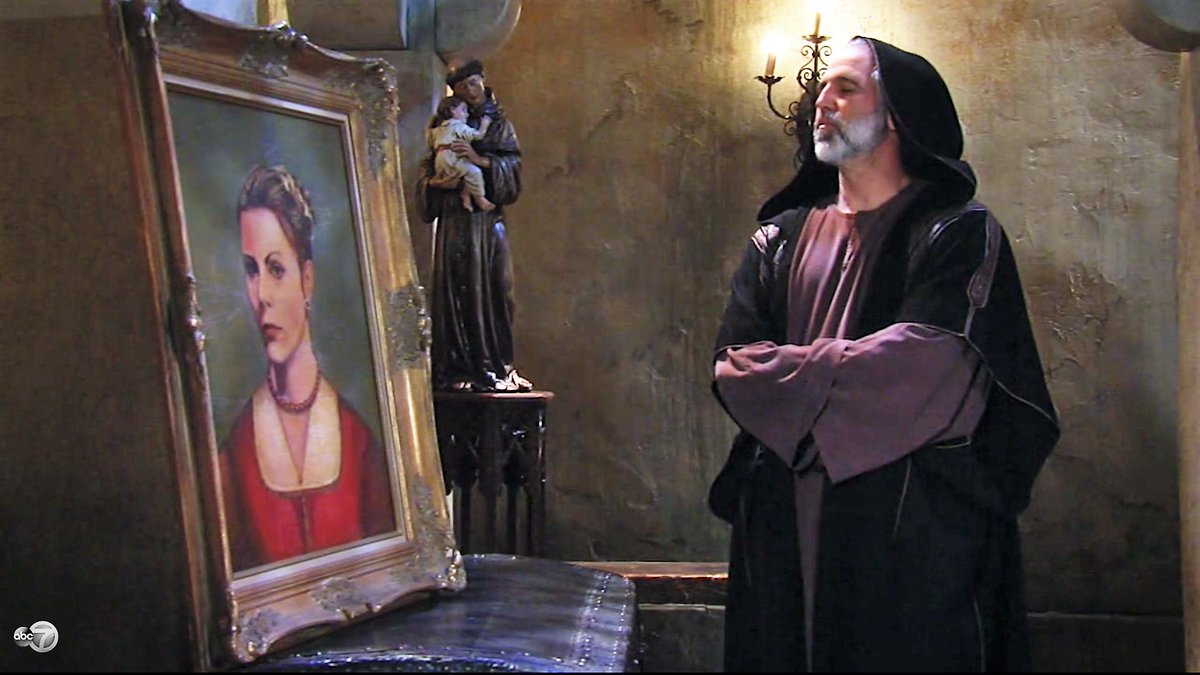 I Am a MONK! you can tell by the MONK CLOTHES and my beard!! Long ago, in another time a man came here and gave us this painting to give to his daughter upon his death. But being NOT NICE MONKS we shall sell it for millions! The man gave us a letter to deliver to the woman in the painting. We had no idea she'd ever show up. But! Here she is in the nick of time. How convenient !!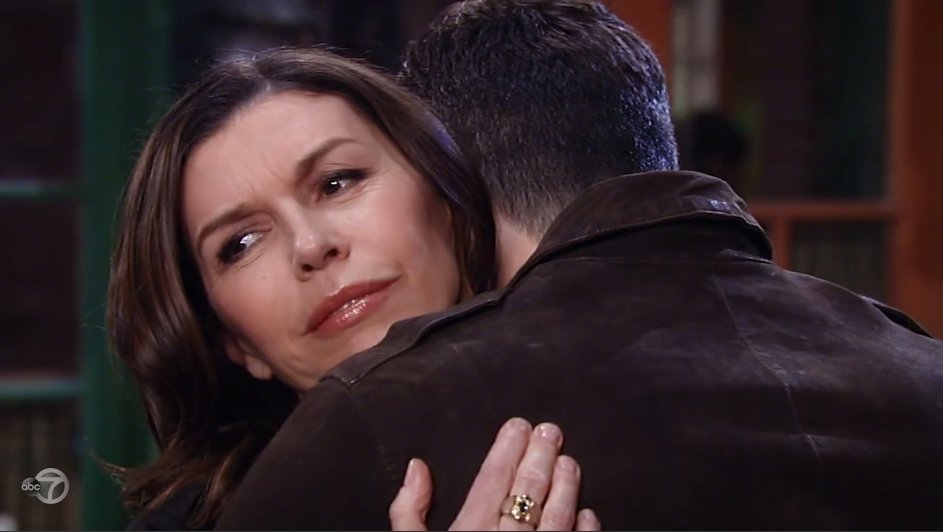 OMG.......who am I hugging? I have no clue because I haven't been on a soap in eons! Last time I was in Pine Valley. Now my sister summons me to this god for saken place to convince Valentin that he did mean something to me all those years ago. Why she has pity for him no one knows. It's funny because I literally haven't heard a word from her in..oh... decades. Has the audience even heard of me? Hmmm.I wonder. I wonder if all those new viewers will get a clue to what's happening. Or if the older viewers will even care I'm back. I was on another soap after all. Oh well.. it sure is fun playing a twin.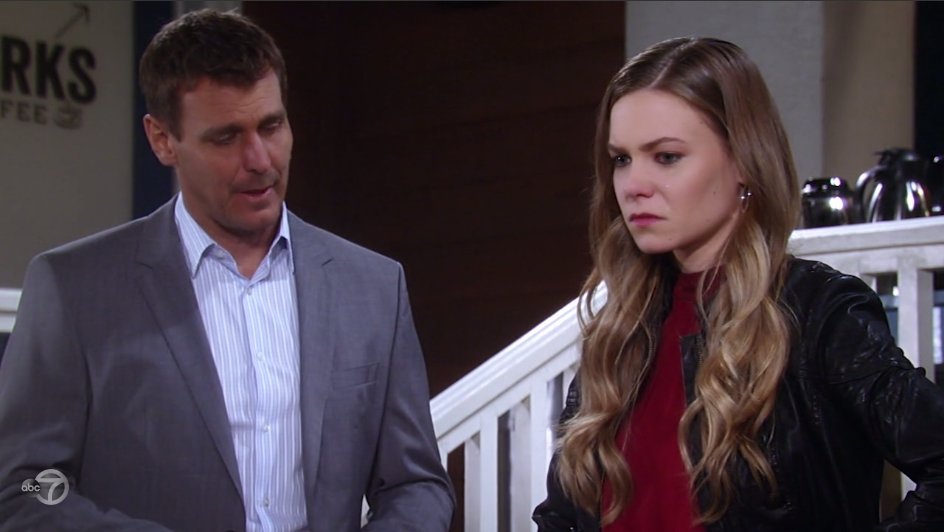 Oh for F*k sake. This good looking man with an accent is telling me I did everything against Carly and it wasn't even HER FAULT? What the hell? I mean, I kept this poker chip with me all these years to remind me what a lying scum my father was, how was I supposed to know he'd lie about that!!? Crap. NOW I have to go apologize to Sonny and come clean and tell him I didn't sleep with him. Because....
Carly's going to sleep with Jax ..
She will find out about my lying and feel guilty...
Sonny will want her back! Hey just like the time...
Sonny thought Carly slept with Jax
But she didn't
But he got mad and slept with me!
But he didn't !
Carly found out and got mad because she thought he did!
What a GREAT STORY!! Get it? It's just like a wheel that keeps spinning and spinning and....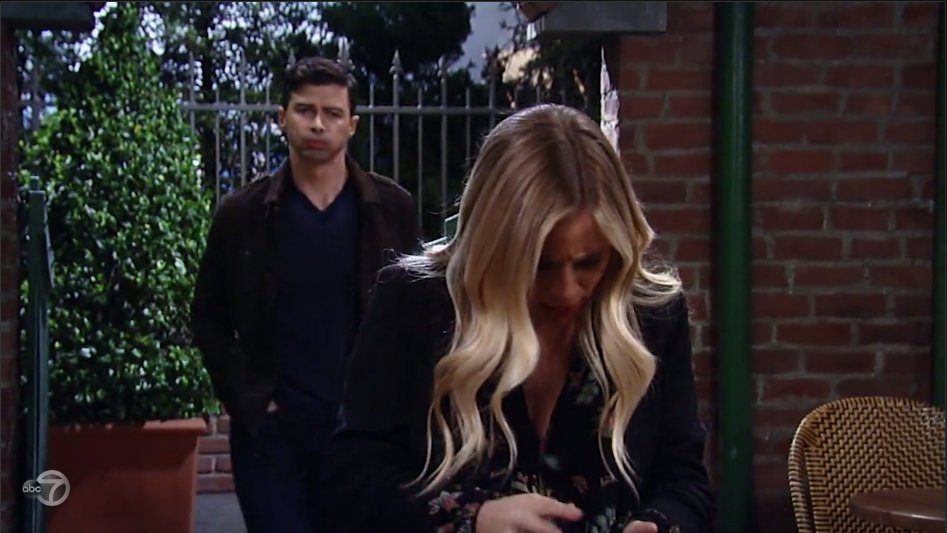 I think I left Charlotte in my purse. She should be here! Griffin...did I tell you how much I miss Charlotte?? Did I? She's my DAUGHTER. Did you know that?? She is!! MINE I TELL YOU!
What? What's that? Rocco? Oh I have no idea, I think my mother has him. Doesn't matter, I have a daughter now!!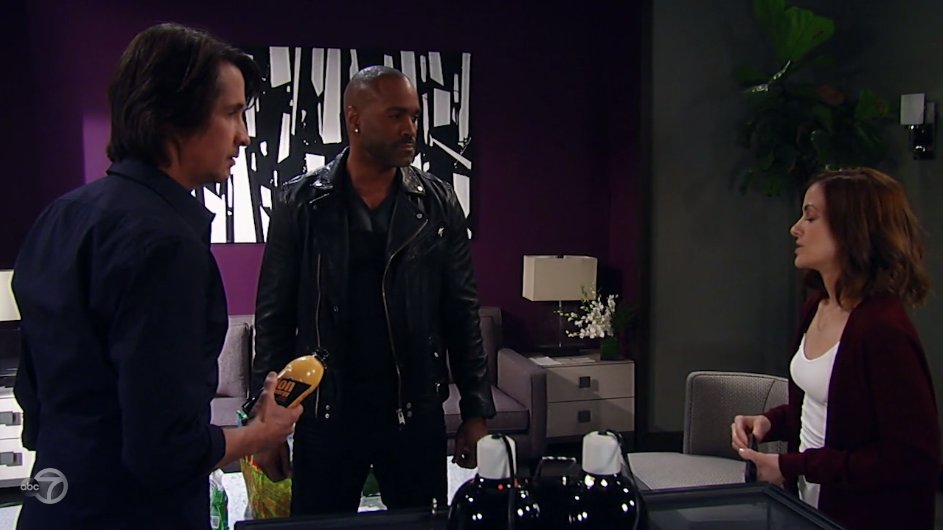 Um...want some mustard? No? Well, I have some here--Curtis brought it. See he's the new town delivery boy and... what? WHAT DID I DO? I was really mean to you when I was detoxing? Gee, who would have thought I would be mouthy and nasty when I'm trying to get a major chemical mix out of my blood system? Now you're mad? I guess begging to stay here with me while I went through that didn't work out so well, right?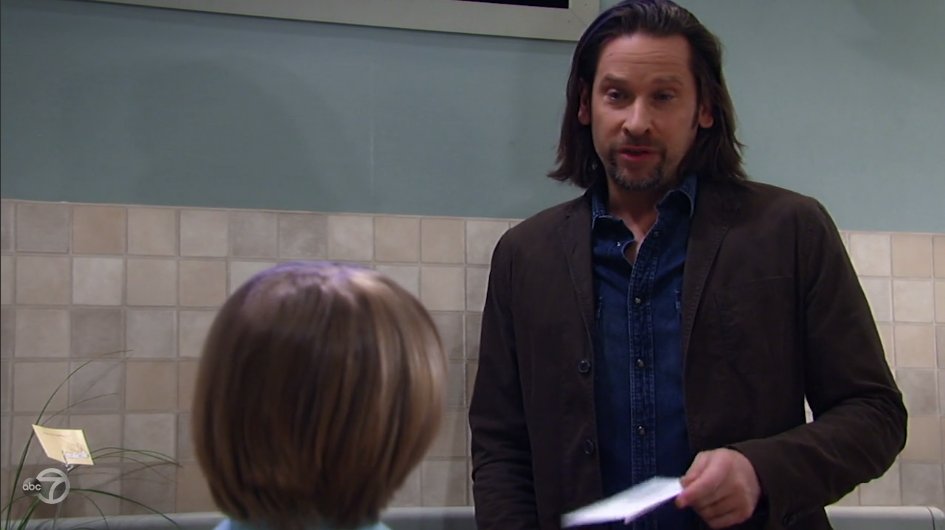 Kid, I know you like me and get get along pretty well. I got you to draw that funky "scarecrow" and everything but you see, I'm a bad character that used to practically eat little kids for breakfast so... we gotta cool it. Sorry, man. Catch ya on the flip side. I have to go paint my lady now. Titanic Style.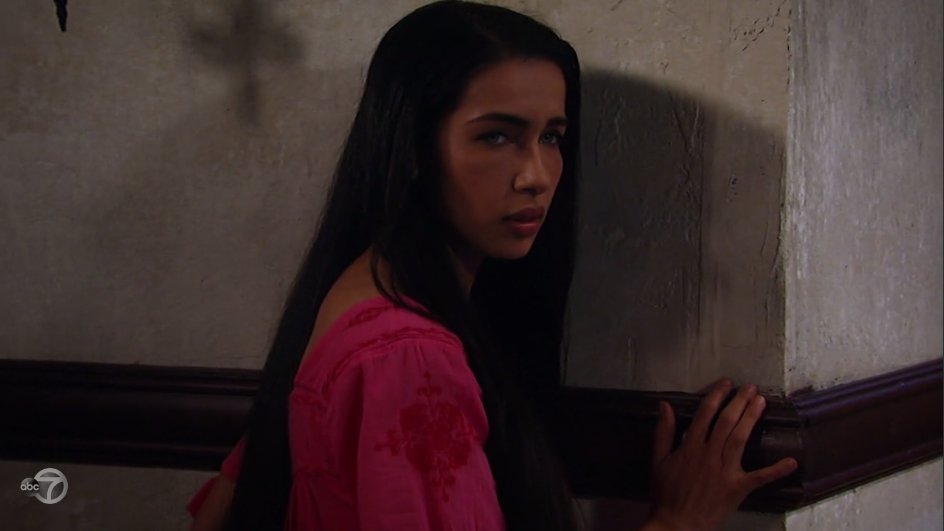 I am a mysterious crying woman that lives with the MONKS--don't call me Snow White though. I have a feeling I'm here to suddenly find out Port Charles is my destiny.
PILL UPDATE: Yeah, there still floating around. Ava tried to steal them, Scotty tried and then Dante got them. Snore.
And.......there you have it. I'm not even going into everything that was wrong or the history that was trashed--nope! Not gonna do it. You've seen my rants long enough. I just wish soaps in the USA would buy a clue from England. Just take a look at Hollyoaks for 2 minutes. They are doing the dementia show GH should have done years ago. Single camera work too. Character focused.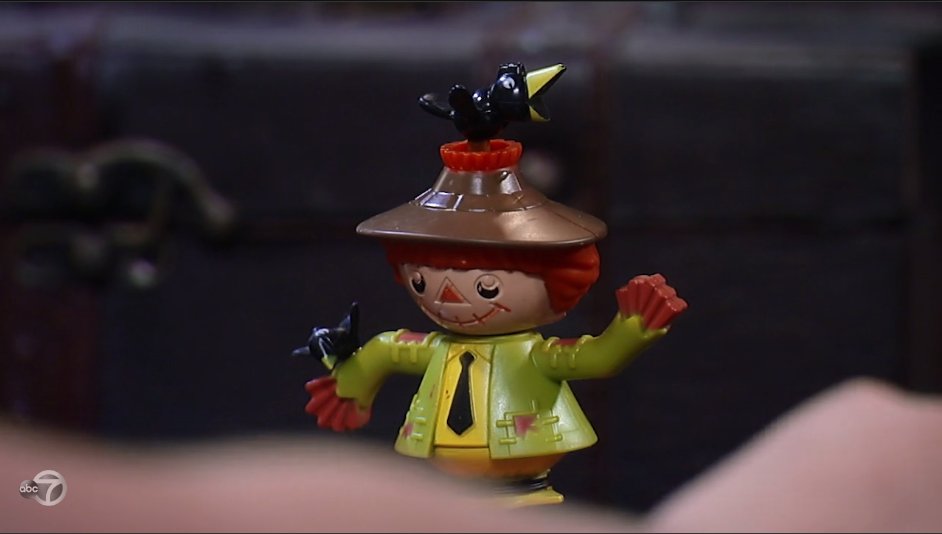 PROP OF THE WEEK: this scary looking scarecrow that Dr. Maddox had in his magic box. Why do they make scenes so damn short? Perfect example of a glimpse not a development of a story. *sigh*
I guess I'll see you when I see you!!