Bless me GH For I have sinned. I watched the serial killer story thinking maybe...just maybe you had some sort of reasonable answer for how this all happened. You know, a story to tidy things up. Bring stuff together.

Wow, was I wrong. Just WRONG-O!
This is was just the most frustrating week in the history of weeks. In a story that rivals the writer's strike written "Text Message Killer" we got:
Serial Killer: Off screen Revenge.

Grab something that will take awhile to eat because it's a long one today !! On a another note, I saw Roger Howarth yesterday!! He was awesome and so nice. It was a small venue so we got a lot of time with him. And yes, I got photo with Alberta! So look for my write up here soon.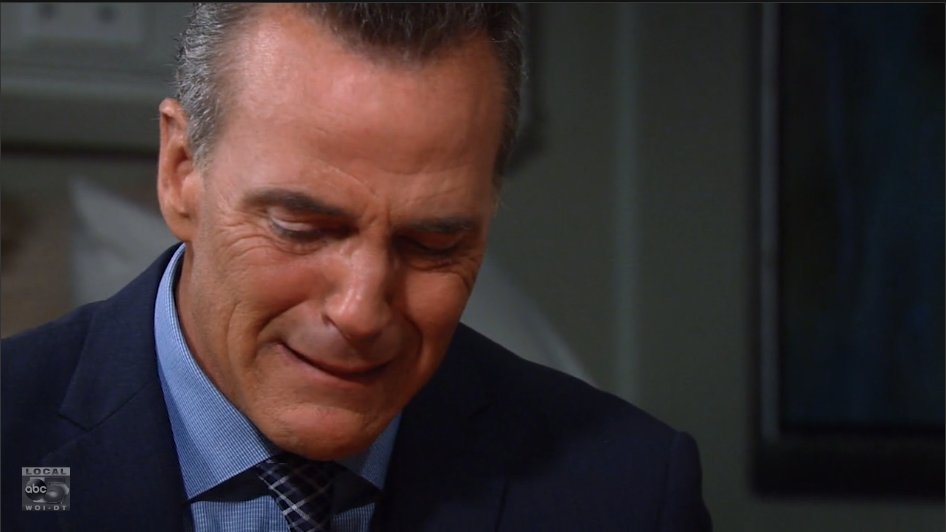 The confession. We did hear it, with our own ears. Why did Paul murder all those rando people at the hospital? Well, seems that Susan was in Port Charles at some point in time (I can't even think about when this might have been)--and it was either before or after her "Bar Harbor Years". Dillon didn't know she was in town so was it before he was back? Who knows. Point is... Seems Susan got into drugs and some pharmacist helped her habit along. (death guy #1) Susan then got abused and raped by Sloan. Then, when she went to GH to get help, Dr. Maise messed up the rape kit (death guy...# ??). Since the rape kit was messed up, they needed an eye witness to help convict Sloan. But, the eyewitness lady (death #3 or 4) refused to testify. Susan asked GH for help and Monica wrote her a letter saying, sorry but since the rape kit wasn't viable, they couldn't do anything. Which is why he tried to kill Monica.
Now..the holes in this 'story' are just so huge I'm gonna back a truck up in there.
1. The timeline of Susan living in PC adds up to nothing because if she was around, we never saw her and ergo, they can make whatever stuff they want to up. I have to think it's when Sloan lived there because, um...he did it.
2. Why did he try to kill Bobbie? Was she a nurse at GH at the time? If so that must have been ages ago. Or..maybe she was just someone that helped Susan find an apartment and pissed her off. See, I can say whatever I want.
3. If this 'revenge' crap has been going on since Paul got back to town, why the hell wouldn't he have just started like A YEAR ago? Could it be because they made this all up as they went? Yes, oh yes.
4. The whole Bar Harbor store is just hanging out there like a sore thumb. If she was up there running it, when was she down getting raped? And if she wasn't running it, how did they know where she was? Remember, Paul talked to Paul and Tracy about Susan and 'the store' and the fact he's called her now and again and that's been it.
5. Since Paul's a DA why wouldn't he just sue everyone instead of killing like this? Oh, wait, he's crazy. That's right, Tracy told us that. Ok, well...must be it then.
6. Oh, and PS we still haven't forgotten that he DID SHOOT SONNY no matter how you try to cover that up.
If you're wondering how the people ended up in GH ill, well, that explanation is that Paul somehow poisoned them to get the patients to the hospital so he could kill them-- and ergo, get GH shut down. Yeah. Seriously.
What a waste of Richard Borgi's talents. He's knocking the scenes out of the park, yes, but why do all this when he could have been so much more? He'll be off the show (unless he gets pardoned *cough* Sonny *cough* or has a tumor *cough* Franco) and we lose a good actor. This brings me to the killing of Sabrina. Don't anyone dare tell me this was all planned out. Sabrina was brought back on canvas and it looked like she and Michael were going to populate that barren Q mansion after all. Oh how stupid we are. What's the proof that Sabrina wasn't supposed to die until like the 11th hour?
His name is Joe. You bring back an actor who's character has died 2x and make him a twin, you aren't messing around. Apparently, making him a doctor at GH didn't mean anything. Having Teddy around didn't mean anything because now they are gone! Bye!
So....there you have it. Paul went on some bizarre killing rampage not because Susan was dying from the rare disease Silas had--or that the Cassadines had her and he needed organs to appease them. Nope. It's not tied to anything on canvas. Not really tied to people we know besides Monica. Oh, and Bobbie...but?? Not even sure why that happened.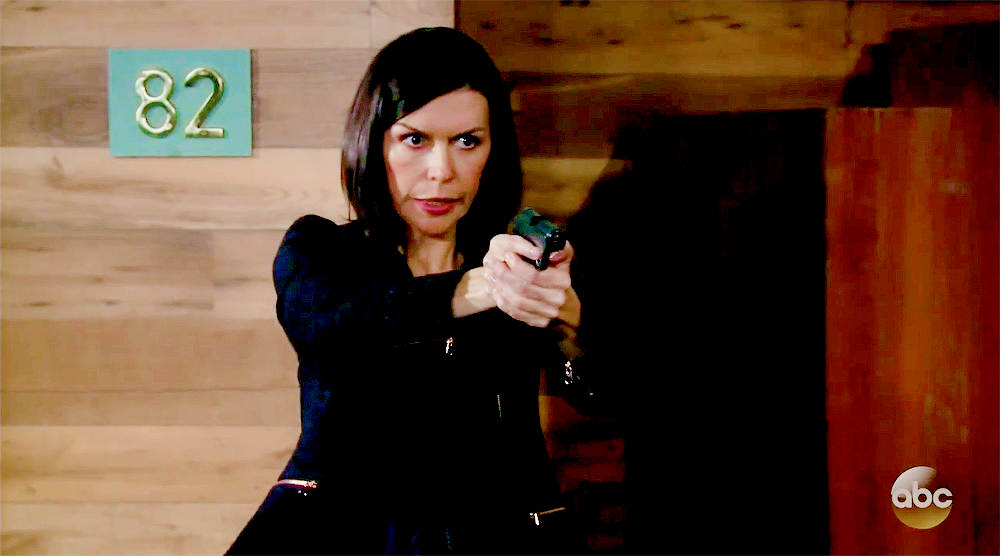 You know I'm one that really likes my stories to move along. It was a bit idiotic however, for Anna to get back and in 3 scenes figure the ENTIRE serial killer thing out AND capture the guy! I mean... WTF. And why pray tell, couldn't they have waited for the trail (it was 4 days, I counted) to have Anna there? I just have no idea what's going on. Kinda felt bad for ol' Jordan. She put in all the leg work and bloop!
One thing that really gets me is that I wanted the serial killer story to be a good one. When they kept yanking it off canvas, leaving weeks in between my attention waned. When it was apparent that there was no reason to watch in order to say, catch clues that could add up to anything, I just tuned that part out. I was right! Nothing added up that we could have known about. Such a fail.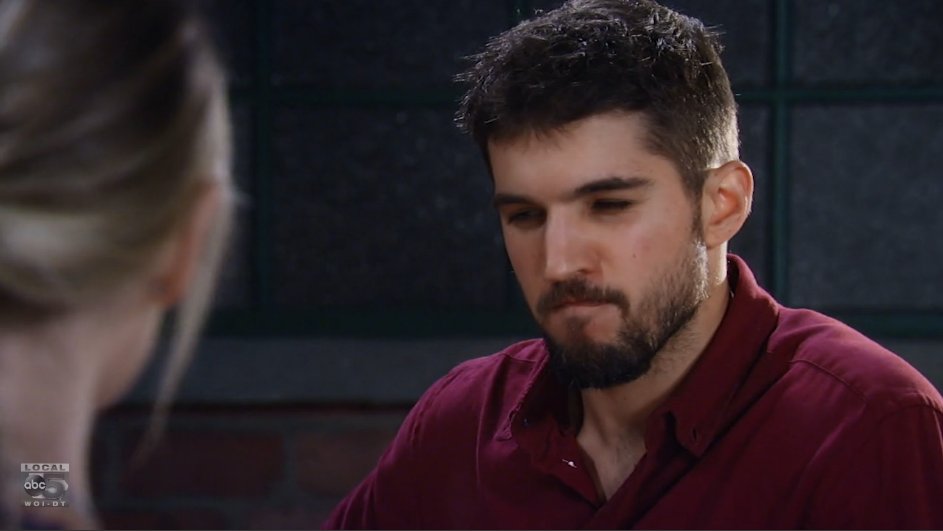 Oh poor MoMo. He's in a down swing now after his manic "I have to sign up for college asap" tirade. For his first paper (which came about quick, btw) he couldn't concentrate and decides to cheat with a site that Darby gave him. He's all happy until Dilly comes and breaks his bubble. There's a search engine you can use to catch stuff like this!! You'd think Morgan would have known this since he was in college before but... ??? So, Morgan calls Spinelli to help him get the paper back that he sent to his professor. Seems like that's not going to happen because he has to see his professor Monday. Oh I smell a bad bad attitude coming!!! Question is: since BC is leaving the show will they have him kill someone or..have him killed? I think there will be a recast so...he'll go off. Then they'll prove he's not really responsible because his meds were tampered with.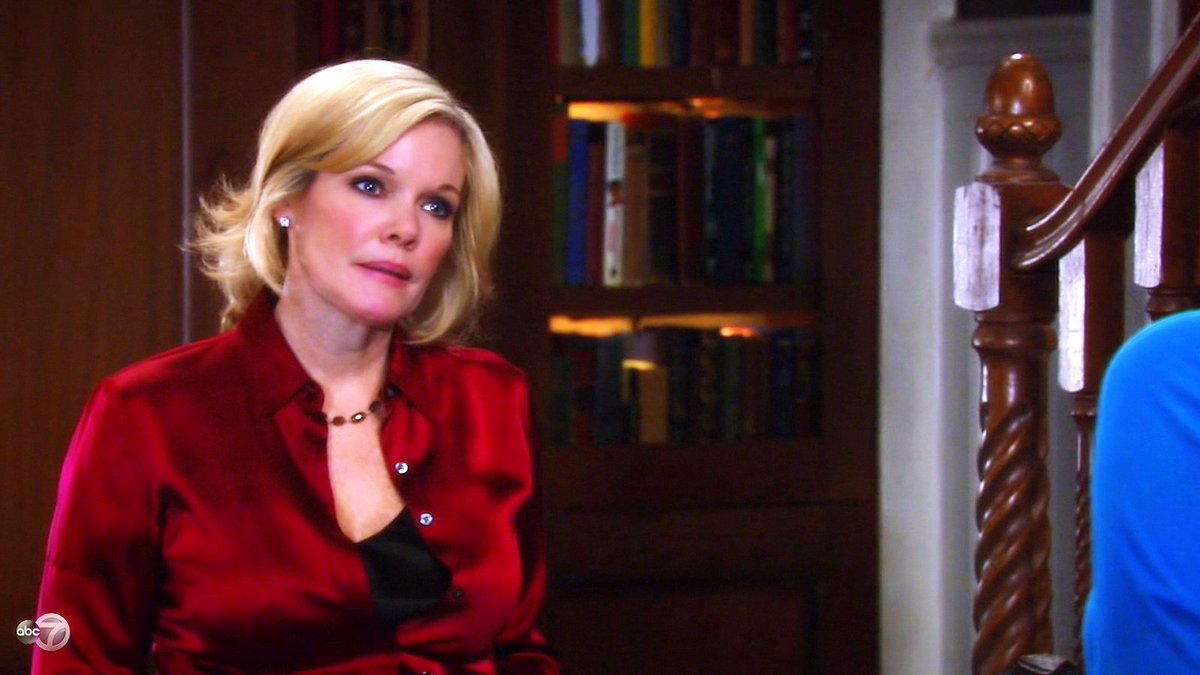 Which would make Ava culpable. But wait, we know Maura West isn't going anywhere so?? Chalk another one up to getting away with everything. OY. By the way, Ava went over to see Avery to give her a dress. Carly was all pissy about it but guess what? Ava was really there to switch more meds on Morgan. Why are they doing this? Why? I still say it's a terrible direction to be going in.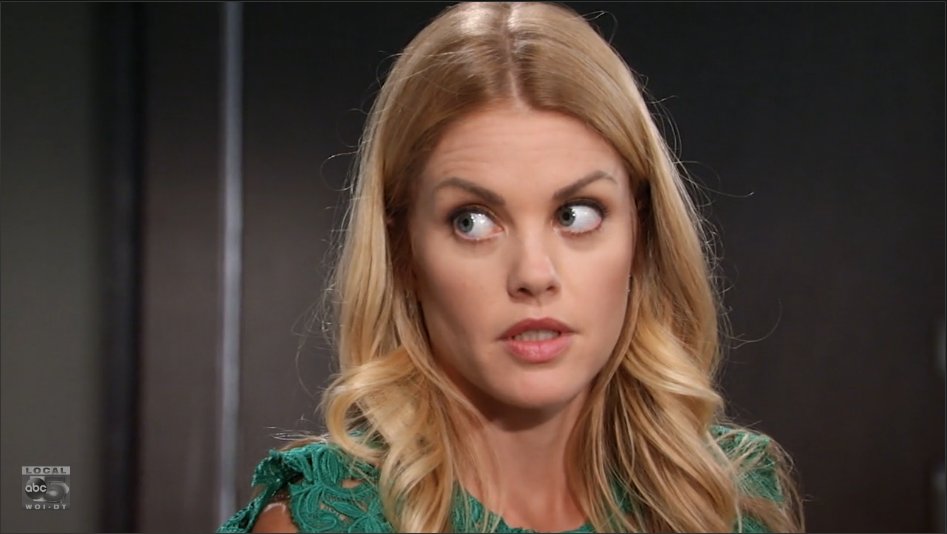 WELL. Should we talk about the other mess in the room?? Yeah, I'm looking at you Claudette. (or "Off Screen Queen"). She had an affair with Griffin on Nathan (off camera)...she got pregnant and... had a kid (off camera). Who's now in some kind of danger...(off camera.) OH!! And wait..she also was with Valentin!! (yes, off camera).
Look, good actress with people I don't care about having a kid I don't care about. So-- yeah. Whatever.
Call me when the off camera stuff gets on camera.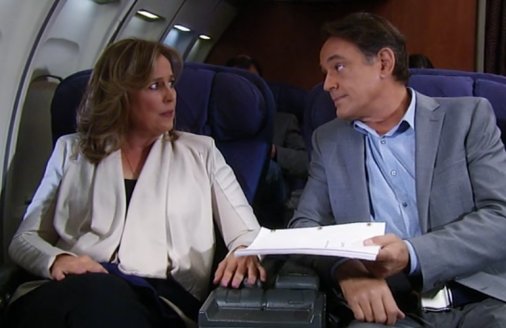 Laura and Kev are back. Now, you have to understand I totally missed her finding his "book" and getting mad and leaving. Then these two have been off screen so long I didn't even know what they were talking about. Anyway, I guess it's "back on" now.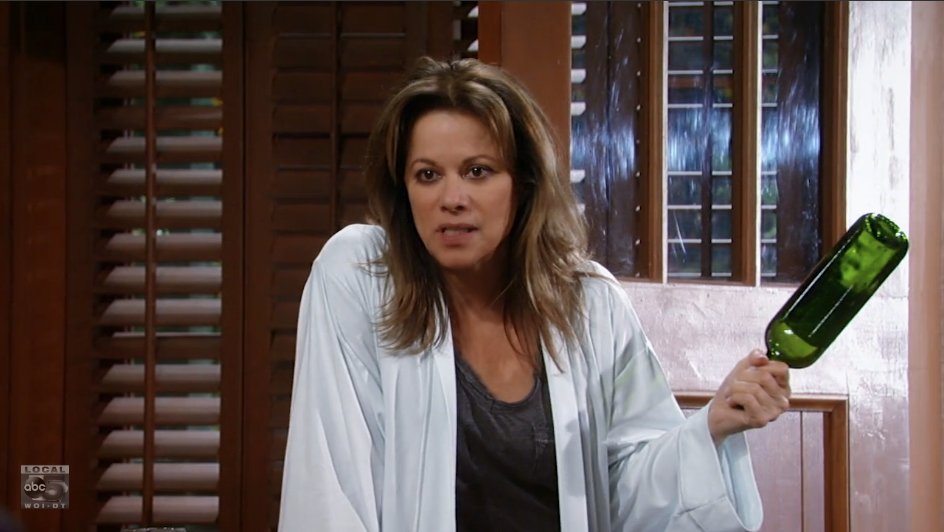 This is all great material for Nancy, I'll give them that. This whole Julian story though? Just goes on and on and... It was bad enough the trial sucked eggs but now it seems to be destroying Alexis too. Julian is just walking around town like he's going to put things back together. Sam goes and yells at him. He's being set up for a killing or a near killing. Is WDV leaving the show? Hmm, not that I've heard. All I can think of is that Morgan is going to try to kill or kill him, leave the scene--they find that Jade necklace Carly gave him and he's on the run? Or... Sonny sends him away since the only person that knows about that necklace is Carly?
I don't know, I'm making stuff up here. I do know there has to be something with that necklace because why else have that weird scene?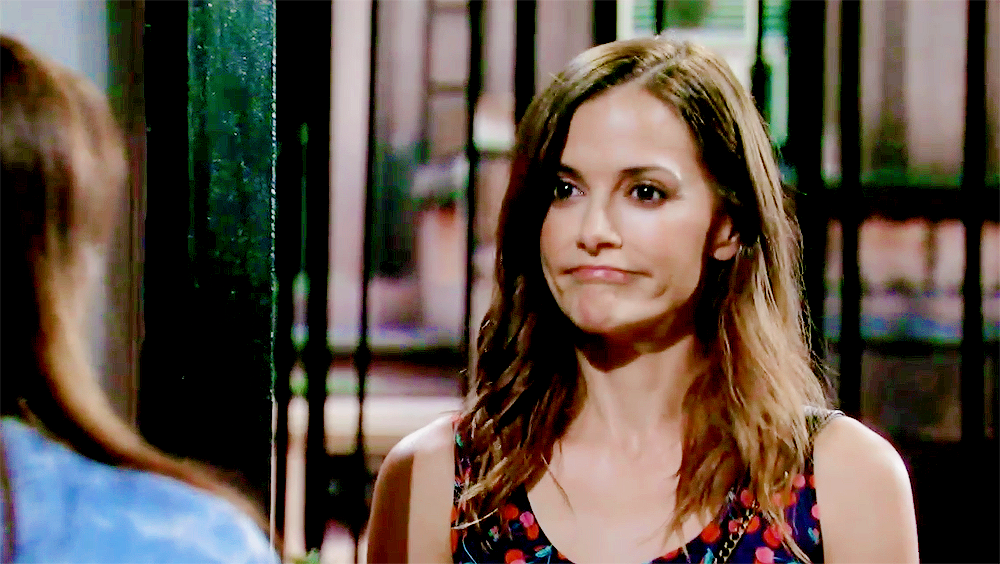 Other things that happened: Franco talked to Heather about money, Hayden and Liz fought about being sisters, JaSam talked in bed with spaghetti and Dr. O was over the moon about her granddaughter.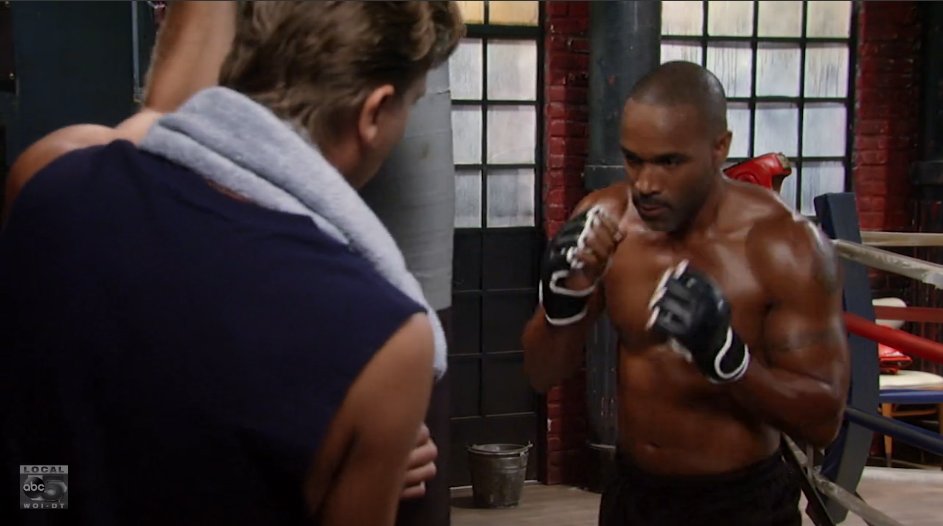 EYE CANDY OF THE WEEK:

Yes, hi there Curtis!! Oh, and by the way, they trotted out the gym for him and then used it again the next day for Sonny. Can't waste that space!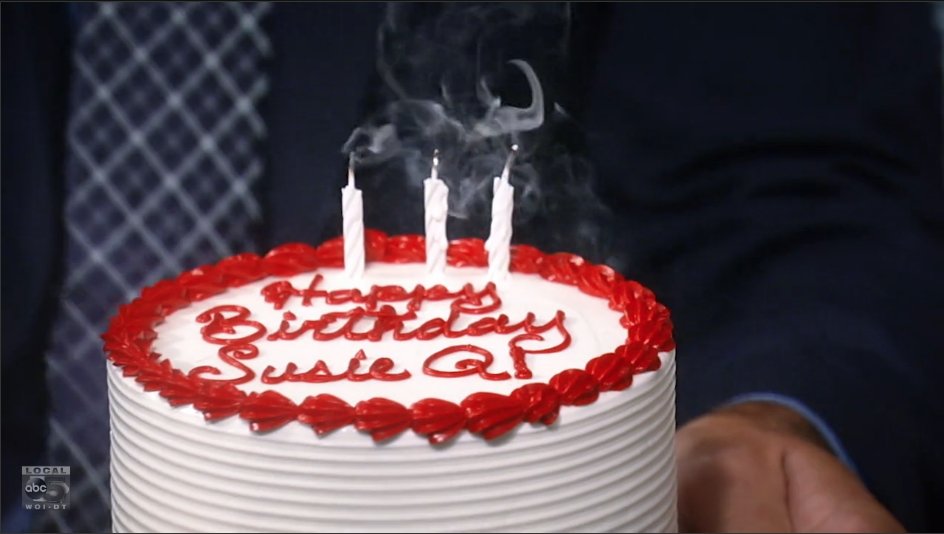 PROP OF THE WEEK:

Sad, sad birthday cake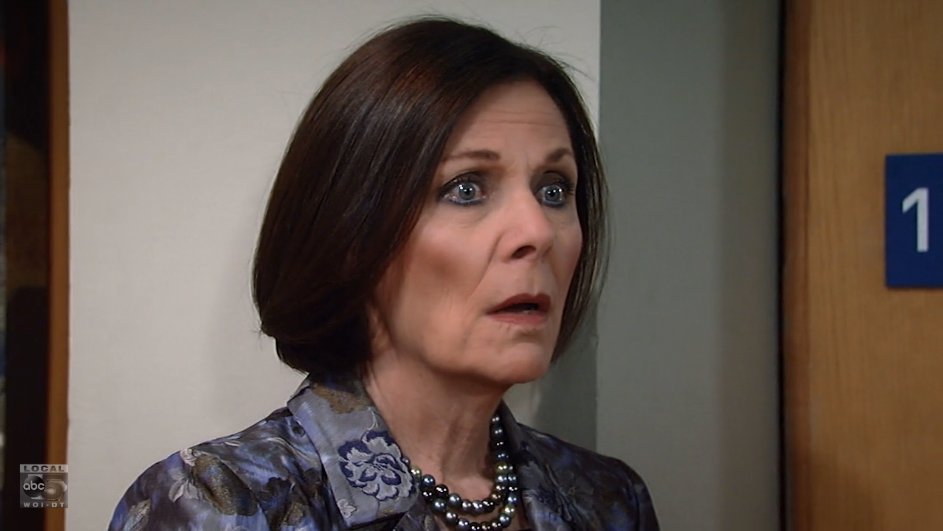 FACE OF THE WEEK:

Bloop!! Tracy hears Paul's confession