THE PARAPET!!!!!!!!!!!!!!!!!!!!!!!!!!!!!!!! Be still my damn heart!! Tad and Valentin are out on MY PARAPET!! I haven't seen that in ages.
I'm so happy lol.
They are talking about Ava probably still having the codicil. Valentin finds out she's at the wedding and tells Tad he has a job for him.
Metro: Michael, JaSam...Michael got an invite to the memorial too. It has to be Nelle!! Oh, Kristina got an invite too. Off camera naturally.
GH: Nina sees the DNA tests and her hair matched Donna Mills--meaning she's 100% sure that Valentin staged the Sasha thing. Sasha walks around the corner...Nina drops the test. Sasha picks it up. "how long have you known I didn't work alone"!! Nina says ever since the first day you told me at the wedding. Sasha says that she knows Nina still loves Valentin. Nina says "maybe the person they used to be"
CarSon is standing in the kitchen..She tells Sonny Nikolas is alive. Sonny is like "JAX could be in legal trouble "!!! LIKE he's not? WTH. Jax knows about DEV!! LOL Anyway, they tell us the entire backstory about the codicil for those that missed it.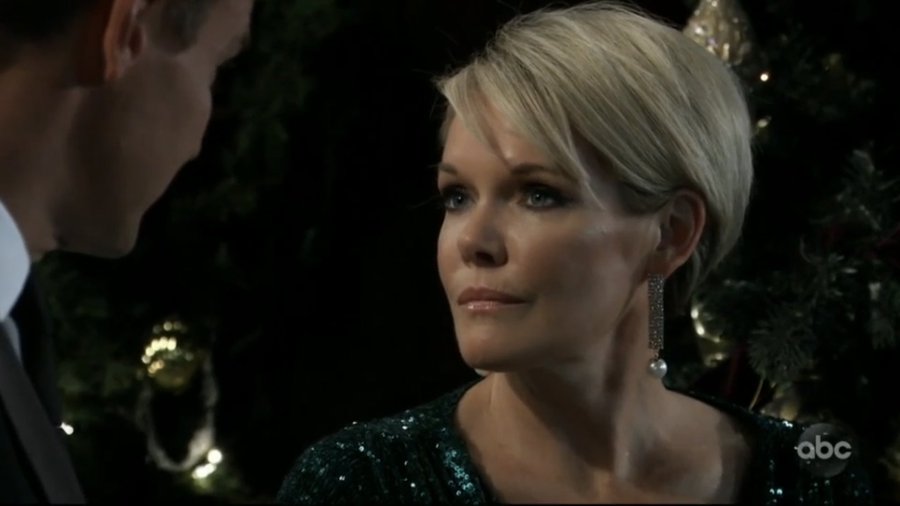 WEDDING!!
Jax, Ava... Laura... Dr. O.. Jordan Curtis.
I am so pissed at what they put Laura in. You won't believe it... not only is it dark and big she's WEARING A COAT OVER IT. MY GOD!! Genie is spectacular and it just makes me mad.
Anyway, Charlotte tells her that the "bodyguard" had a ring on just like Papa. She says it's all over the house-- the shield with a "C" in it. Laura is verklempt. Tad comes up to Ava and says he loves her Gallery. Wants to ask her opinion on a painting he saw in the house. Would she come look with him --and she goes!! OH! He takes her to the PARAPET! WOOT! Valentin is there!! He wants the CODICIL!! Ava says I don't have it. They barb--and then he grabs her and tells her "you're not going anywhere"!!
OMG OMOGMOOWOW!!!!!!!!!!!!!!!! WATCH IT!! I was stunned! She went over!!!!!!!!!!
Nina finally shows up... she has to go get ready. Tells Charlotte 'no matter what, I love you".
Jax knocks on her door. She answers.
Sam's house: Parole Officer is there! Dolores...she has to check there's no firearms, alcohol or drugs around. She asks if Danny's father, Jason Morgan lives there. Then Jason comes home and Sam says she can never see him again! AHAHAHAA. OMG. Wait, so he's prob too dangerous to be around her when she's on parole!!