Griffin/Cassandra and Anna--she is like you two are so cute yada yada. Felicia comes in and is all "you two are a couple""??? She looks amazing btw. Geesh. They lie to her too, Anna says they have to fool the whole town. Anna talks about Cass being a drug dealer? I must have missed that. I thought she was a jewel fence.
Valentin talks to Cassandra later. He says he's really wealthy, but she wants him to work for her. She says she know he's itching to work with her. She says he is ruthless and he can't chance.
"You are at your best when you were dancing on the edge, that's the only place you felt safe" Cass to Val
Valentin blasts Jason Miller for buying the media company. Nina is all "keep me working here". Jason was going to ask her to stay. This was the weak link today--just talk about Crimson.
Oscar and Josslyn looking for his Daddy. They are on the internet searching records. Carly wants to meet his mom. He says she works at Mercy Hospital. I still say that kid has no parents. NONE. They find someone on the net but he freaks out when Joss wants to pay to find out more. It's a dead-end. Josslyn wants to go search Oscar's apartment for clues. He hedges...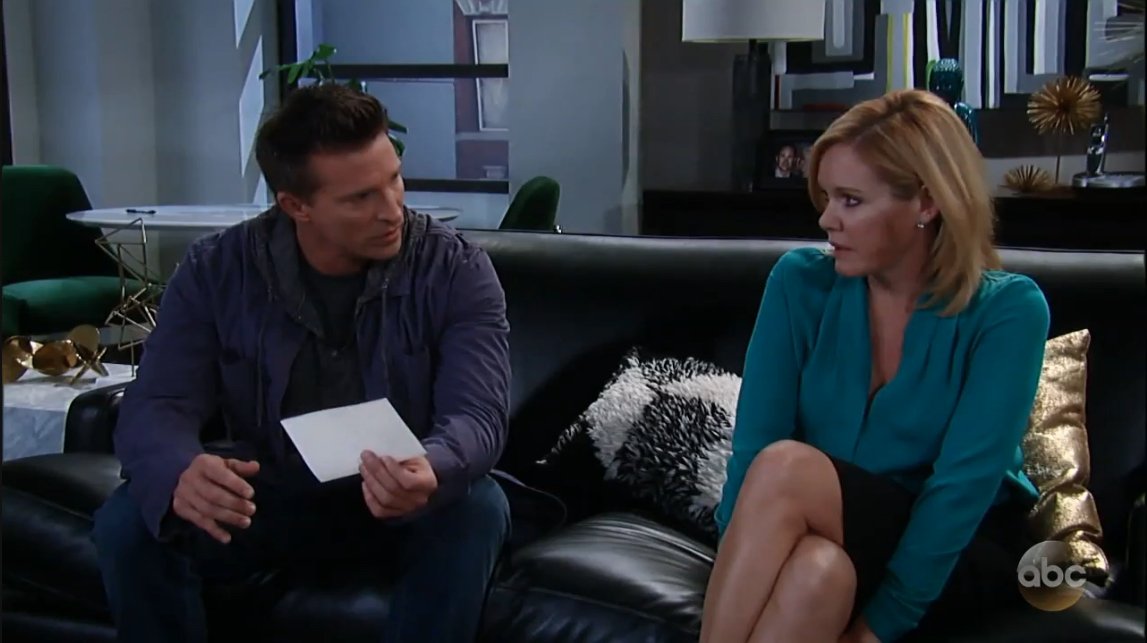 Ava and Jason Burton. He doesn't react too much to the "Jason Morgan bought my brother's company" too much. He does want to see a photo of Jason, however. She finds a press release "here he is with my brother's daughter, Sam". Jason looks at the photo--stunned. She also says "you probably thought Jason Morgan was dead, right"?? Then SHE TELLS him how Jason "died" on the pier shot by Faison. Burton is all "FAISON"?? She said yes, he had a high tech Mission Impossible mask on!! LOL! Then she says "Helena fished him out and froze him at some clinic but he escaped and then got hit by a car". (Didn't mention SHE hit him!!) He didn't have a memory for 2 years or ID. He said, well, how did he know he was Jason Morgan? Ava says "Carly Corinthos figured it out"!! ahahahaa.
THEN!! She tells him Carly stopped his marriage to ELIZABETH!! @@ and Sam said she loved Jason and they were soul mates.
THEN!! Jason sees a pic of Avery and says: Um, this was taken at Sonny's?? Ava tells him they have a baby together. PFFFFT. He wants her to get a message to Sonny.
Ava goes to Sonny's house--yep!! He lets her in and is all pissy. She says better be nice to me, I have something for you.
Franco is at his mother's-- he wants to know if Drew is really alive. She says no. He says Fine, I want to see his grave. She's like.. um.. Ok, I lied. For all I know he's still alive. She says he 'left them" ..."one day I was making dinner and I heard Drew screaming..he was lying at the bottom of the cellar stairs all broken and bloody". Franco asks how did he fall? Betsy said 'YOU PUSHED HIM!!'
TOMORROW: Sonny has BURTON'S NOTE!! Burton is in the park where Jake is tomorrow!!