Burton goes in to save Sam..She's stuck on seaweed!! He pulls her (this is all underwater cam)!! He finally gets her out and does chest compressions. She spits up water. He says "Sam, Sam"..Sam opens her eyes and says "You're here".. Jason "I got you"... they stare at each other. She passes back out.
Sonny tells Carly it was Jason at the Metro. She's all "but he took Elizabeth to GH"! He says NO-- not that Jason, our Jason. The Godfather to our kids, he's home. Carly won't believe it. He tells her when she sees him and talks to him, he'll know it's Jason. Sonny says he heard Jason say "Sonny'?? Carly says "You heard his voice" ?? and cries. BUT! When Sonny tells her he had his gun drawn, Carly says SEE it's NOT Jason! He'd never put a gun on you!!--and we have DNA!! and Spinelli's face when he saw Jason!!
Jason Miller barges in: "What the hell is going on, Sonny"?? SEE THE END OF THE BLOG for the END of the show...
Jordan is at the Metro trying to figure stuff out. Dante wants to see more footage because he's not sure that was Burton. After she leaves, Miller comes in to watch the footage. Hard to see.
Jordan goes to the hospital. Jordan questions her. Monica is like "it can't be.... I couldn't have seen what I saw"-- but won't say more. Maddox is listening. SO is Franco. Jordan leaves. Franco tries to get more out of Monica but she tells him to Buzz off.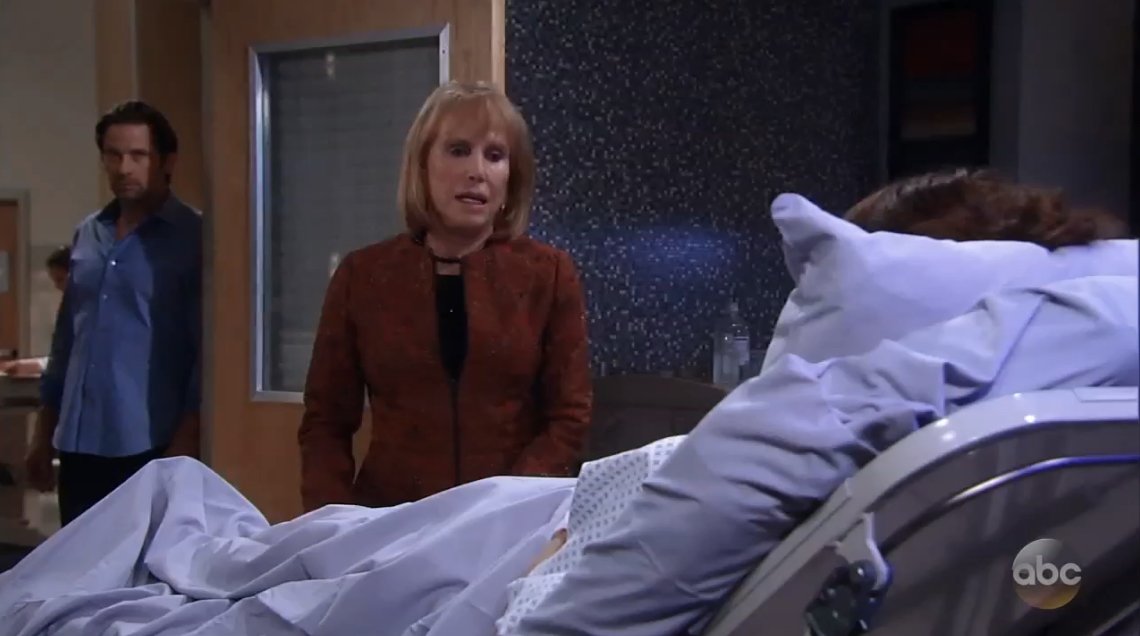 Monica goes to visit Liz. Tells her about Sam and that-- it looked like Jason that went after her! Franco overhears that...and then Monica says "But that can't be true unless there's two Jasons".
Oscar and Joss are dressed up as Dragon Queen and Jon Snow--they are in Oscar's apt. I don't think that's his apartment, he's acting all cagey. Joss wants to snoop for information about his Dad. They find a letter in the Man Landers book addressed to his mother dated 2003. There's no signature. Of course there isn't! But he gave her a gift and they want to find it because it may have some clues.
END OF THE SHOW: OMG...Jason Burton CRASHES THROUGH the back doors CARRYING SAM and Sonny, Miller and Carly are all there!! WOW..didn't expect them to all be there and NOT today!! eesh!! :clapping: I don't even care he didn't take her to GH first. LOL NOPE. Take her to Sonny's!! DRAMA!!
NOTE: HORRIBLE weather here and I have a migraine so forgive me if this is short and not really fun.