Here we are DAY TWO into January!!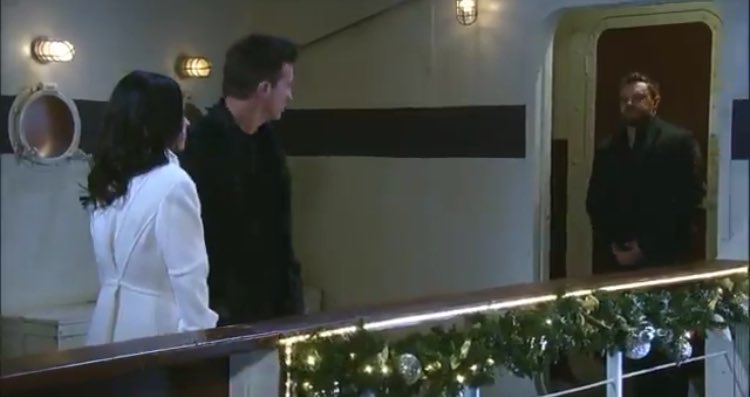 JaSam kiss is shown again-- and Jason is going to fix the engine. No...Sam is (she's had DIVING experience people) LOL-- Drew walks on. He's not happy. He's pretty dry so did he rent a boat? Sam tries to explain and Drew isn't having ANY of it. Jason and Drew know it was CARLY'S fault. Jason leaves. Drew thinks Jason was a part of it all. He sees the Dominoes, tells Sam he'll let her go if she wants. She says no, she loves him and wants to remarry him. "You won, We Won"...Drew: It's not about winning, it's about love. They kiss.
Anna's tied up with Valentin. UGH. Such a stupid "Drug" Story. just another villain-revenge thing. I was so hopeful. Oh welp. Finn is talking to Cassie in Anna's living room. She's being all Meanie. Is blackmailing Finn to go to China with her and make drugs. She blows powder in his face. (yeah, really)
Anna gets free and unties Val-- knocks out thug. She leaves to find Finn. Val goes to find Nina. HE does and they kiss

Meanwhile, back at Anna's Cassie gave Finn some of the drug he was addicted to. She says she'll keep him an addict and he'll have to make her drugs. He lunges at her. When Anna gets back, she finds Cassie knocked out in the foyer and Finn passed out in the living room.
Sonny is mad at Carly for the whole JaSam deal. Carly tampered with Drew's car...after Morgan died from a car that was tampered with? Huh? Someone wasn't thinking. Michael tells Carly and Sonny about Nelle's high blood pressure.
Jason comes back. He's mad at Carly. No, he's not, he just wants her to listen to him about stopping the crap with he and Sam.
Ava gets all mad at seeing Griffin and Kiki hugging and jumped to conclusions. Kiki tells her to get help. Griffin is like, what's wrong?? Ava say's Kiki is young and gorge and no scars! Grffin goes after her. Hope his patients are ok. They talk, he tells her how strong she is yada, yada and gives her her Christmas present. He's been trying to perfect the face-fix for her and Kiki has been his lab assistant.
Oh, Dillon calls and invites Kiki to..NEBRASKA LOL. Huh? Okay then.