Ruby
I am at your mercy. Total. I'm on that ledge people!! I found myself so frustrated by the show this week I had to make myself watch. There were glimmers of greatness but for the most part? Boy, was I frustrated.
Dear LORD, help me through this Fluke-A-Palooza. Help me keep whatever sanity I have left to figure this maze out.
AMEN.
I'm going for the hard stuff. Shots of ...whatever you got. Let's go!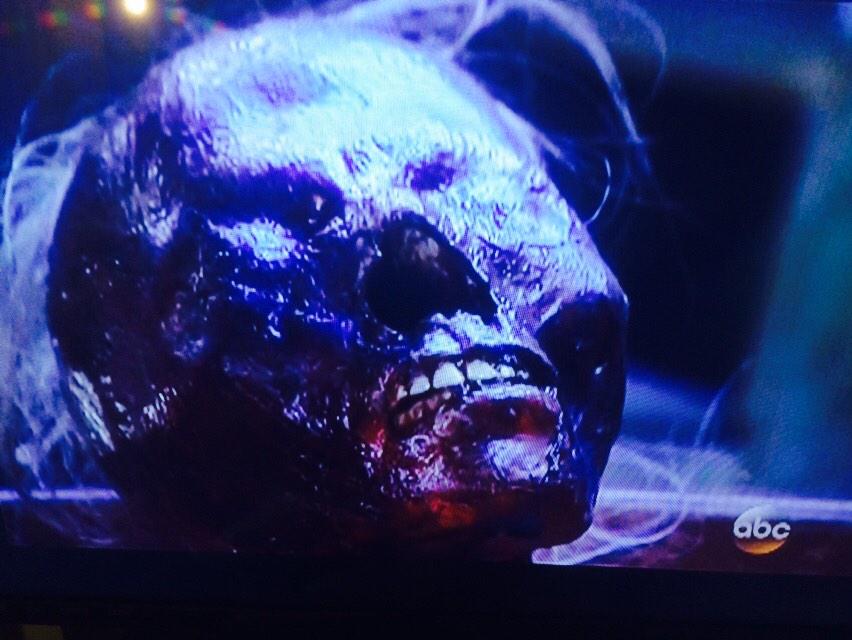 Aren't my Teeth Perfect?//
And, there it was. In a nice mummified package, sitting in a chair. Dante wakes up and finds "Luke" has been some dead guy all along. I'm assuming it's Bill Eckert. Then again, with this show, it could be Alan Quartermaine. At this point, things are just being thrown and sticking to the wall.
Shall We Dance?
Take for example what we saw: Fluke was talking to what he thought was Luke. Fluke was also talking to what he thought was Luke in the mental hospital. If that didn't happen, then the "switch" never happened either.
Why would they have to pretend Faison was in a mask and do the whole Larry Ashton route if Fluke was just one person? That would make NO sense. None. So, I am very interested in this whole unraveling. We also have the fact that Julian has "known" this "LUKE" since he was in witness protection 15 odd years ago.
So Luke, if there's only one, has had to have this condition for a long time, and actually thinks he has to put a ruse out for people to think he's "Luke". It could be Helena Mind Control. But--Helena tried to poison Luke, remember? So, she wasn't mind controlling him long enough to meet Julian. Is Luke still alive somewhere and this is a ruse (the corpse)? If so, why have Fluke talk to a non-alive Luke? Bizzzzarre.
So these are the scenarios I see left:
Luke has DID, multiple personalities and has had for some time
Luke h
as
Schizophrenia, which means he doesn't know what's real anymore. He actually 'sees' himself and thinks it's reality
Luke is mind controlled or morphed by Helena and Cassadine Lab ..and.. I guess she made him talk to "Luke" for reasons unknown.
Luke is alive...and Fluke is still an impostor who happened to talk to a dead guy in the basement. OR....
Luke is essentially Norman Bates.
This clue may help:

THE CORPSE WAS DRESSED...IN MISCAVAGE clothes.

YEP. DRESSED. Now, would a DID person do that? I don't think so. They are, for the most part "Sane' in their other personalities (well, unless they are a murderer) and I don't think they dress up dead people and TALK TO THEM. ERGO, It's either Fight Club and a break with reality--AND OR all due to some Cassadine master mind-meld. (Could be both because they could have made him THINK he saw stuff).
Fluke kept yelling at Luke: "It's not WHO I am ...it's WHY I am". Which points to some psychotic break scenario that was either due to Luke's terrible childhood, or the Cassadines or both.
OY TO THE VEY PEOPLE!!! LOL... :throwsuphands:
Then there was the Tracy-Michael talk. I'm not going to go into it all because it would take an age but the history she told him about Luke/FrankSmith/Sonny was just all wrong. Which begs the question: Why go to all the trouble to use so much history to just wipe a lot of it away in one scene like that? Why not use the original history? I guess to partially explain the whole Sonny situation? I mean this started out as a full-on Sonny assault. Not anything we knew about any Spencer history.
Really. Bizarre. So. I guess as for now, I have to set the whole "what the freaking hell is happening aside" and talk about the show this week.
Um, something is missing
The Ruby tribute was nice. My one bone to pick? Heart shaped pancakes instead of her chili. We all know about her chili! Of course, it was also a vehicle to let us have some more of the Spencer history. Florida, prostitution...yada yada. It also leads Luke to the graveyard where he sees the empty grave. And...freaks the hell out.
In other shennanigans....Ava just waltzed into the MEN'S section because she had a hoodie on. LOL of course, she was caught and hauled off. But not for long. She convinced Donna Mills she'd testify so she could ride in the van...
Valet Parking, my lady?
THE VAN!! Sonny and Jules get some guard gear and bust out Franco and Ava with them. They get in and drive. Johnny has GPS on a damn 2002 cell phone (Um, okay..don't both phones need apps for that?!) and he and Carrrrrrloas follow them. Can you guess what happens on the icy roads?!!
Heather lulls Nina into compliance and then pounces! She gives her a jelly donut..lets her lie on her bosom, then paints her nails. All before telling her ahhhhh HA! I'm NOT Diana, I am FRANCO'S MOTHER. I'm going To EAT YOU! Nina actually looked a bit terrified. Franco was on his way to save her but he's now down in some ditch on Rt 31.
"Jimmy didn't see Jake, Jimmy wasn't here"
Carly figures out Jake isn't really a good boy because she finds all the stuff in his bag. Then she finds out he didn't really see Kevin back when and it all comes together. She goes to the PCPD to talk to Dante but he's 'otherwise engaged' so she tells Nate. Nate finds out in record time that the bullet shot from the gun was in his shoulder. Hell, it usually takes days just to get stuff out of evidence. How hollow is all this without Anna? I'd say pretty hollow. Yes, I know actors come/go and schedules are up in the air. Damn it, it's just so choppy. Ned should be there too since he was in the whole Bill thing. But--nope. Seems like they could have tried to coordinate things better. I would like to have had Monica around more. Ditch Donna Mills' cameo and pay Leslie.
Moving on....
Is that a bomb in your pocket or......?
The Haunted Star. The Boat that Lulu loves! Is all of a sudden working on 50 hours a week. (No customers still). Johnny all up in there. Making tension for Dante and Lulu. Of course, Jake also gets in there by beating up the bartender and plants "the bomb". The bomb that will probably take a week to blow. Nate comes to arrest Jake--and takes him to the PCPD. Sam is there, all mad because no one believed her. Patrick and Carly leave and she goes in to confront Jake about the Phoenix. Will she figure out the dashing man opposite her is really Jason? Hmm. I think we have to wait a bit on that.
Dante DOWN!

SCENE OF THE WEEK:

Dante and Fluke were great when they were bantering at the cellar door. Dom held is own and more with TG. Poor Dante though, He should have made Fluke go in FRONT of him down the stairs. Whoops. By the way, he got two giant knocks on his head!

\

PROP OF THE WEEK

: Our bomb buddy countdown clock. We know in soap time this could mean anything from 3 days to a month.


FACES OF THE WEEK:

Brad and Lucas were adorable. Brad said the Love Word. Then Whiny Sam comes in and is all "that's miiiiiiiiine" I want it baack"

I do have to say, I'm enjoying dishing about history and even about how the story makes no sense. LOL. It's giving me a chance to interact with everyone and keeps us talking/watching! I so want the show to be more consistent at all levels however, and not so many holes. I'd also like to see more bold moves in filming. The basement scenes could have been epic and eerie but instead the lighting was 1000 watts and it was just sanitized. Why can't daytime seem to do creepy well? It always ends up looking so fake and campy. I hope I'm back from my annual check up Monday to watch the show live, but I'm not sure. I want to see Dante interact with the adorable corpse.