Corintho's Kitchen: Michael tells CarSon about the Nina Val wedding and Sasha's lie--and she's like YOU LEFT HER, RIGHT??/ Michael's like..er..nope. Carly just yells at him. He says well "she told me weeks ago what the truth was" . Carly gasps!! "We raised you better than us" LOL!! Michael said he didn't want Sasha to say anything because Cassandra's trial is coming up and Sasha's credibility would be undermined.
PCPD
Jordan Curtis...Curtis is just reading files.. yada yada.. Chase goes to the jail to check on Bryce who wants to make a deal.
Sam... Alexis is like DIANE CALLED ME, thanks A LOT SAM!! Jason comes in and says: Oh, BRYCE (Jesus Goonie) can help us! He will get you out!!
welp. That's a NOPE
They tell Alexis that they think it's Peter August behind all this.
Jordan comes in and tells Sam her "ride is there" to take her to Pentonville!!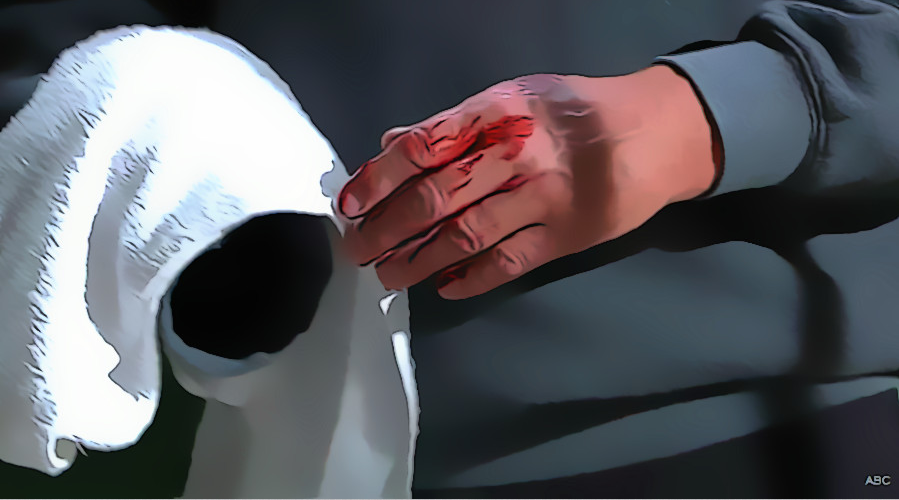 JAIL:
Ryan guts Bryce!! Blood all over the place. Ryan apologizes to Ava's picture for making the cell messy. LOL. Then yells for the guard!!
Chase shows up and the body is taken out. "If you don't look too close, looks like it's self-inflicted". Ryan just lounge on his bed LOL They talk about whether or not Bryce killed himself. Ryan says "he disrespects women" Chase sees Ava's photo. Takes it down, and says "I bet lots of men would love to disrespect Ava all night, EVERY night" OMG!! Ryan jumps up and the guard stops him
GREAT SCENE.
Charlie's Bar:
Jules found out that Brad is seeing Neil for therapy and he tells Brad not to see him. He gets mean a bit. Old JULES comin' out!
METRO COURT:
Ava and Laura... Laura is telling Ava to be strong. Someone is watching them. Nikolas?? Ava feels like it's Ryan watching.
Laura talks about loss and how hard it is..
Jordan calls and tells her about Ryan ... and Laura tells Jordan to call Julian because his sister 'needs him'. Laura tells Ava about Ryan killing someone. Julian comes and Ava's upset because she thinks Ryan is coming after her next. Julian wants his fearless sister back ..I think he's going to tell her to go to therapy.
!
GH:
Curtis finds Lucas..they talk about going to therapy. Curtis says it's tough. Then Brad comes in-- Curtis says: Do you know anyone that would have tampered with Sasha's DNA? LOL.. all innocent like. Brad is like...umm. He says I didn't help her!! I'm done with that. They are like "We didn't think you did"!!
END:
Even tho Ryan killed Bryce, they are taking Sam to Pentonville. LOL BYE!!!
Brad gets flowers with no card. Hmmmmmmmmm!!!
Chase takes the magazine cover, Ryan is pissed.
Julian tells Ava that Ryan killed his cellmate "for her" she collapses
Sam goes to Pentonville... the guard tells her that her cellmate will be back soon. She 'PUT SOMEONE'S EYE OUT".. Sam is like: UMmmm and the guard says: EVERY DAY IS A NEW DAWN!!
PFTTTT!!
GREAT SHOW TODAY, right up my alley.!!!!!