Well, here we are!!
This has been a box-standard "Soapy Reveal" and yet-- I'm not satisfied. Maybe it was TOO MUCH by the book? Not sure but yesterday didn't put the Thrilla in Manilla!
Willow and Chase to go Kelly's and see Brad and Wiley coloring. Willow's probably going to want Wiley back since Sasha's gone, right?
Nelle calls Brad and needs him to come see her NOW. He says he can't because Lucas is gone ..she says "GOOD! BRING WILEY"! He's like, nope, I'll find someone to watch him.
CHillow watch Wiley. YEP..Willow's getting attached.
Wedding: NO one believes Lulu. Nina wants Sasha to tell everyone she's her daughter but never lets her answer. They all trash Lulu. Even Maxie is like "Lulu, don't ruin the wedding"!
They go round and around. Finally Sasha says "I'm sorry Nina, I'm not your daughter"..She says.
Good follow up scenes, you need to watch. Nina slowly realizes Sasha was faking it. She's getting angry --and talks between her teeth. Valentin is still playing stupid. "I think Lulu's lying but ask Sasha what's going on"!! LOL derp.
OH WOW......CYNTHIA BRINGS IT...wow..wow..she rips off the necklace and yells at Valentin and runs from the church..into JAX's arms ! (he's just getting there) "Take me away from here" she yells!!

Curtis is like: Um, I vetted her! Jordan is like: well, she had help!
Maxie is all: I KNEW IT !! I KNEW YOU WERE A FRAUD FROM DAY ONE!!
oh NOW Maxie says this!! NOT when Lulu needed her!?
They find out Michael knew and he takes Sasha out.
Maxie bitches to Lulu about what she heard "Sasha NEVER SAID that Lesil and Valetin knew".. GOD !! Then when Dr. O comes in Maxie asks her but then Val storms back in and bitches at Lulu too!!
Dr. O tells Maxie she didn't know and goes to find Nina. Maxie tells Peter "There can never be any secrets between us"
Valentin STILL bitches at Lulu "You ruined my wedding, Charlotte doesn't have a step mother now"..YOU WILL REGRET THIS FOR THE REST OF YOUR LIFE!!
Ryan and Ava. He asks what happened to her hand. She says a broken glass. HE says "you have nothing on me" LOL Cause his hand is gone, get it?? Hand jokes ensue. She puts up a bunch of letters he wrote her and tells him to stop. I LOVE these two. I don't even care he's a serial killer.
Ava says that she can't make him stop and the law says it's his free speech. He's like, yet here you are, yourself--telling me in person. Hmmmmm..
They talk, Ava tells him about the online trash talking and how it's killing her. She wants him to stop. He says he understands her like no other, not even her new therapist. She looks terrible and when she was with him..she was GLOWING and ALIVE!
She leaves.
Ryan sees Nelle in the hall. She tells him she has a good lawyer and should be out soon. He says when you get out, remember me, I may need a favor.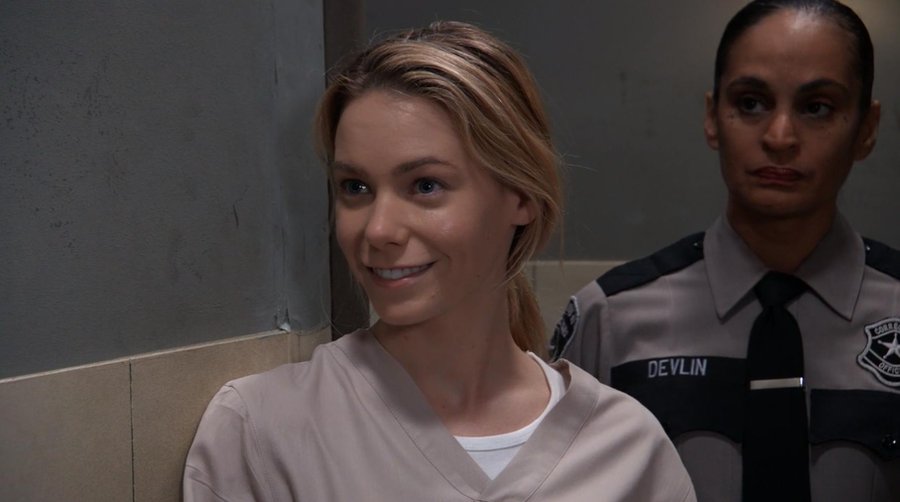 Brad goes to see Nelle. Nelle says she found out that Michael is seeing Sasha and Carly texted him a photo of her with Wiley and THAT CAN NEVER HAPPEN AGAIN, GOT IT, BRAD?? She wants him to write a letter saying her hormones were all over the place during that time and she had behavioral changes. He's going to do it!
Oh I think my soapy veins detect that she's going to get out!!
NOTE: Varni tweeted that the new Head Writing team's stuff starts showing up in November