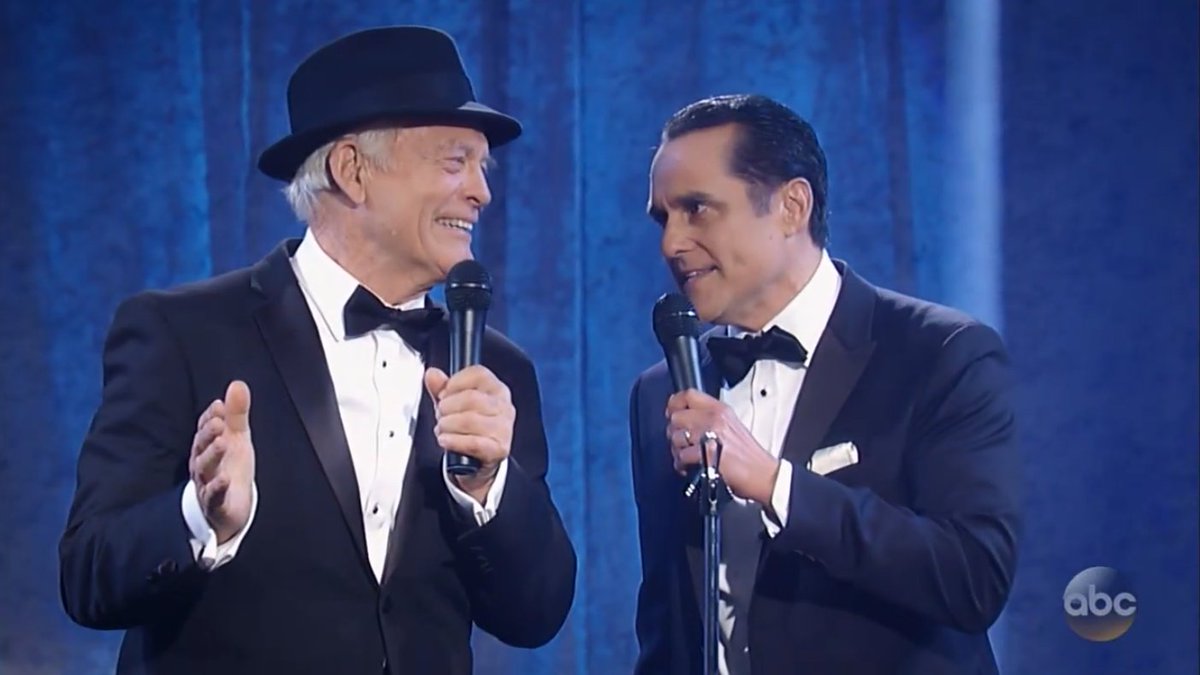 Dapper Dons
Well, Friday's show was a goodie and I like it when I end the week on a happy note. I was torn between commentary and a snark-script panel ...so I'll do both? What do you think?? 
Memorial Day tomorrow!! I was thinking and I never had a direct family member die in a war. I had a Great-Great grandpa (James McGee) die at 90 from complications from the CIVIL war--and my 2 grandpas died from complications from WWI  (yes ONE) ...but not in battle. My family all married late in life! Both sides had the women giving birth well into their 30s and men into their 50s! Ergo, I can trace my Philadelphia Civil War fam pretty easily. How cool is that??  Geesh, that was more info than you needed, no? 
Ok, on to the SHOW!!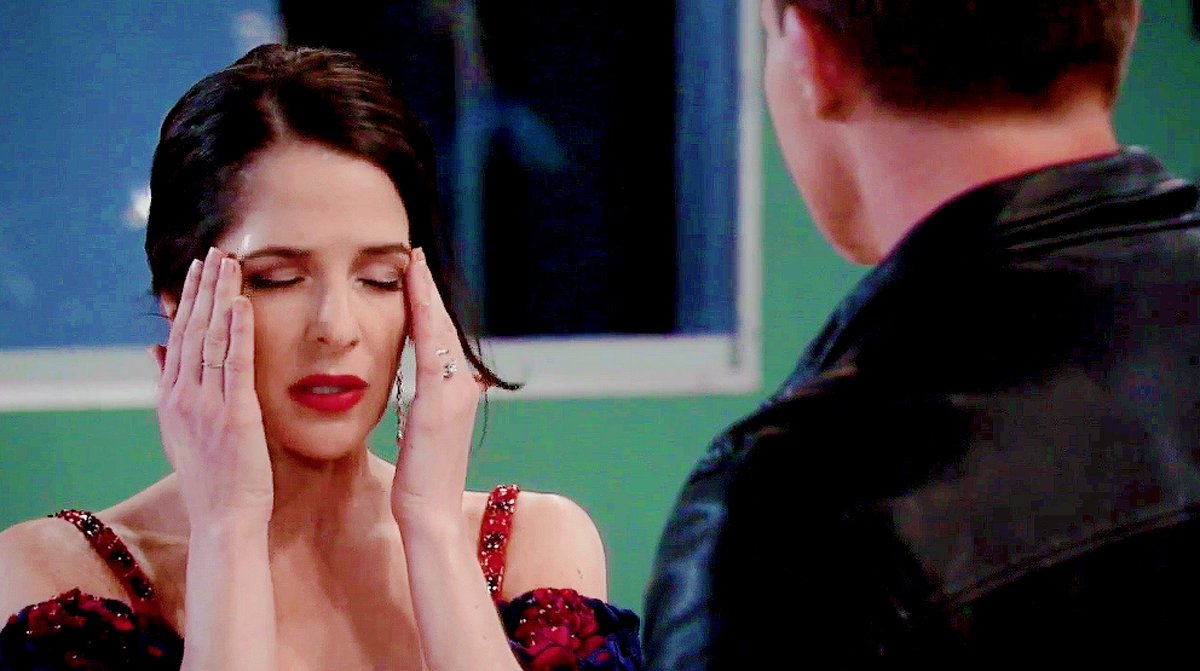 So wait a minute... it took us this long to figure out Henrich is Peter? I mean, how did we miss this? 
We couldn't find that damn lighter, Sam...don't blame yourself! 
But I mean.. the book...the beard...the snark... those creeper looks.. 
You're out of practice. 
Yeah..ok.. anyway, do you have any aspirin? This week has been draining and my dress is killing me.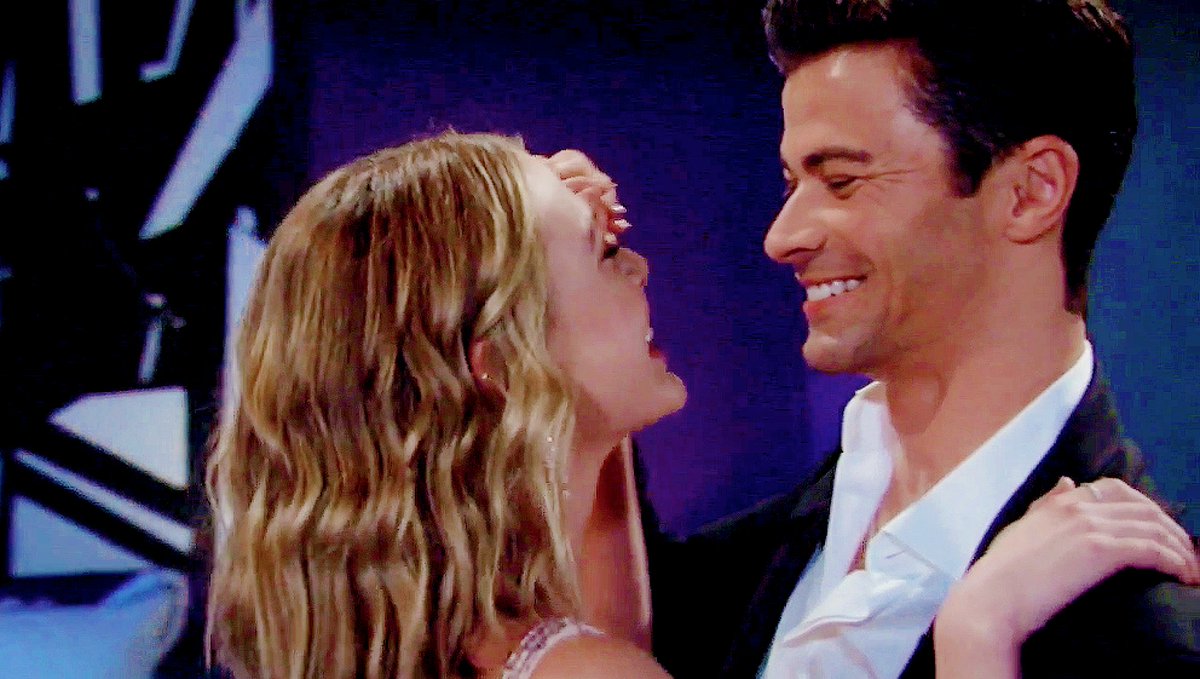 OMG.. you smell good!  
No.. YOU smell good!!  :giggle: 
Wait.. is this the champagne or?  
Who cares!! You're handsome, I'm adorable..let's do it. 
Didn't I date your mother? 
Don't worry, she slept with MY boyfriend, we have a kind of 'agreement'
You sure? 
No..but who cares!! You smell good!!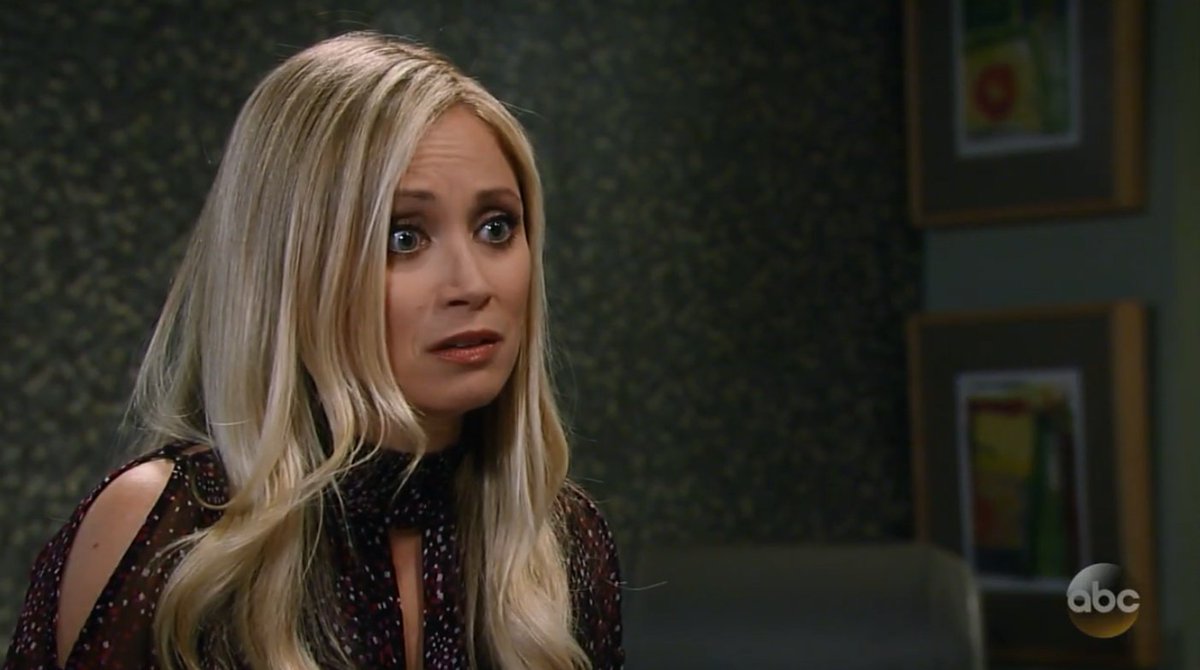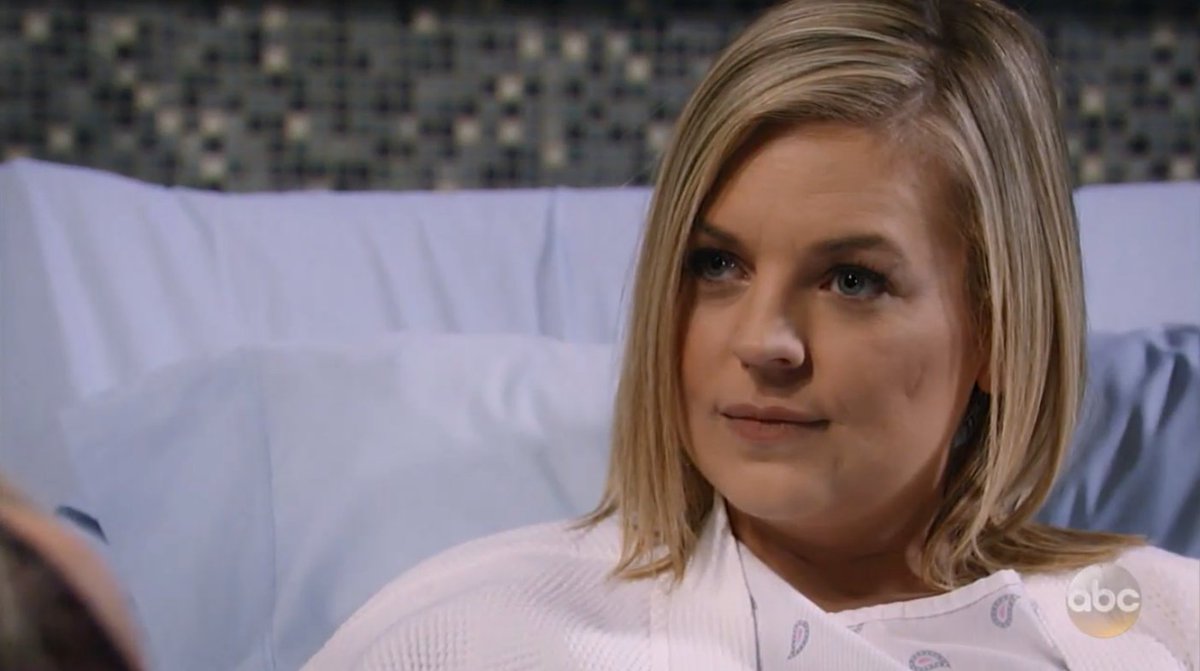 You remember the Gilmore Girls when Rory stopped talking to her Loreli?
Yeah...TOTES SUCKED
Well, that's how it's been with us so...WE'RE BACK ON!!
We ARE?? OMG it's about time. If I have to listen to Nina and Valentin one more day alone..
I know, you'll stab yourself. Same with me and Peter August. Let's DO this!!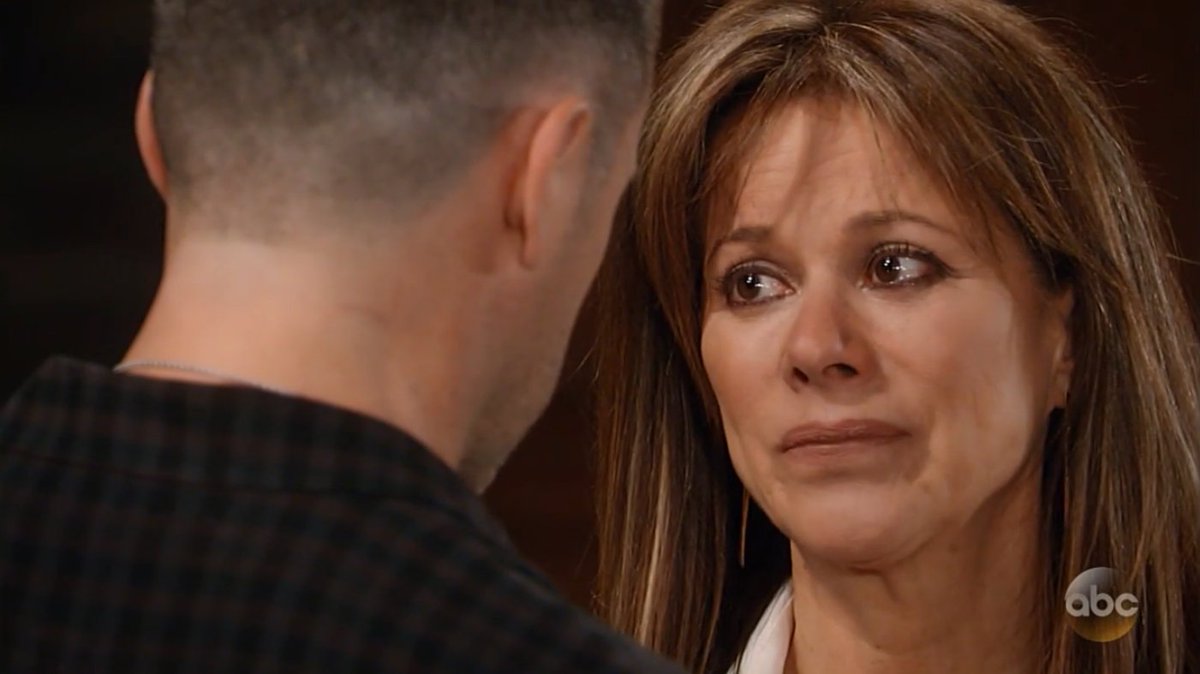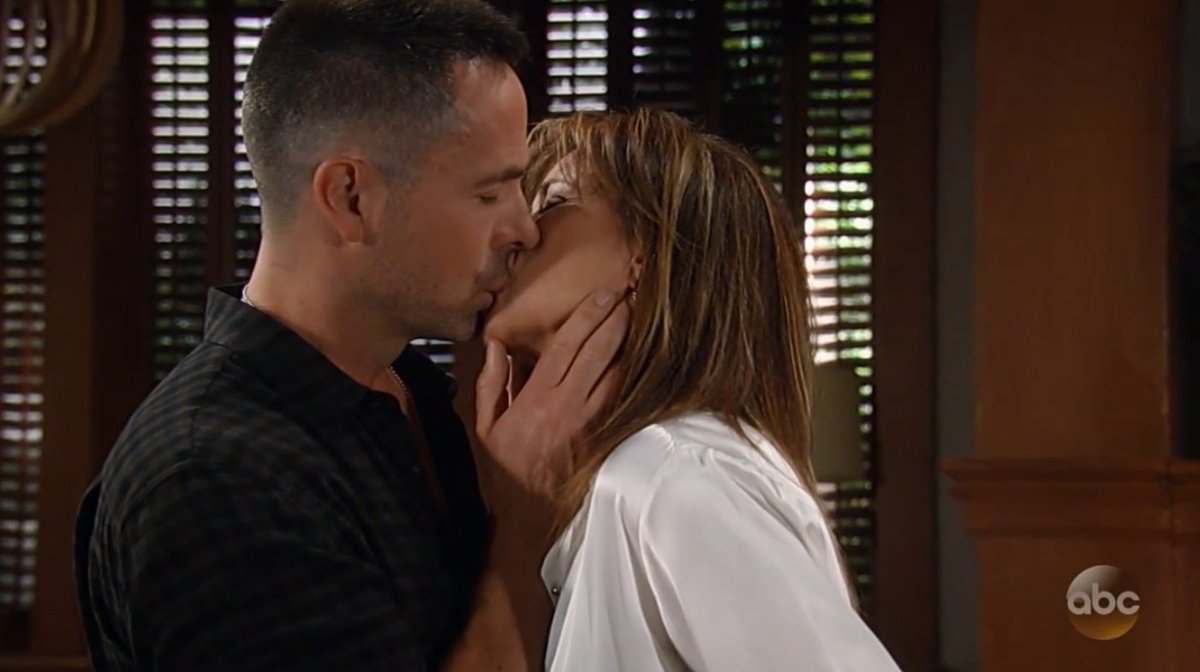 Nope, I'm not kissing you...I am NOT KISSING...oh hell.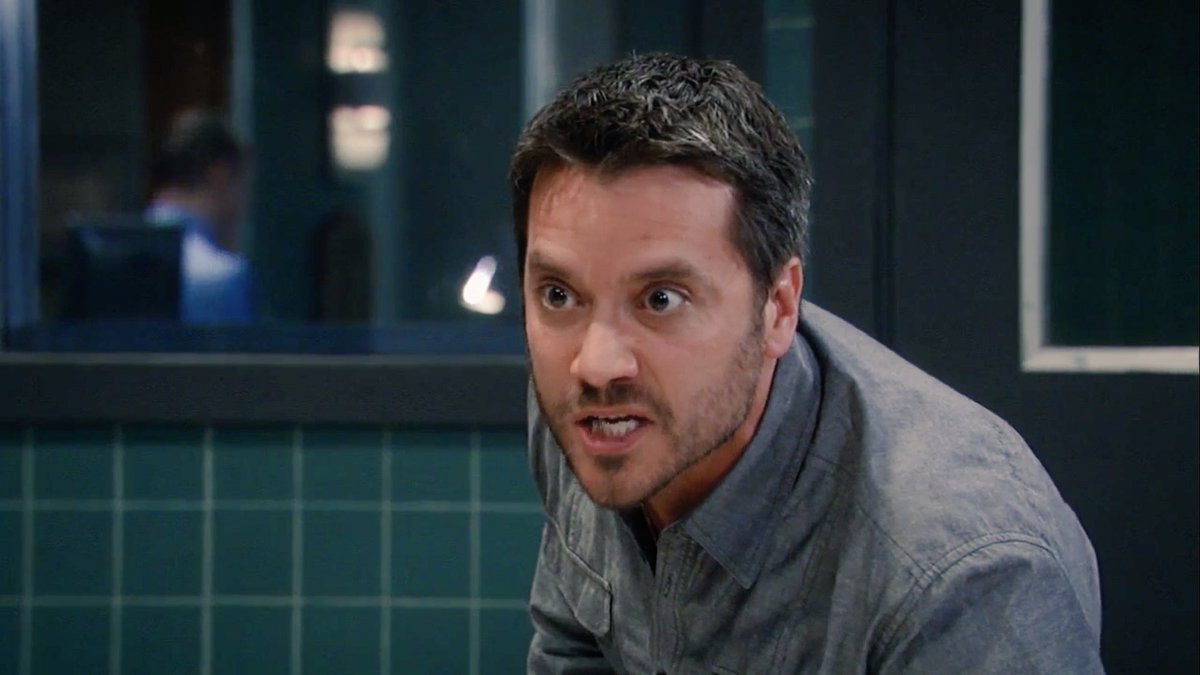 Look you PUNK... Nathan was MY BROTHER...GOT IT?  MINE!! And don't even THINK about saying he's yours! I'll kill ya! I'll..I'll slam your head...I'll throw bar ware like my Dad...I..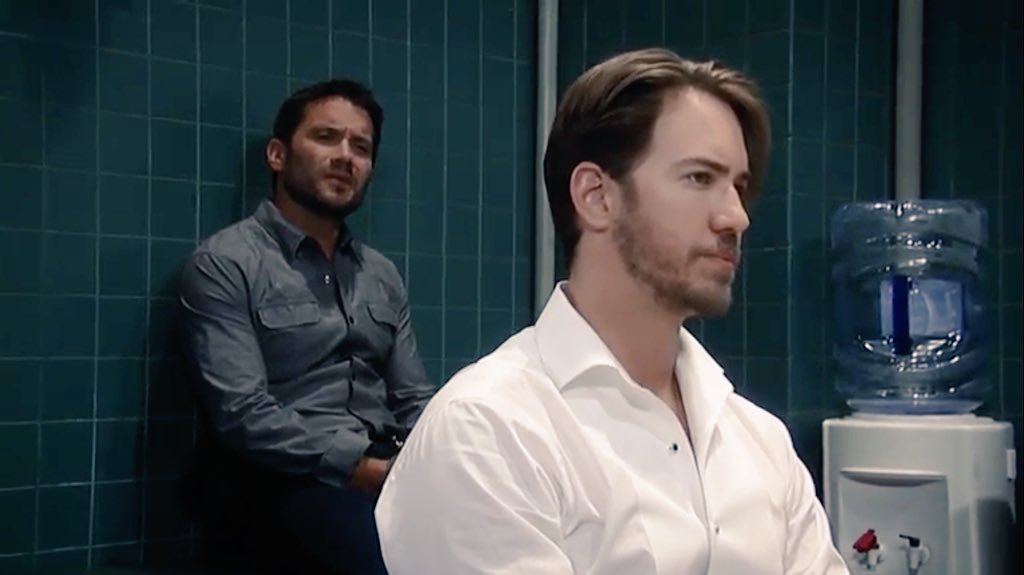 Wait a minute ...are you even TRYING here? Did you see me up there? Giving an A-Grade performance and....COME ON...at least look over here.  (Pause) Ok...nothin? Well.. see ya. You enjoy your huge story and I'll just sit here in the corner. Got it.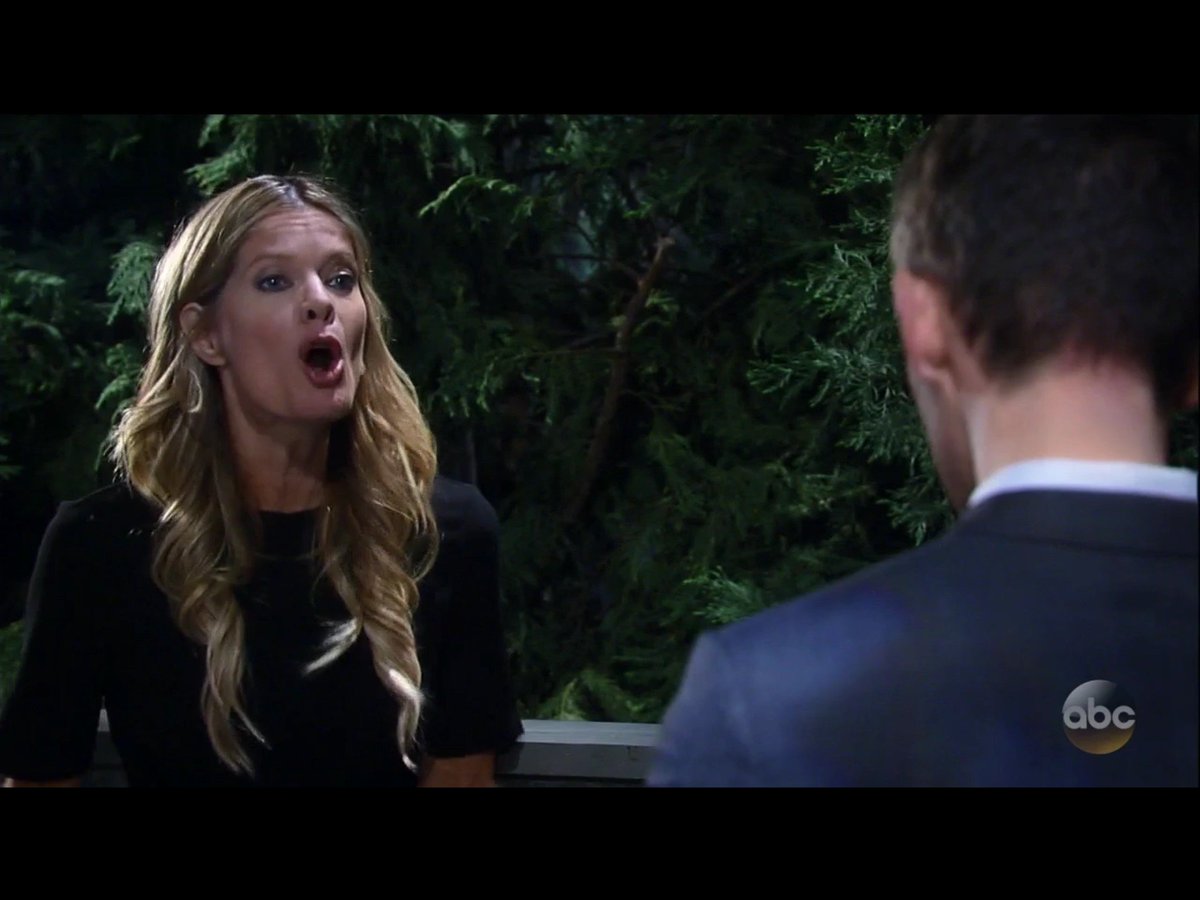 OOOOH!! OH! SO YOU THINK YOU CAN JUST NOT TELL US ALL THAT HEINEY IS REALLY PETER AUGUST AND MY BROTHER CAN GET KILLED??? well I can TOTALLY OUT-YELL YOU BUDDY AND I'M DOING IT!! I'm MOVING OUT! So..THERE!  (PS Nina yelled so loud in this scene, I think the people on the mainland heard it!)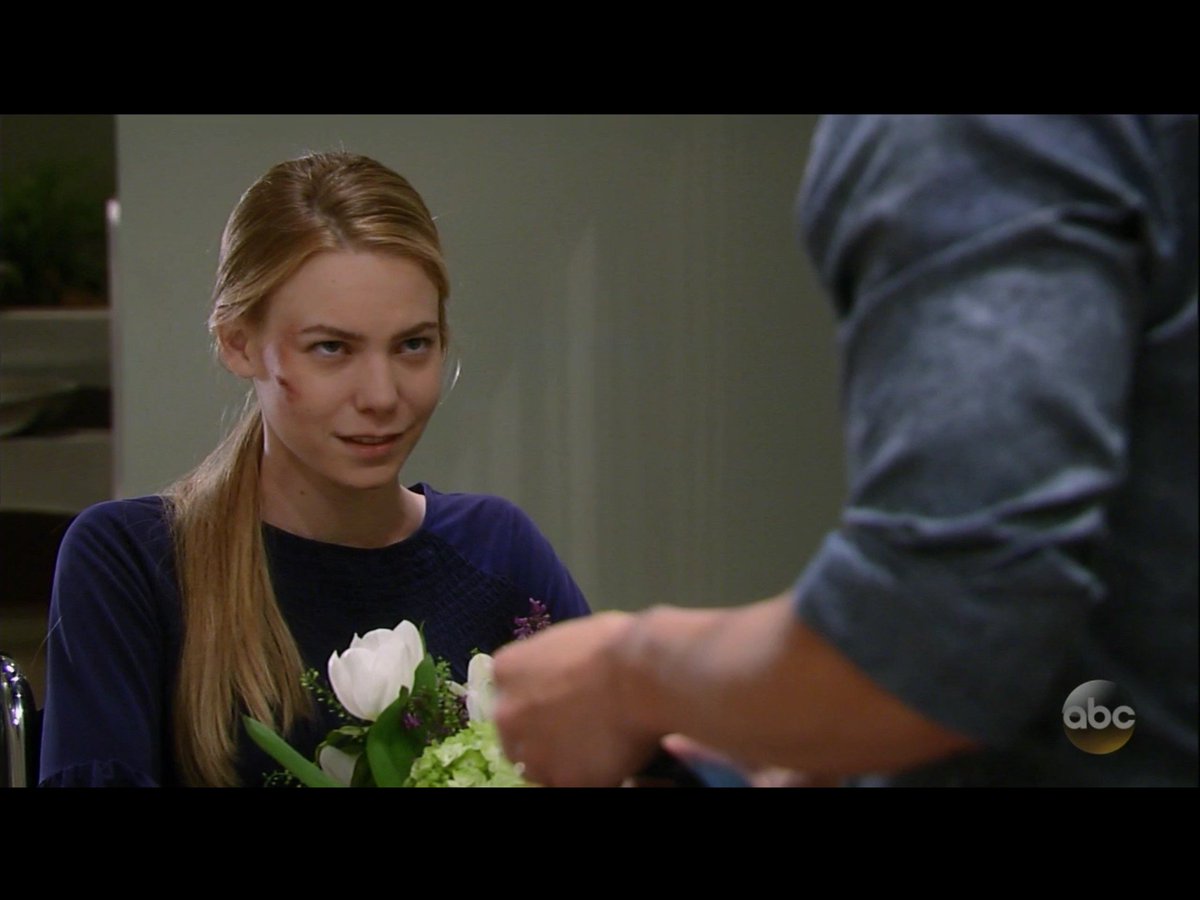 Why...THANK ..YOU.....BRAD... How..lovely. Flowers.  Nice..white flowers.  Michael, the father of my baby is getting the car.  So I can ride.  He loves me I think. Yes...yes... loves me. Yes.......Do you love you love me? Do you?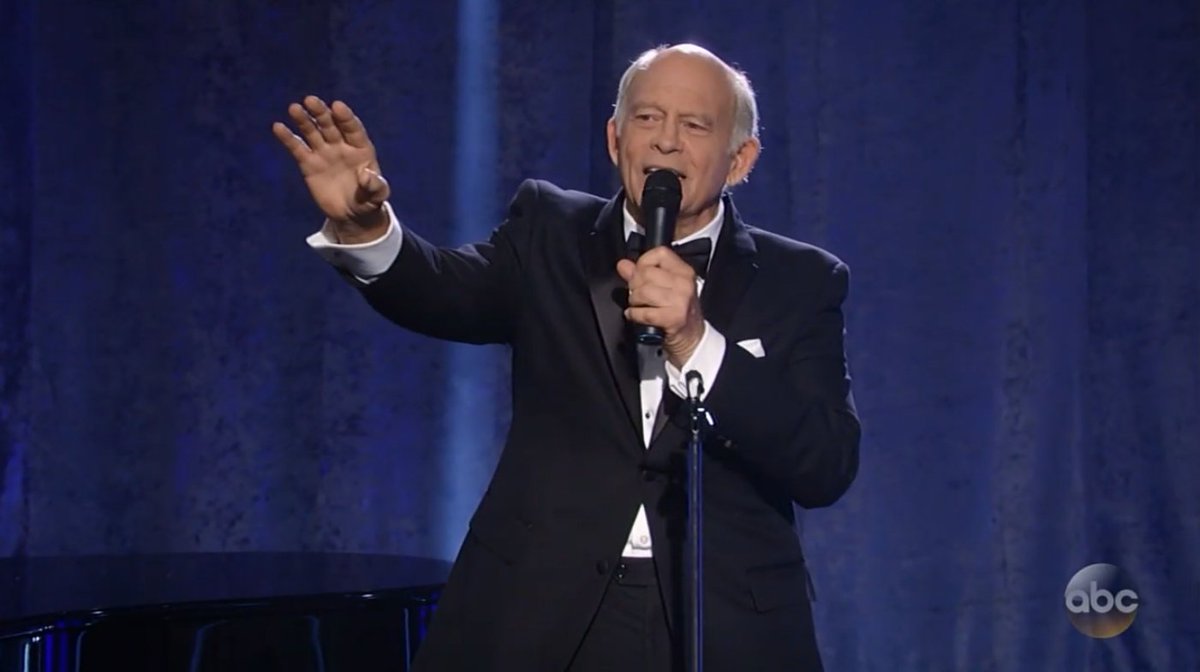 SCENE OF THE WEEK: 

Max Gail was so great as Mike singing...then struggling for the words. Having Sonny help instead of get him off stage showed so much growth. I hope he and Stella keep up their friendship and Felix becomes his personal nurse. I'm also happy he's been on the show as long as he has--it wasn't a once and done thing.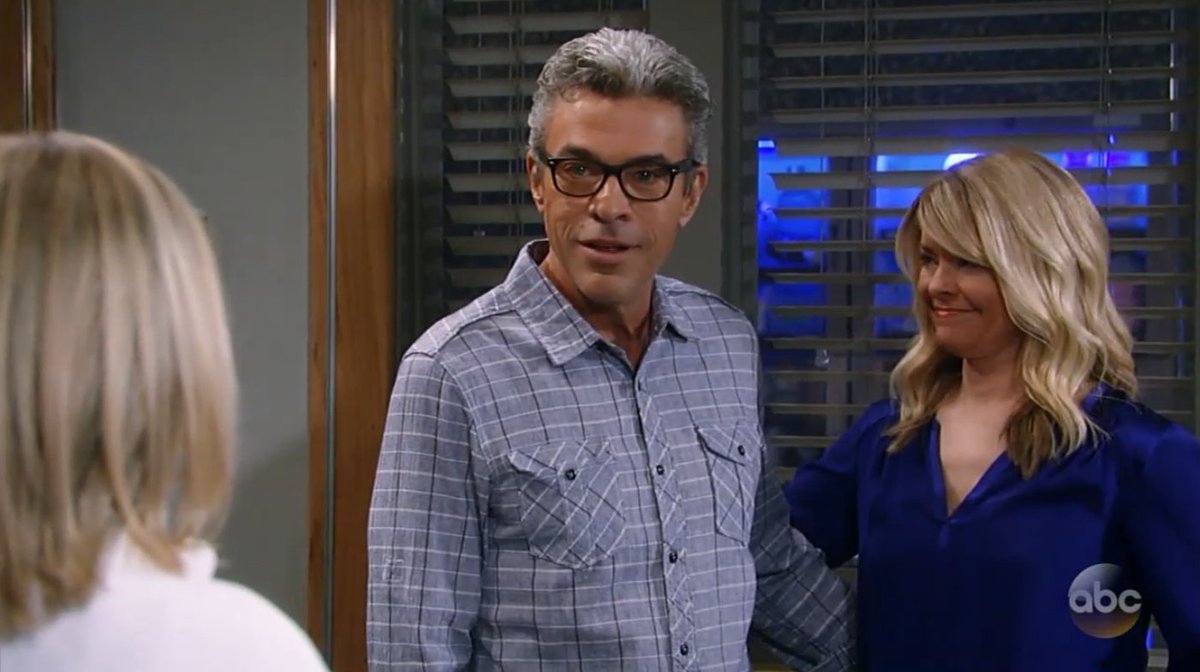 FACE OF THE WEEK;

Joyful Joyful! Mac finds out Maxie is naming her baby James Malcolm West after he and Nathan (James was his real name). Mac was so adorable!!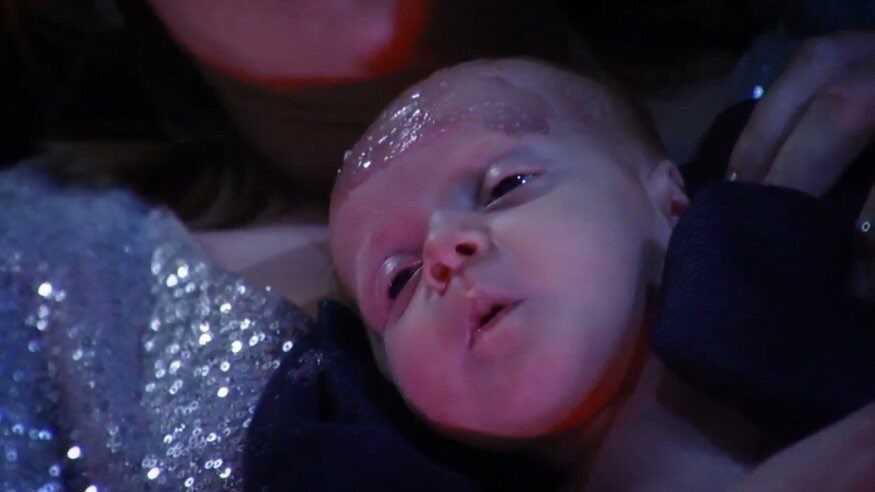 JELLY OF THE WEEK:

Whatever that is they used on that baby's head! Maybe the old Dippty Doo?  Kudos to the shimmer matching Maxie's dress. 

WUBS WISDOM: 


I am hoping Nelle watched You Tube videos on "how to fall down the stairs"..and Spin can find the evidence on her computer. Someone on Twitter had this idea! I really think she threw herself down the stairs and didn't care if the baby lived or died. If it died, Carly could have gotten manslaughter or something and Michael would forever be with her out of guilt. If it lived, well, she has that tie to him forever! AND I love Cbloe's creepy Nelle right now. Her kindergarten talk to Carly. Heh.  Here's hoping she watches Killing Eve so she can be Villanelle... (if you haven't watched this show yet, start your binging!) 
Julexis: Ok, I will forever be upset about the whole "Murder" thing but you know what ?? If you're going to put them together, PUT THEM TOGETHER and own it. Just have her OWN it. Say yep, he tried to kill me and I still love him and the sex is amaze--so BYE!  People have already picked sides so by hesitating even more it makes it so disingenuous. 
If being with Kiki gives Griffin an edge and a personality I like ...I'm all for it.  If it drives Ava into Valentine's arms and she becomes Queen Cassadine of Wyndemere and a protege of Helena's, I'm all for it.  Please see NEXT page for controversial story idea. If you are easily triggered then don't look.  (said in the 13 Reasons Why S2 voice) 


RUMOR PATROL

: Sorry, I thought Dom leaving GH was more of a 'thing'...but it seems to be a rumor started by his comments when Ryan Paevey left. So..don't know. Wouldn't blame him though. He's being wasted. 


REAL  NEWS: 

That girl from YR and AMC who's coming to GH? She's playing the special DA person. (Kinda young for a DA but..?)  Will she be paired with Billy? Hmmmm. Looks like Kim's going to be single so? Not sure. 


That's it... you can go on to the next page for my Kiki story...or you can just have a FABULOUS Memorial Day weekend!! NO GH on Monday--or it's a rerun one of the two.  PS if you're on the page, scroll past the photo of Kiki and Griffin to read or stop now!