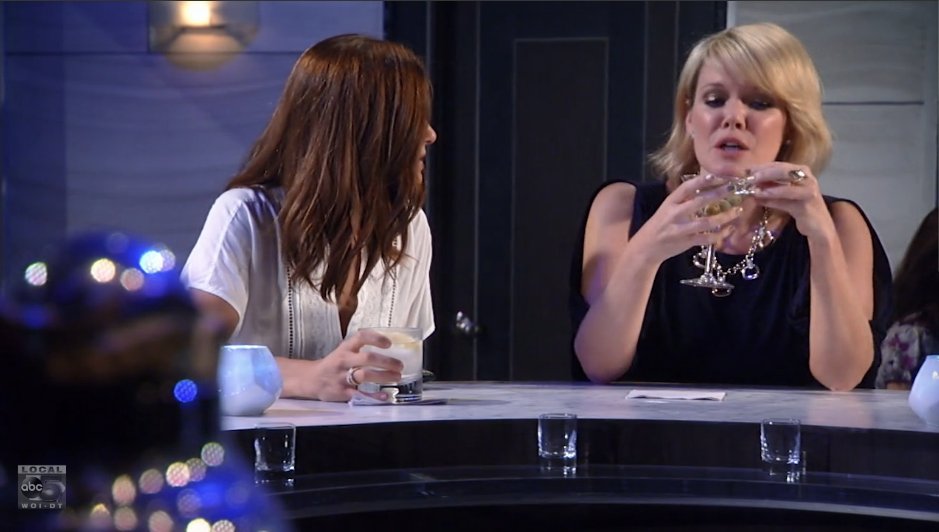 The Week of Ava...
Well, I had a break and a vacation and here I am....back again! This will probably not be the usual long, drawn out blog that I usually do because who's got time for that! Right? It's September!! Where has the time gone? You all know it's my time of year to go back to work (Sept 7th) with the kiddies. I miss doing my therapy thing believe it or not!!
Ok, get ready because...I enjoyed the show this week. For the most part, stories are coming together and there were a lot of things I was happy about. The cast is still way too huge-amoungous but maybe my break and trip to Hollywood did me good?
So, let's have some comfort food today and grab some coffee-cake with all the trimmings! Ava had the Best Week Ever so she gets the first bite!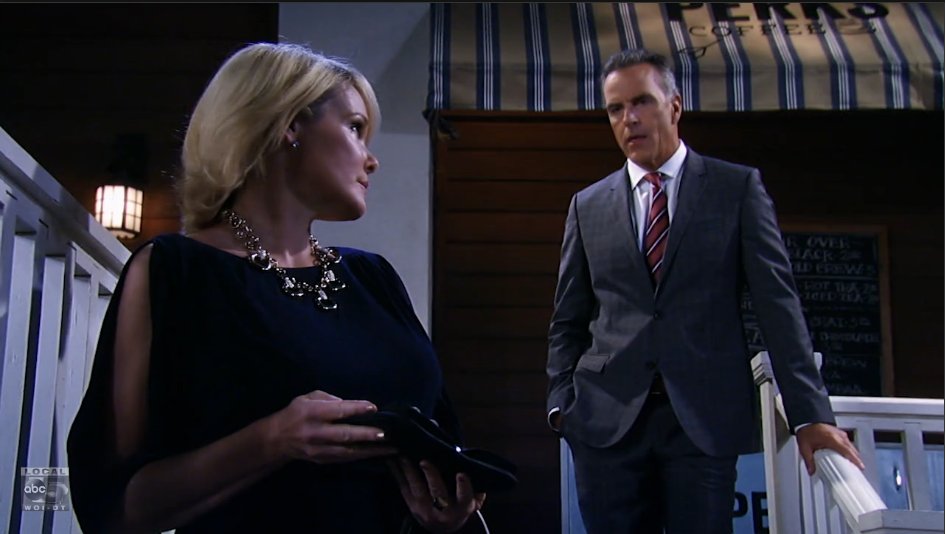 As bizarre as the whole Paul is the Killer mess is, Ava blackmailing him WAS perfect. SO Ava. So Soapy--so on-point. Paul's face when he realized she had the vials? Priceless!! Ava was back to being bad-ass. Not only that, she ratted Liz out to Hayden about the diamonds, setting into motion The whole "Hayden tried to kill Elizabeth" scenario. She's back--and SHE'S NOT crying about Kiki or Avery. Nope. Keep it that way.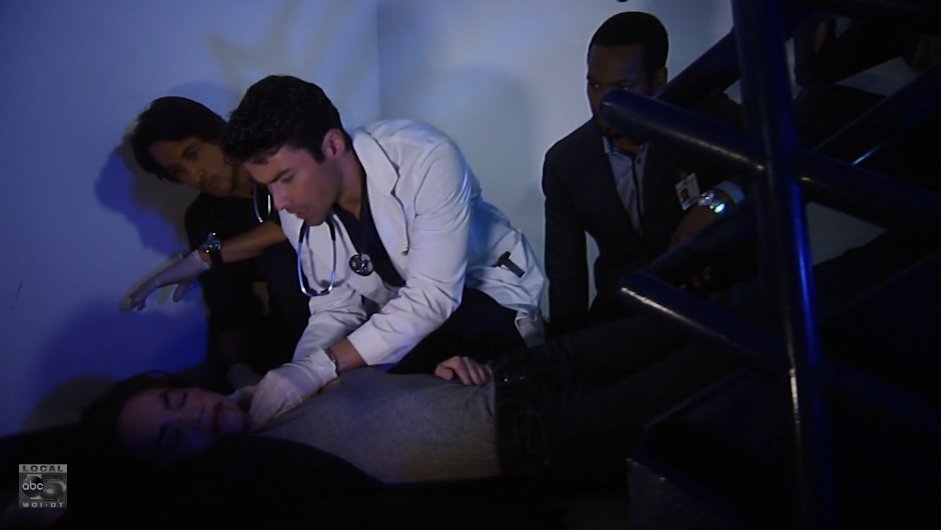 Liz' stair fall was epic. Done really well. Almost prime-time TV worthy. They just needed a bit of under-current music going. The tight space, the extras being used-and Hayden's face at the top of the stairs with Paul's behind her. The power outage and subsequent scenes were a bit low budget but I'm giving them that. The lead-up and Hayden's confession to Finn worked perfectly AND then!! They followed up THE NEXT DAY!! At the coffee shop, saying good-bye to each other, Finn and she kiss. This is also setting up the next thing I'm looking forward to: Finn vs Franco in the "Liz/Hayden" mess. You know Liz' is hurt worse than she is saying and will need something from her sister Hayden.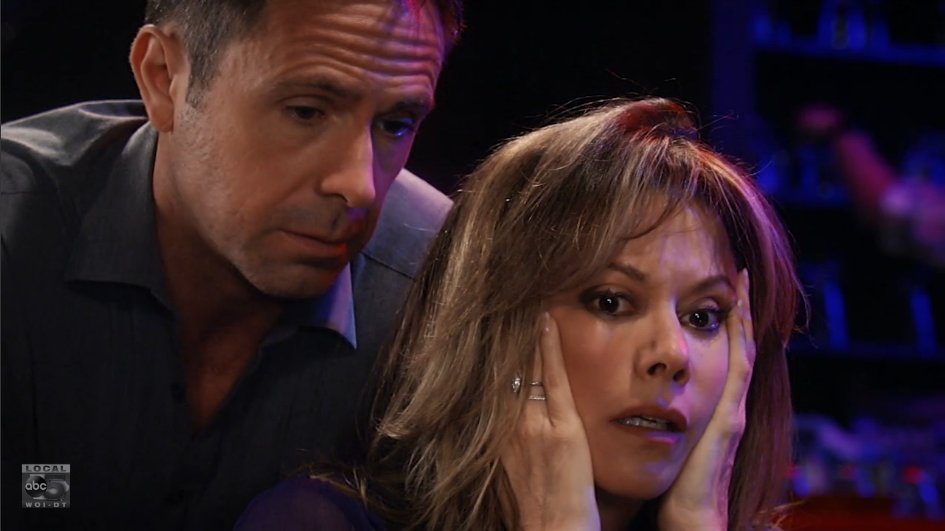 Oh, Alexis, you are going down that rabbit hole, aren't you? You are hearing people that are still ALIVE!!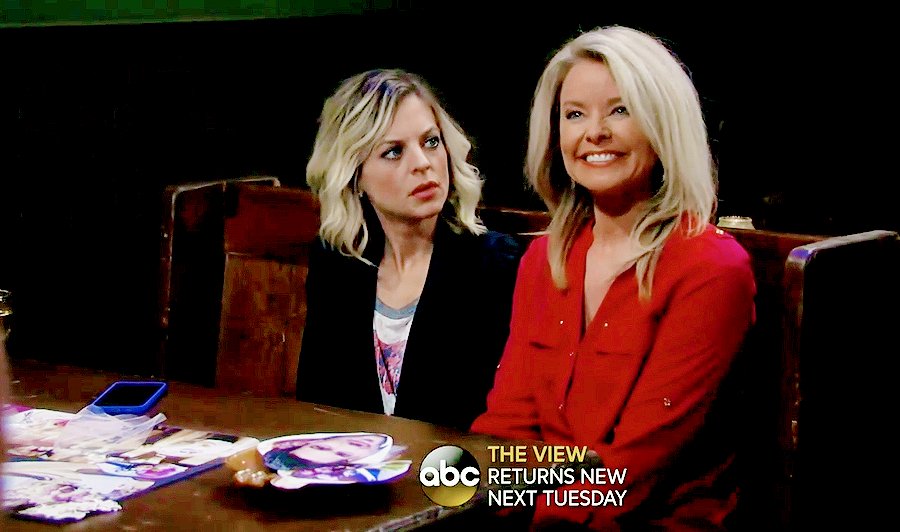 Liked Felicia and Maxie together, going over her 'wish board" for her wedding. While I'm sick of the whole Naxie/Claudette/Griffin thing, I did enjoy this. AND-- then we got some surprise Nina and Felicia scenes as well! Wow.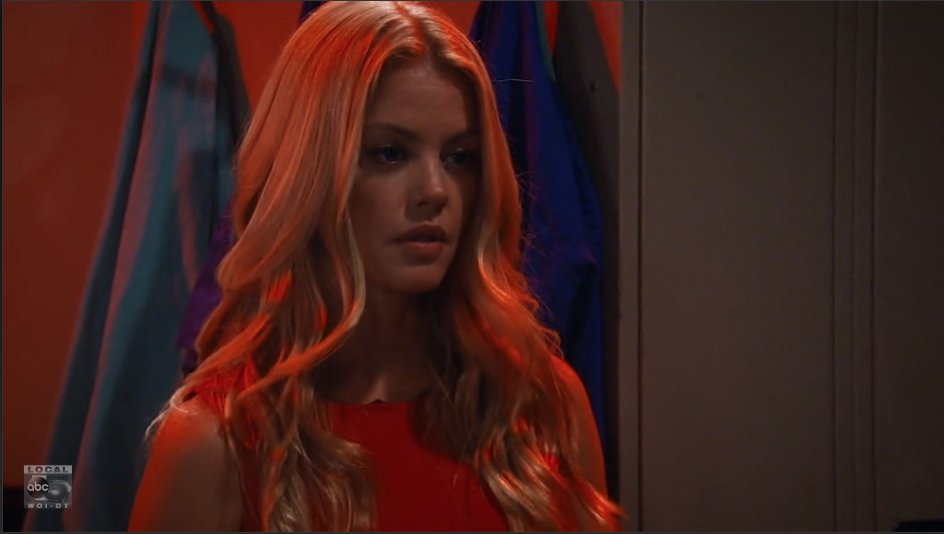 This brings us to...Claudette. Lordy. She's delicious (I do love her) but...man, I have had it with this story and it's the weak link for me. The whole Nate/Maxie/Griff/Claud shooting stuff. It's like a big bubble hanging out there that I just don't want to hear about. SO there. Neener.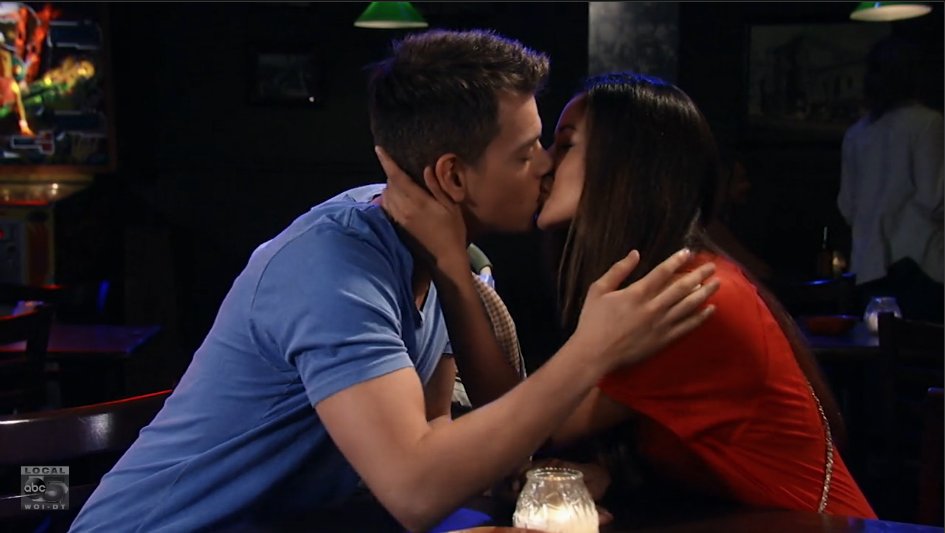 I don't care about the Amish either. Joe is ok, but without the Carlos accent? Eh.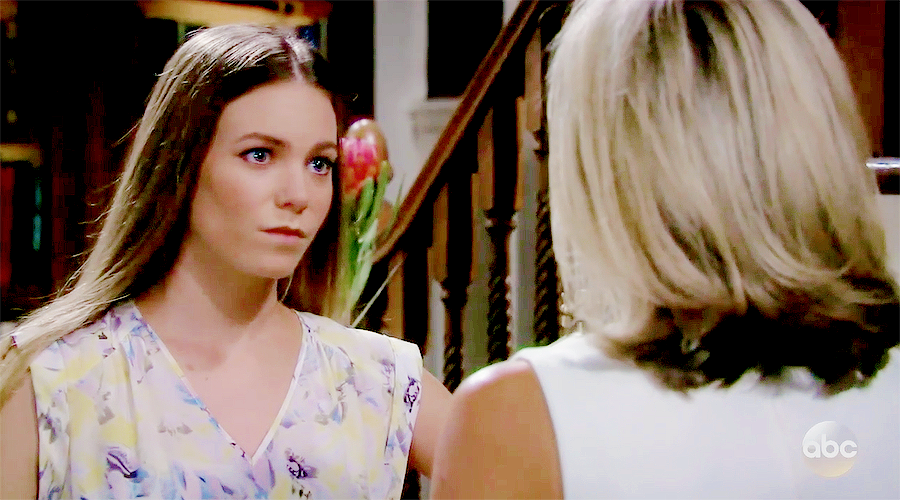 This beeatch is going to be a handful, no? I like the story (very throw-back) and wish there was less Claudette junk going on and more of this. I hope it plays out really well. Bobbie is going to watch Avery, btw--there has to be something coming down the pike with that. I can see ol' Nellie sabotaging Bobbie somehow, making everyone think she's too old to take care of Avery and then swooping in. Carly being done in by a "younger-Carly-type"? Might be delicious to watch!!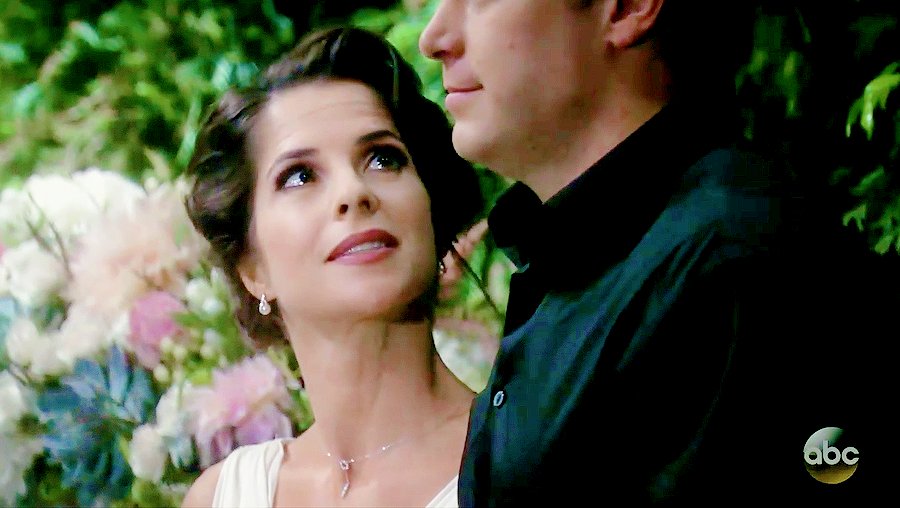 JaSam Wedding: For the JaSam fans, it was a feast for the eyes. So many great photos of everyone. They had a "photog" on set and the results were great. That's my fave one up there. Kelly looks so pretty. I also enjoyed the Davis girls of course--although come on--Alexis could have been in a better dress! LOL!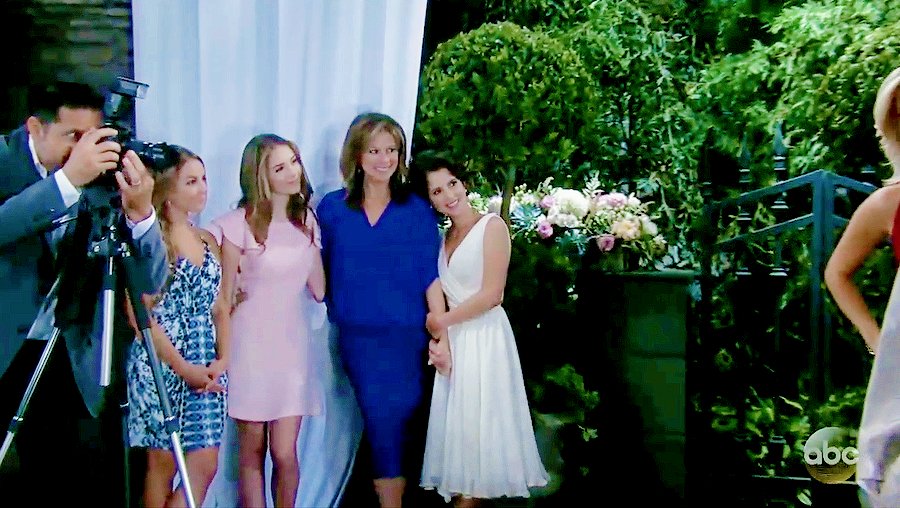 I guess it's good that Monica didn't show up, right? Her going to Sonny's house would have pushed me over the edge. It was a small wedding--did you like it? I prefer a more grand event but they don't seem to do those much anymore. Dillon could have taken pics, Laura could have brought Spencer. Oh well.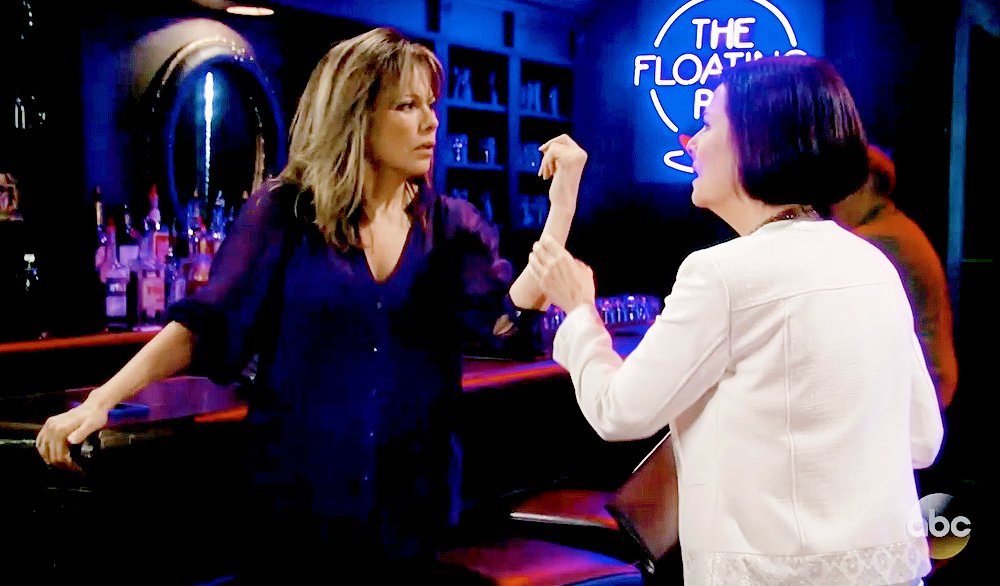 SCENE(S) OF THE WEEK:

This was brilliant. The person that put these 2 together needs a raise. Wow. NLG and Jane are so great alone--and together? Wowza. Loved that Tracy knew what it was like to have a dirt bag of a husband. They have such history together---Ned, the whole Q thing. MORE PLEASE!!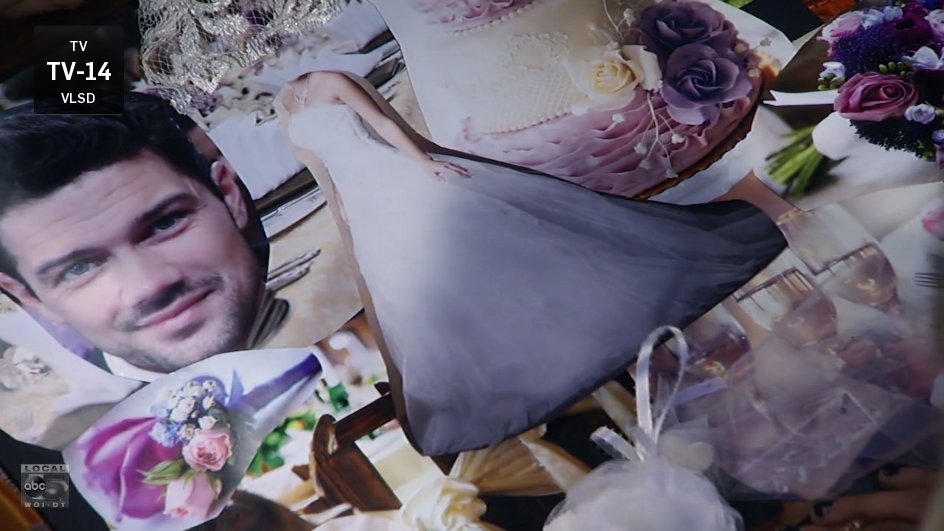 PROP OF THE WEEK:

Maxie's old style "Pintrest Board" with a big ol' pic of Nate right there!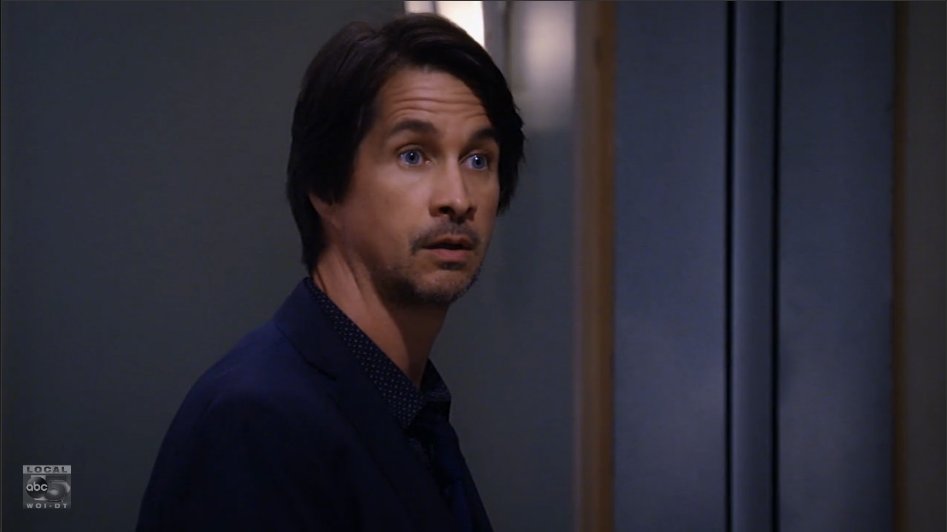 FACE OF THE CENTURY~!

LOL..Hammy Finn watching Hayden slug Liz... oh so awesome
Ok, a couple of things this week. How awesome would it have been to have had Felix around the hospital during the whole "lights out crisis"? He could have added some fun to the whole thing. Good to see Monica, but...? The entire Paul reveal is just crazy. Now, like I said, if Cassadines are holding Susan --maybe she has Finn's disease too? And the only way to keep her alive is to kill people for their organs? Why would he kill old people tho? Hmmm. Wait and see I suppose. Buying Paul as a straight up weird-o serial killer is going to be tough to swallow unless it's a brilliant reason.
Did you enjoy the week? I know I left out bits. Did you hear Franco say your " early morning discharge" and crack up!!? HAHAHA. That's RH for you! ( I almost named the blog that this week but decided it was way too easy!!_ No show Monday, it's a repeat I believe. I start work next week so things may be spotty. Then I have company coming for a week from Australia-- and I'll be a bit busy!! But you know I'll try to jump in now and again. Spoilers are updated, so hit the link in the pages above.
Thanks for reading.
As always, Thx to @SourceJenn and @FyeahGH for screen cappies !