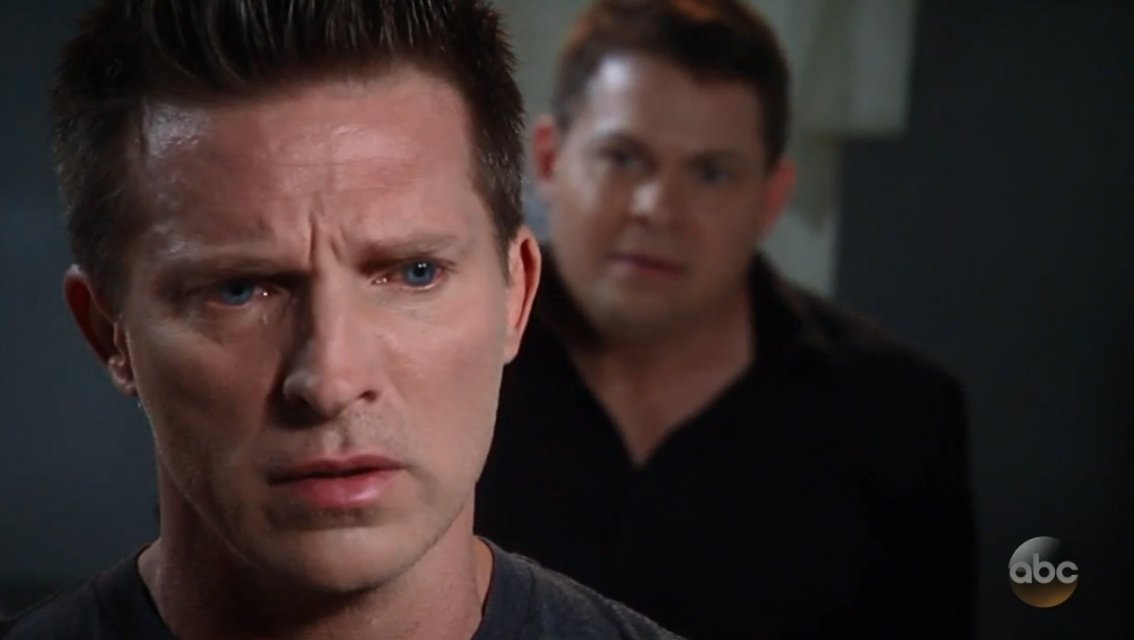 IT's 2017, don't you know???
OOHH!! Jason Burton has no idea it's 2017! He's all: FIVE YEARS GONE?? HAHAHA. This could be good. You know I'll have fun with it. He asks Huxley if he can see his photos and emails on his phone because he doesn't believe the date. Huxley says sure. Burton cries -- he's so upset he's missed 5 years. Burton did a good job today. Yes he did.
Michael doesn't think "Jason is acting like Jason" LOL!! OMG!! He's talking to Sam about it. She says he's not the Jason they knew but he should have a "new normal" with him. Oh...such anvils!!
Later, Sam goes to the penthouse and gives Jason Miller boxes and boxes of food from Kelly's! Jason Miller says he has to go to NYC for a "surprise". He had gotten off the phone with Julian earlier. Sam says she's going to NYC with him. I think he may be buying the garage from Julian?? Remember that place?
CarSon is ragging on Griffin in the chapel at GH. They are so snotty. Morgan's been dead a year. Oh man, it's going to be more of the OHHHH MOOORGAN.
Friz is talking about Franco's art. Then Franco spills about Andrew and the Twin Jasons. Liz says you should tell Jason. He's arguing not to. They see Sam and Miller later. Liz says "we need to tell you something" . BUT based on previews, I don't think that happens.
Nina and Nelle are just...talking about not about much. I mean, really--- it's just dumb. Michael is going to have Curtis look into Nelle's past. Nina tells Nelle to just "be herself". Nelle calls someone mysteriously later.
SPECULATION: (AFTER watching soaps for 90 years): Burton will go back to Port Charles and see Miller and Sam together. He'll think she's moved on from him--with a new man. Of course, not realizing she thinks it's HIM.
Just watch.
IDEA: Spinelli and Curtis PI agency LOL YEP. FUN will ensue!!