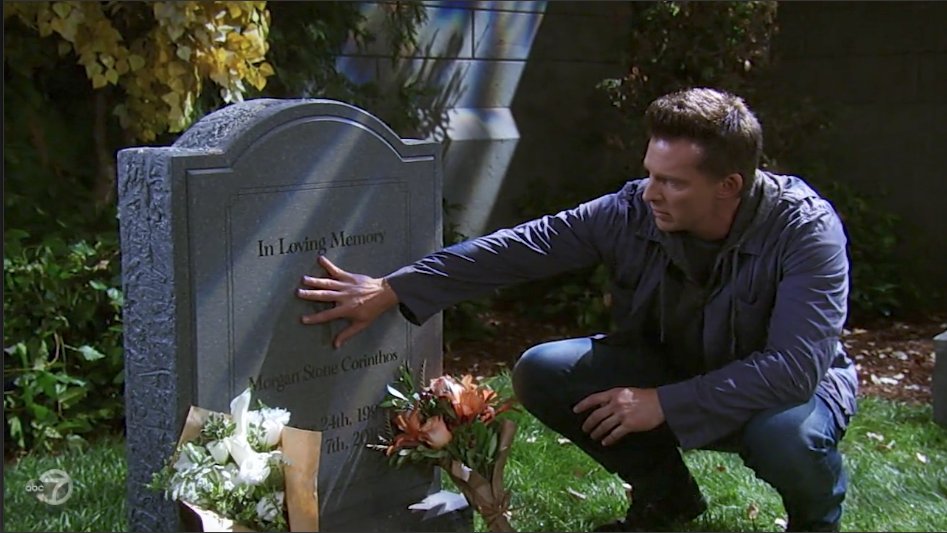 I can feel your pain...

I really needed one of those giant bulletin boards like Carrie has on Homeland to sort out this week's show. Geesh--so much happened on so many levels, I could barely keep up. I managed to watch the show live--and for the most part, I enjoyed it! I know, don't fall over.

You'd better get the whole brunch effect going because I have a feeling this is going to be a long one, folks!
NOTE: This blog is going to be more of a summary report rather than my usual picture captions. Too much to go over for quick snarky 'scripts' from me.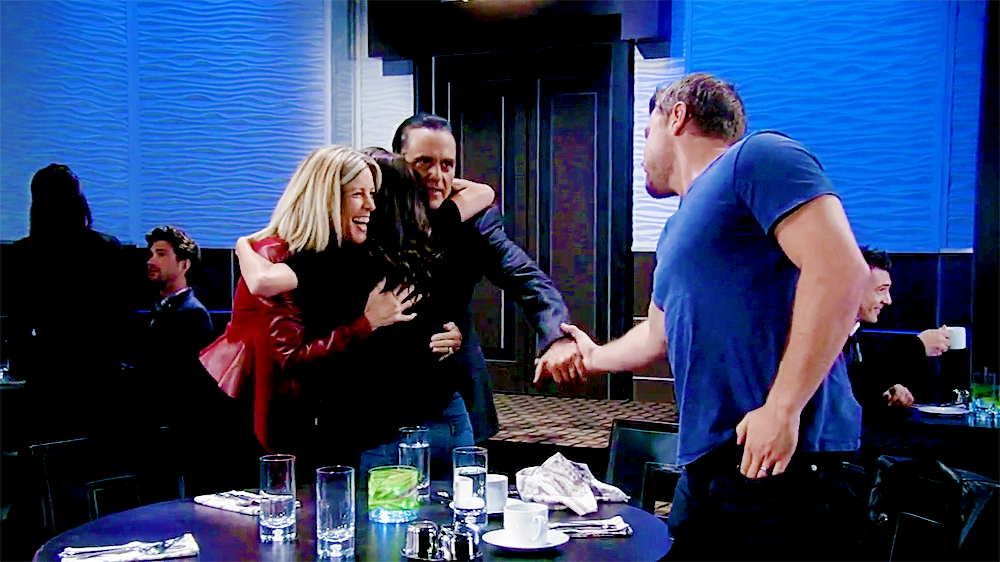 First of all, a lot of people that I know that haven't been watching GH have either DM'd me or texted me to ask me specific questions about the show. That's good right? It means more eyes back on our soap! It also means I have to explain things about 20 times. LOL. Most people don't realize Ava never saw the first Jason's face. She just hit him with her car--and he morphed into Billy Miller. (Why she didn't google him, anyone's guess). While this story about Jason's emergence from his 5 year black-hole is for the most part on point, there are questions that are going to need answers. Big answers. (or we'll just gloss it all over and agree to move on, right?)
Let's start with the "Fringe Stories" first--and there are a LOT of them:
Man Landers-- EESH, this has just dragged beyond all dragging. The problem with it in the first place is A) we never even knew/cared about "Chet" B) it only really involved Amy and Nathan and Marion from AMC C) just kinda dumb. Summer filler--which stretched too far. So, this week, Nathan tells Amy 'it's over" and they are going to kill the blog. BUT!! Just when I think that's the end, Maxie goes and tells Sam she thinks it might be all COOL to have Nate do it. NOPE, stop that thinking right now, girl.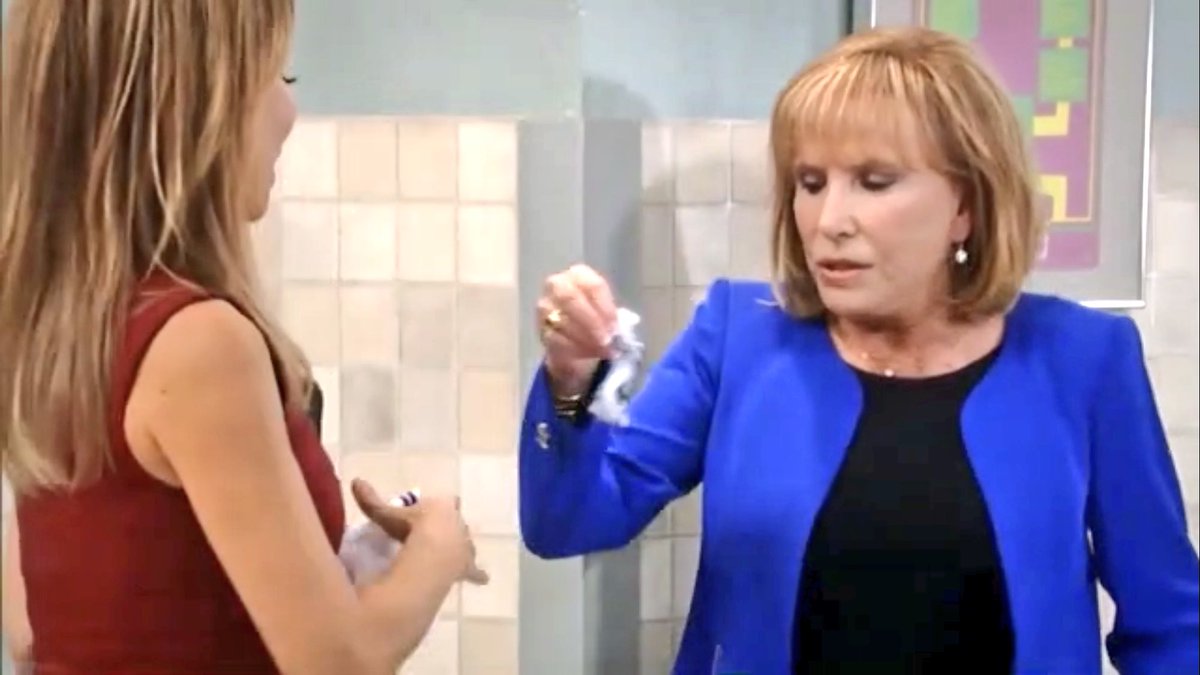 Olivia and Ned-- They are back and I'm sensing that Olivia is going to be the new "thorn in Monica's side" (taking over the Tracy role) while Ned is going to try to run the company behind Michael's back. Both could be entertaining if they are on enough and Ned grinds Michael's face into the ground. :giggle: I really wish we could have seen the tacky Halloween decor put up by Olivia instead of Monica just describing the whole thing.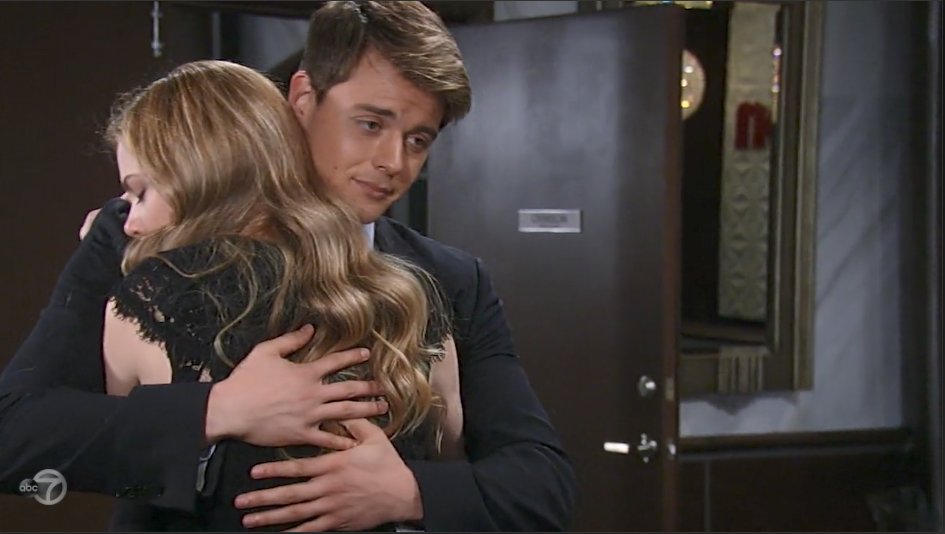 The Kayak Killer story dragged on this week. Nelle's been on too long and you've screwed up way too many stories involving her for me to care if she killed her last husband or not. We didn't even know him. Unless she's going to go full blown psycho in a compelling story line, someone could probably murder her and we'd be happy.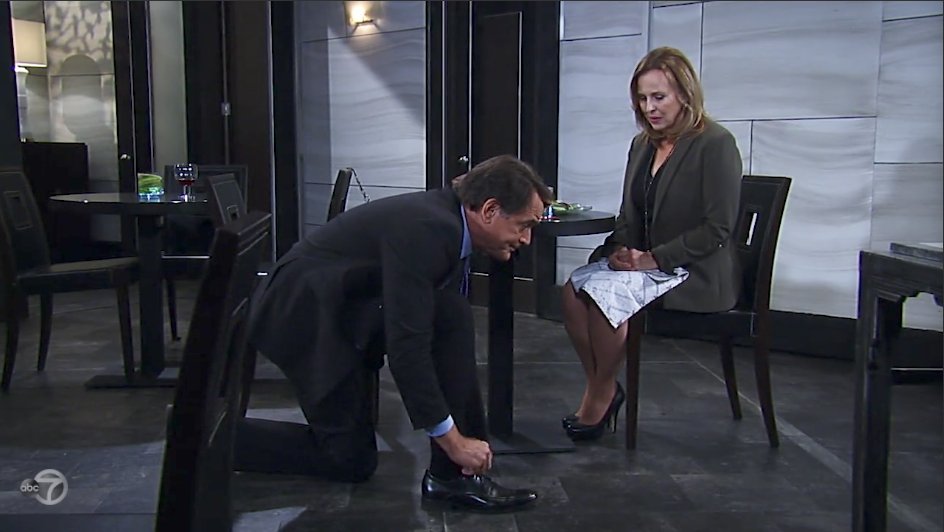 Kevin and Laura had a nice week. The marriage proposal needs to be 'done right' and when Laura thought he was going for it, Kevin switched it out with the old "tying my shoe" routine. Lante was tolerable in these scenes too. OH! And--Kevin may be in another story because he was talking with Griffin about his leaving the priesthood. Wouldn't that be something?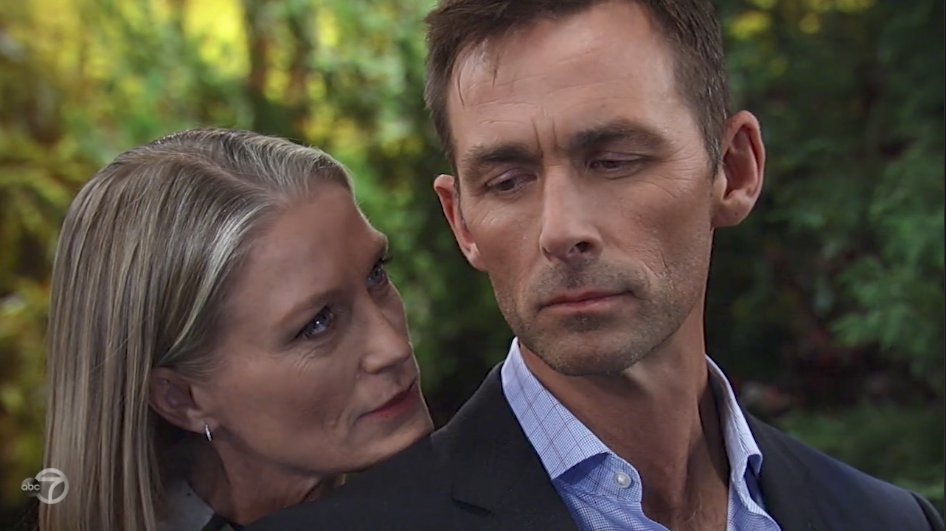 Nina and Val and now dovetailing on the Jason Miller buying Derek Wells Media story. Nina got to keep her job. Valentin got to pout. Cassandra is trying to get him to join her big drug ring--which surprised the hell out of me since I thought it was about stolen jewels. She's dealing opioids --topic dejour.... and i'm sure we'll get into the horrors of pain pill addiction. Seems fringe to bring in a whole other character for this but...you know, GH!!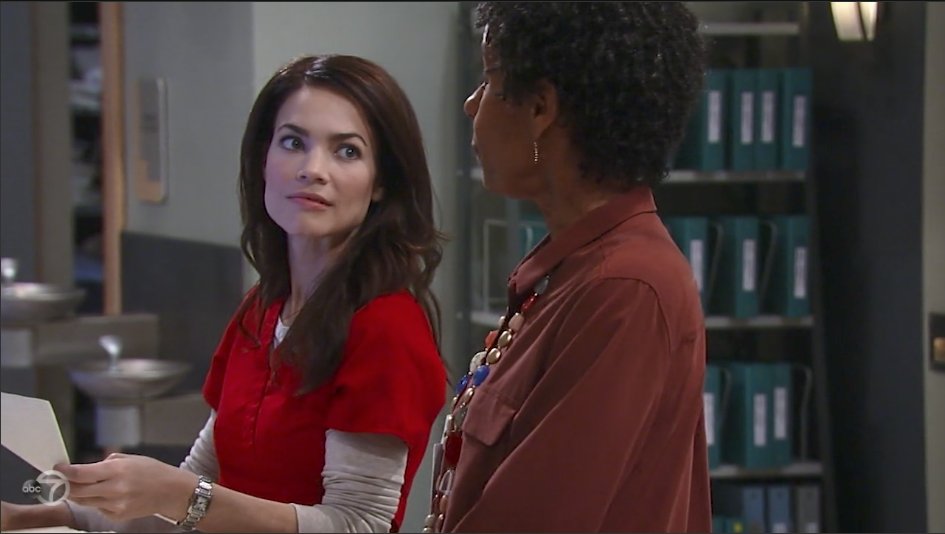 Fun Stella scenes --and I think she may be in the addiction overdose stories? She's the social worker and has already mentioned one death. If they bring Jordan and the PCPD in, hey-- who knows?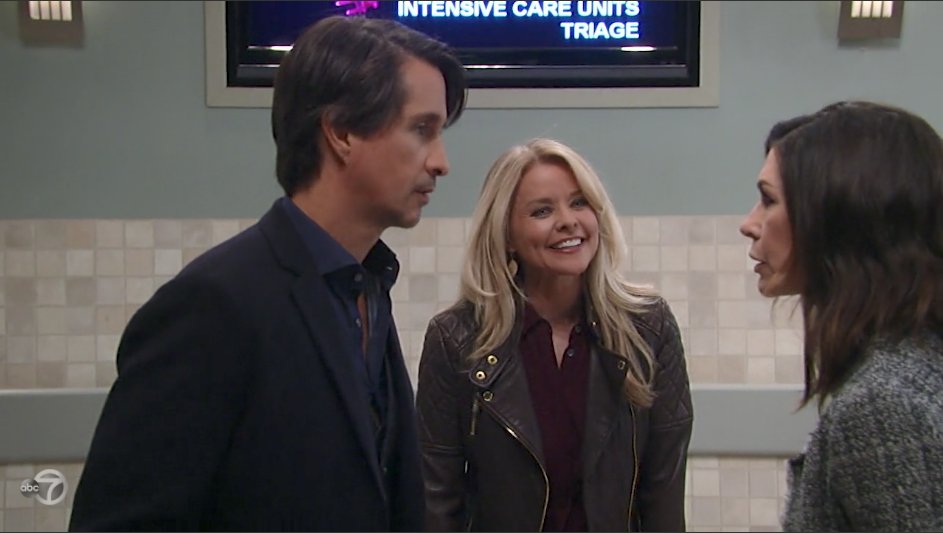 Anna and Finn are pretending to be all in love for this ruse to 'trick' her. ?? Why they need to do that, I have no idea. Felicia had a cute 4 second scene and believes they are really a couple. She's super psyched to have someone to double date with!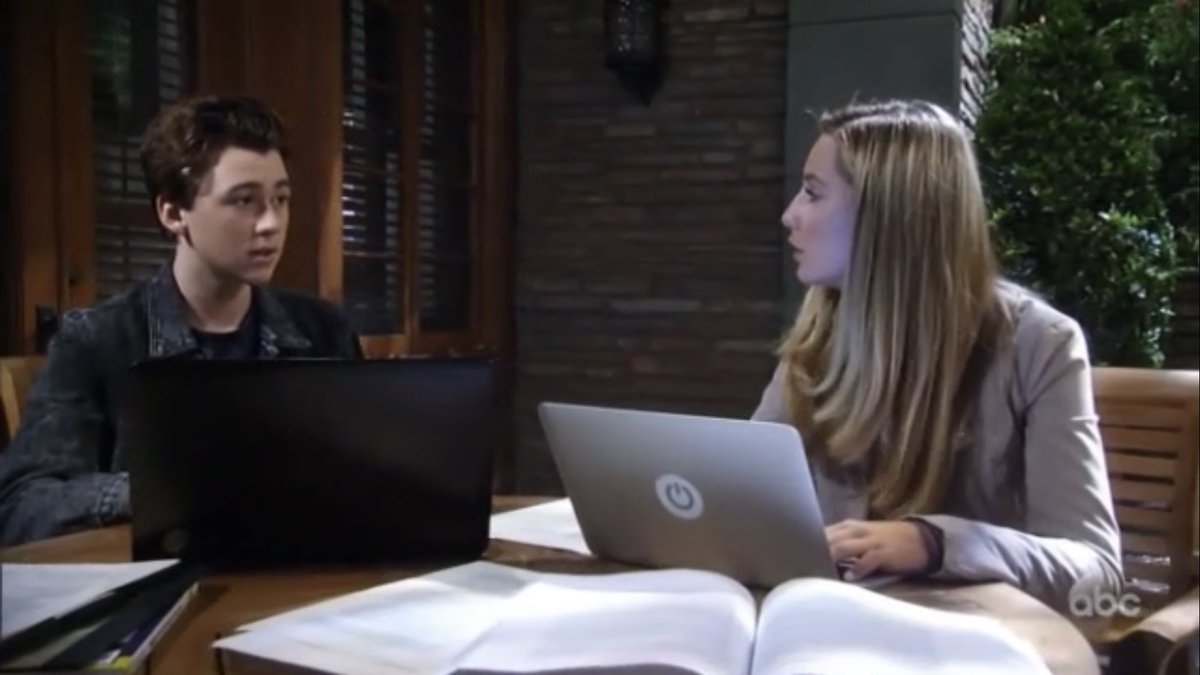 Oscar and Joss. Ah, young puppy love. You know I think these 2 are as bland-basic as it can get. This week didn't change that opinion. Oscar is obviously hiding something about his mom..or dad or both. Carly's mouth is driving me insane. She wants to meet Oscars' Mama... she wants to know where he lives...she wants to know if he has cleaned behind his ears. :eyeroll: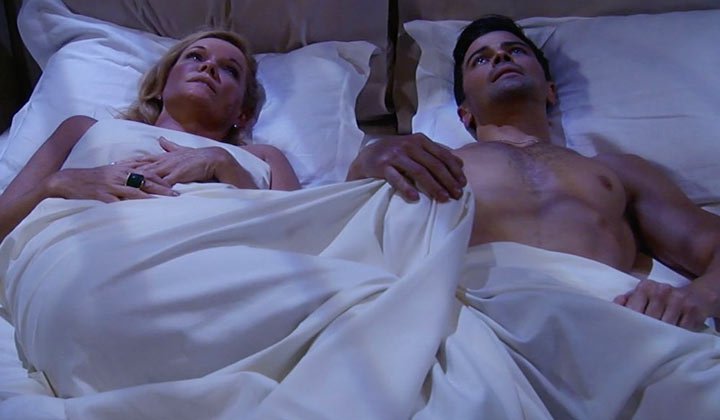 The Thornbirds Revisited: Ava and Griffin finally had the sex-- and he told Father Gopher he was done with the priesthood. I am just not feeling this story at all. I never got a "Ava Griffin" chem-bomb and it's not grabbing me now. Sorry GAVA fans, but ...meh. I also don't see where this is going? So, is Ava going to be all pious now? Is Griffin all of a sudden turn into an interesting, exciting character? Hmmmm.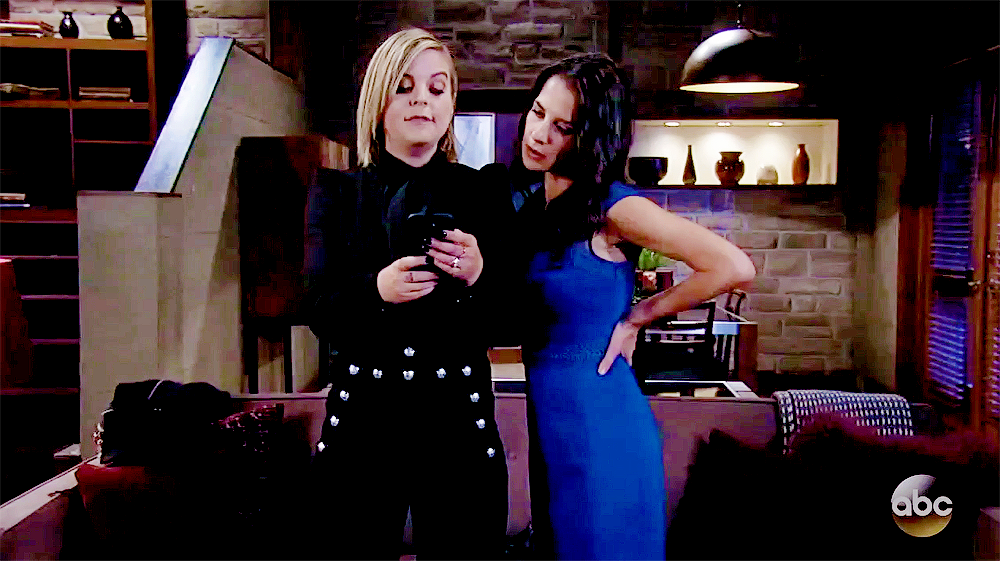 Media Moguls: Maxie wants her old job back and thinks Sam can get it. They check out twitter to see the posts about Man Landers being a hunk of a guy. Oh, and Maxie brings a dress for Sam to look fancy for the Media Launch Party. (which is where everyone is surmising Burton will pop out).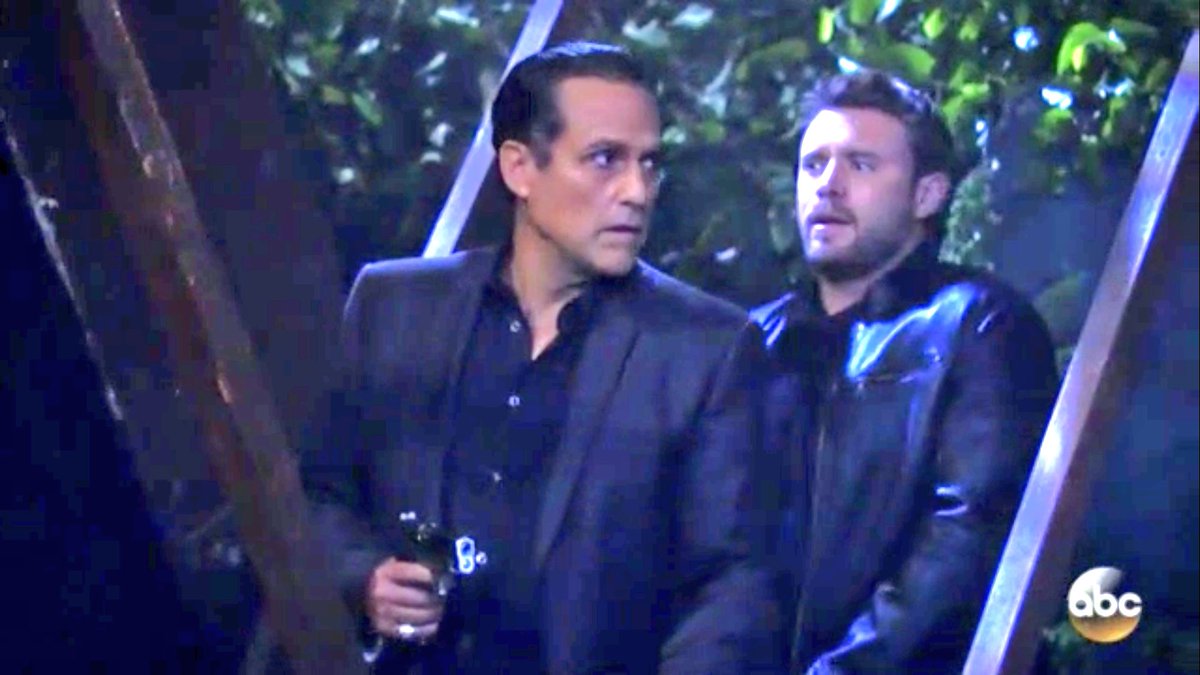 ON TO THE MAIN EVENT:

The Tale of the Twin Jasons. Oh this story just keeps adding layers and layers. That of course, can be a good thing, but for GH? With it's track record? Hmmmm...Here's hoping.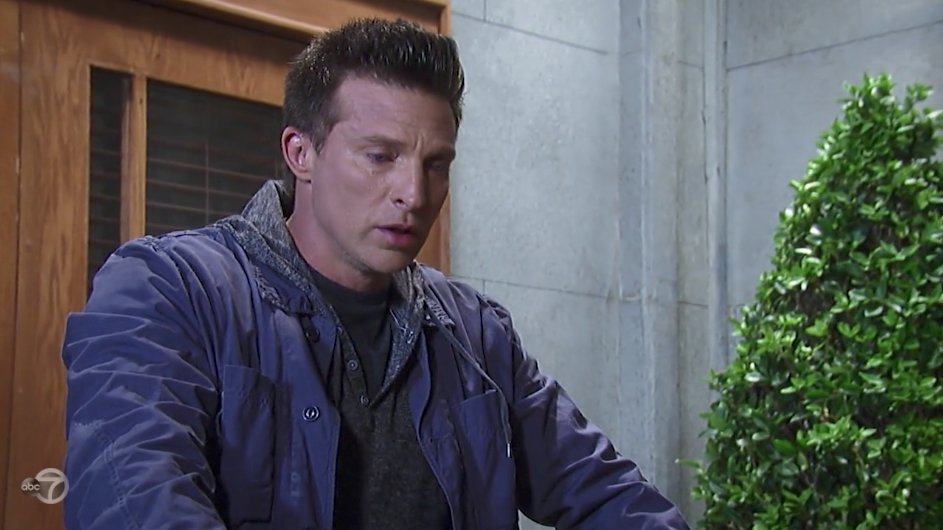 Our hero, Jason the First is flumbuxtered -- he goes to Sonny's house where he sees a bunch of photos that make him go ?? and then Jaysus goes to the PH only to find Sam kissing another man! A man IN A LEATHER JACKET!!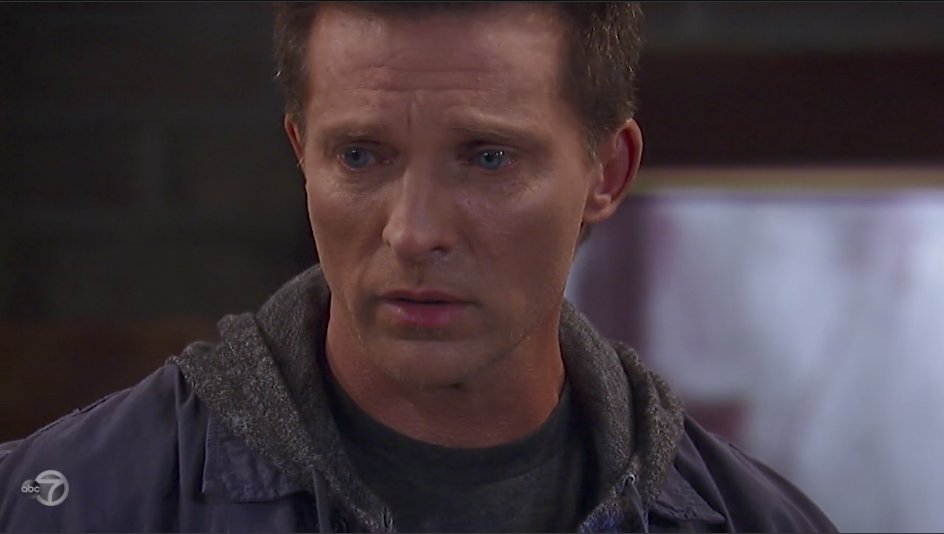 Pain...pain from seeing Danny's cars out....PAIN FROM SMELLING Sam's leather jacket. Flashbacks... just all come so fast. I'm saying I enjoyed SBu more in the last week than I did in the last...um, like 8 years of his on the show. I thought it was a good way to tell this story and although I may have done things differently (Scout would have been in the mix), kudos for keeping me glued to the set.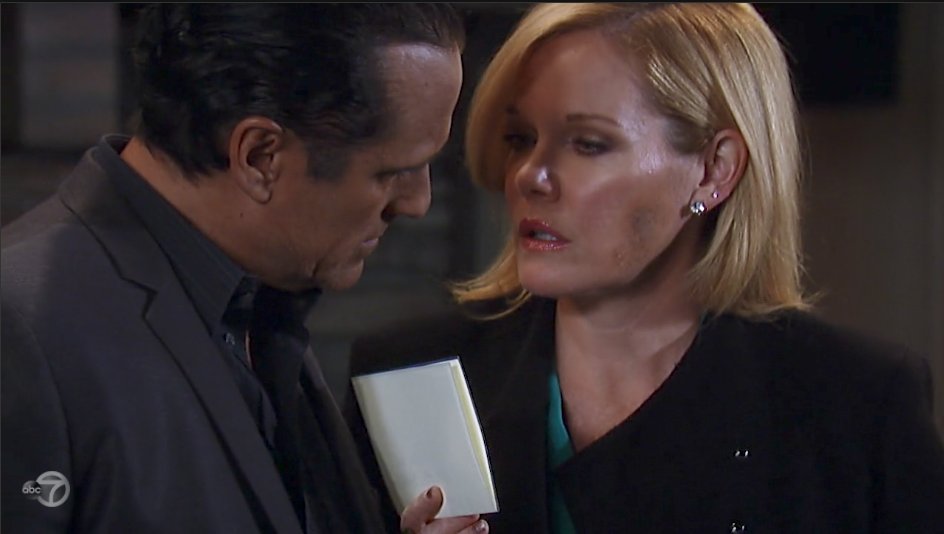 So. after bonding a bit over Morgan's grave, Burton goes with Ava to stay at her apartment. There, he finds out more things that happened in PC since he's been gone. One of those tidbits is that "Jason Morgan" bought a media company. Burton's processing time doubles as he sits and ponders WTF is going on. He finally writes a note for Ava to deliver to Sonny. Ava goes over there and of course, Sonny's an assphat to her and thinks she's only there for Avery. He won't let Ava see the kid anyway and Ava won't tell him what the guy looked like that gave her the note. The note contains clues that could only be written by Jason (Stone's ashes and the money Sonny loaned him after his head injury). BUT!!! Sonny doesn't "GET IT" and calls Jason Miller to ask him what's up. Miller is all "I dunno, I didn't write this." Sonny decides to take him along to the bridge to meet the note writer who specifically said "come alone" (Good going, Sonny).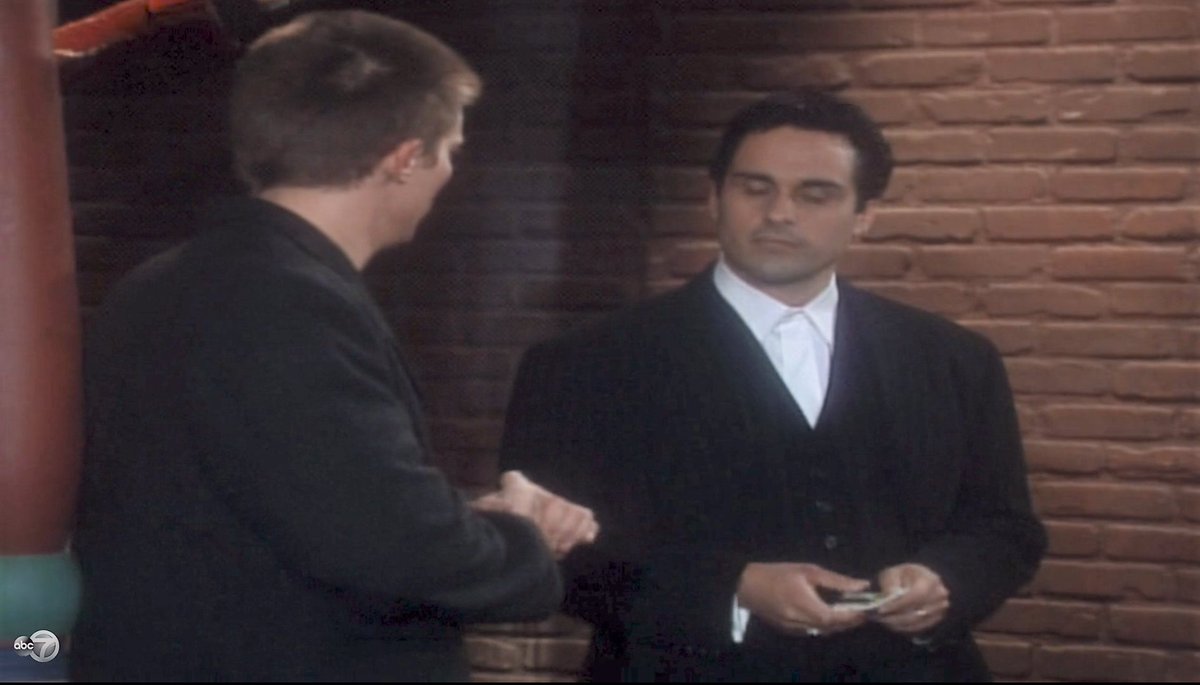 Ok, this is getting a bit long but I have to pause to bring this up: Jason Miller knew that Stone's ashes were thrown off the bridge and he also knew the amount of money Sonny loaned "him" at Luke's. ERGO, he's got those memories implanted. Yes, I am going on my belief that Burton IS JASON and Miller is Drew. Now, how those memories got transferred? Anyone's guess but it probably involves Helena and some kind of Sci-Fi brain helmets.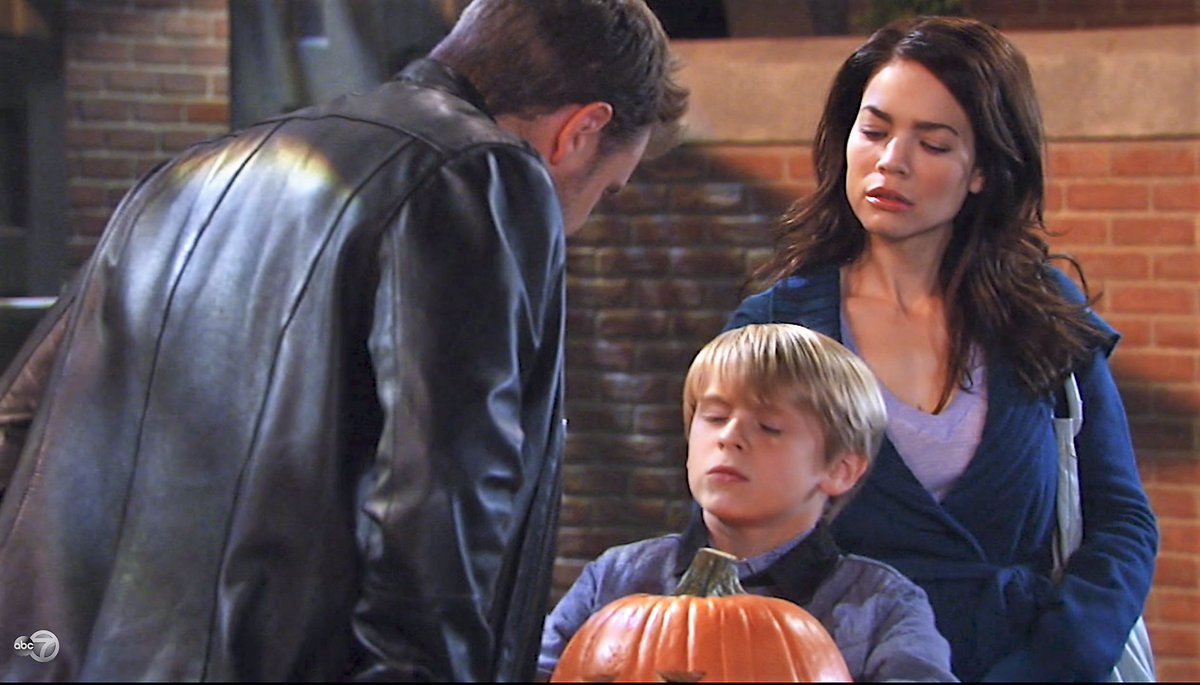 Jake is going to be the key. After Jason Burton left the PH, he went to the park to skulk around. There he hears Liz talking to Jake about a pumpkin he carved. While I my heart was pounding, this could have been so much more. Burton doesn't know Jake is alive. All we got were teary blue eyes and a "Jake" whisper. Jake overheard that and when he went to go get hot chocolate, 'saw' the guy around the corner. He tells his mom and Jake that he felt 'safe" with him-- and when Jake goes to investigate, Burton has vanished. This could have possibly been part of the reveal, imo. The Jake portion is pretty huge considering Burton thinks he's dead. But--anyway, next week Jake tells Liz that the guy in the park had "Dad's old Face". Given the fact she thinks there's a twin out there (from Franco information) will she just assume it's Drew?? (Because she thinks Drew has the old Jason face and Jason Miller is the first Jason-- geesh, when I read these things back they just sound so--nuts!! lol)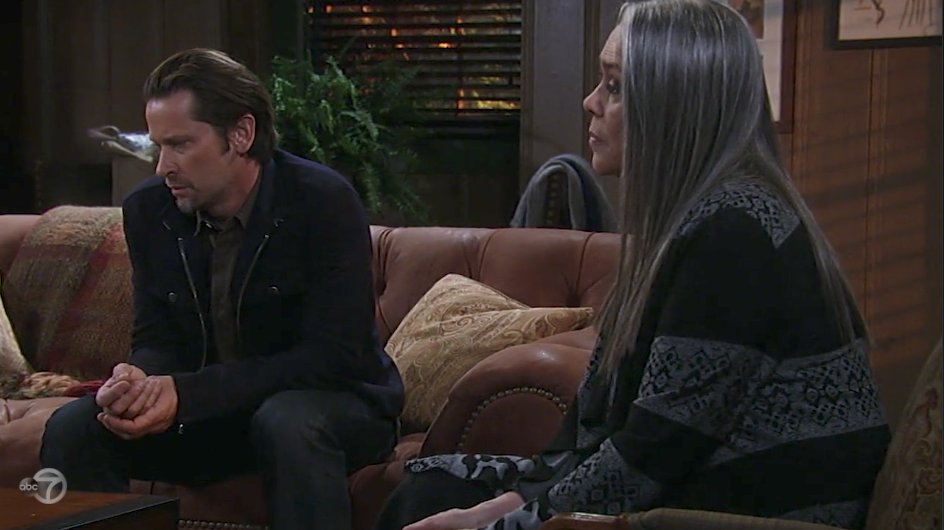 Over on the other end of the Jasons is Franco who's trying to figure out what happened to the boy he knew as his brother all those years ago. Betsy has told about 56 different stories and I can't even keep up at this point. The newest one is that Drew got hurt falling down the stairs and Franco (and his mom) think he pushed him. She's not sure if it was on purpose but he's struggling with the idea. Betsy said after the fall she dropped the kid at the "Port Charles Foundling Home" (um, did this happen in 1922 or something?? Do we even have foundling homes anymore??). He's alive. Franco tells Liz parts of the story but then tells her that Drew isn't related to Jason after all, let alone his twin. I guess he's doing this because he thinks he killed him? Hell if I know. :throwsuphands: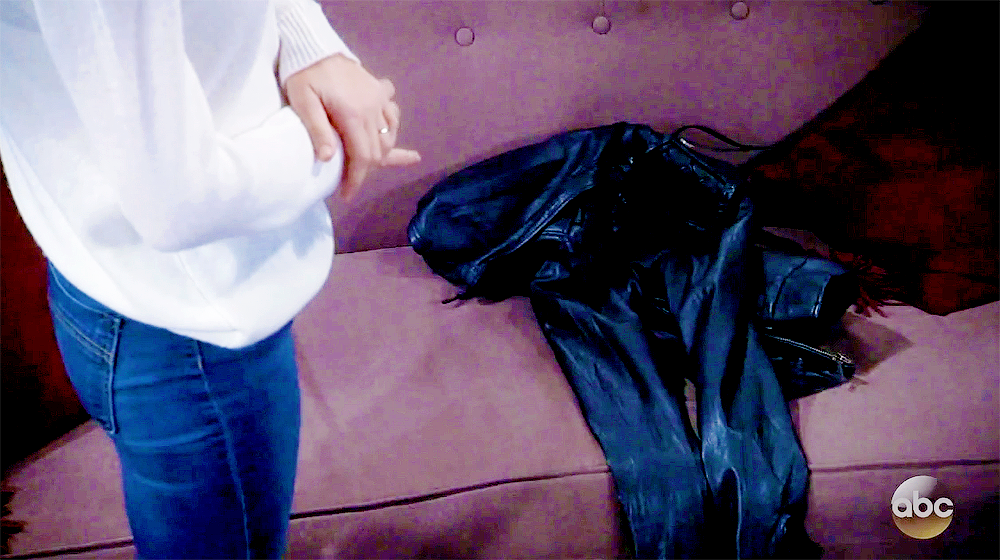 SYMBOLISM

: This leather jacket represents Sam's old life. It's all flashbacking to she and OG Jason. At the end of Friday's show, Sam puts her coat on --and outside is a goon with gloves on. Will he grab her?? Anticipation!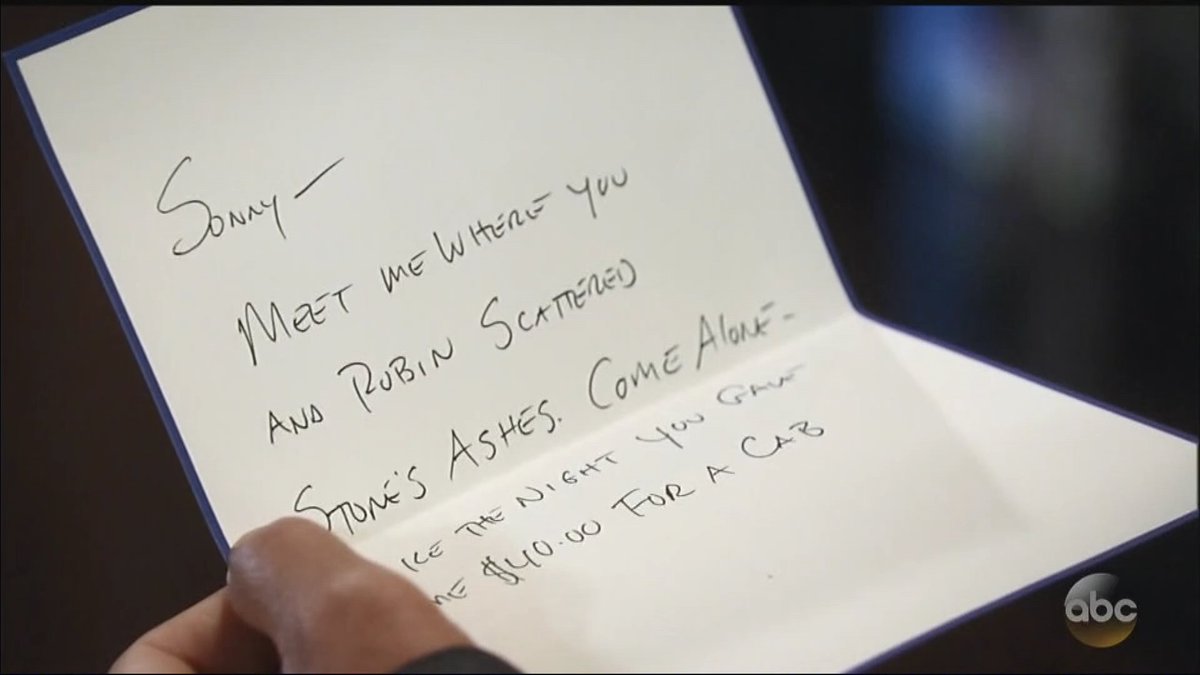 PROP of the WEEK:

Now, you know Jason has written MANY of a love note to Sonny--why didn't he recognize his handwriting?? Oh, because Drew said it was his handwriting but he didn't write it!! Ergo, someone transferred handwriting to the twins in the lab. Got it.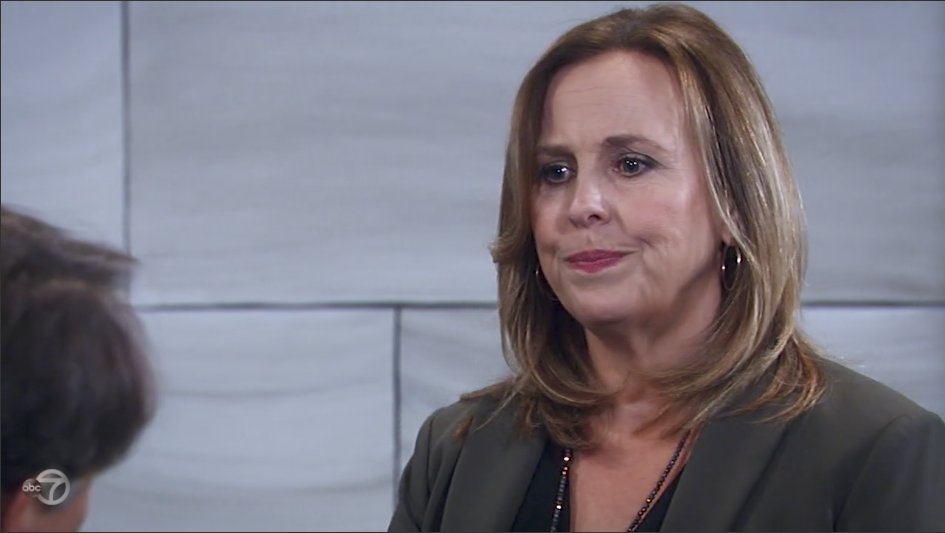 FACE OF THE WEEK:

Because....this is totally a Canfield face. My whole family has it nailed.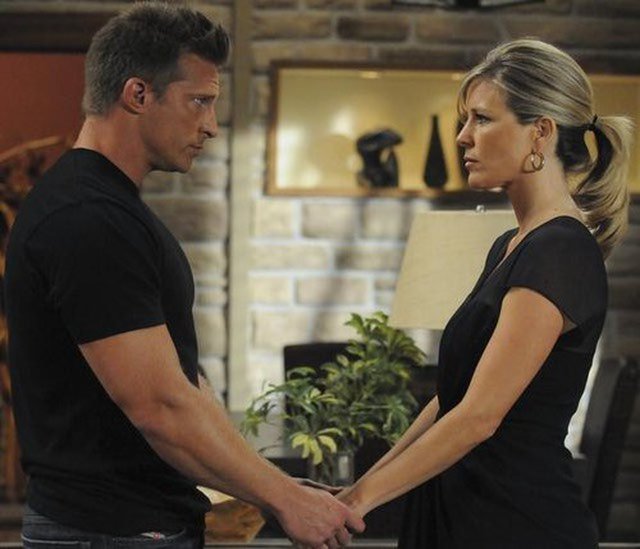 SUMMARY:

This week was actually pretty good and I was finding myself wanting to get home to watch. It's just crazy! Maybe it's just because Burton has been gone so long and I want to see each character's reactions to his coming back--all while standing next to Miller, who they thought was Jason all this time. How will the story unfold about their memories? Where has Jason been? Island? Clinic? What will Robin do when she sees him? What about AJ being alive-dead-alive-dead because Sonny shot him? What about Ava's part in AJ's death? Sam has a baby with Miller. Does she love Miller or the old Burton ?? Hmmm.. Liz factor: She's got some strong Jason feels too. She's with Franco, his arch enemy!! Jake's alive! On that note, you can lose Nelle with no problem. You can also figure out how to weave in the whole Cassandra hypochondriac Drug Seller story and make it a bit more cohesive. Not sure about this Oscar parental thing-- I really wish I liked his character more.
PS. Probably the most fun will be Carly finding out her "JASONDAR" was way off !! ahaha. She thought Drew was Jason ---and Jason is up and walking around! Sure she's been all "Jason is off" lately but not at first. Nope.
I hope this next week makes me want to get home as much as this one did. Sweeps start soon so I'm thinking the reveal will be within this week or next. Then, we get all the glorious fall out to watch! Now, I'm going to go grab a donut. This blog took forever!!
Photos Thanks to : @theWSB @SourceJenn @DaytimeSpoilers @MamaBearCarly-- all stolen from Twitter!