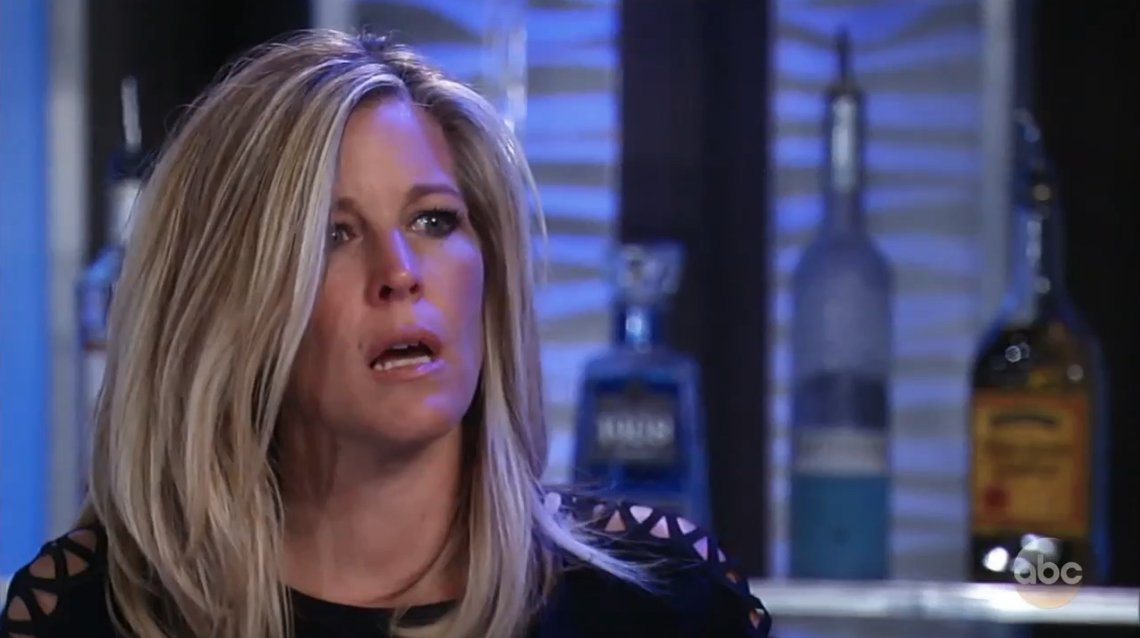 WAIT A MIN......WHAT....
Party. Hmmmm, first scene they show is 2nd to the last scene from yesterday--guns aren't even out. Then they cut to Floating Rib. They have the other scene (Dante talking to Miller) before they get to the guns. Dante is confronting gun man...looks like he gets shot point-blank...he goes down. Nope, he's up again (huh?) and they get his gun away.
OH!! Elizabeth is SHOT!! EESH!! She's next to Nina and she reaches down and her hand comes up all bloody.
Carly manages to text Sonny. He and Burton leave to go save everyone. Burton goes to the skylight on the roof...watches from above. Sonny marches in, gun out, yells at the goon with the ponytail and tells him to DROP IT OR DIE!! Which, the Goonie guy does! LMAO !! Sonny says to Carly "You're not going to believe what I have to tell you".

Meanwhile, Liz has to go to GH because she's shot. Griffin says they have to go. Sam tells Miller to go with Liz. Billy Miller carries her out.

HOLY CRAP!!! What has happened at GH?? Well--get this. Another guy comes in with the needle and stabs Sam. The only one that sees it is Burton up on the skylight. The guy goes to carry Sam out and Jason JUMPS THROUGH THE SKYLIGHT and everyone SEES HIM!! Holy Hell! It was slo-mo--but... IT WAS GOOD! Everyone Gasps!! Carly about passes out. Monica is all..WHA??!!! Jason follows guy and Sam out-- (with his gun drawn). Later, everyone wants to know who that man was that came through the skylight. Monica goes "ASK SONNY" ! LOL she knows HE KNOWS!! bhahahaa. Carly is still stunned. She asks Sonny who that was. Sonny says "We have to find out if Sam's ok first" . Dante questions him in the lobby-- and is like I THINK I know who that looked like but...you tell me. Sonny says "we have to get Sam first".
The guy takes Sam to the pier and to Dr. Klein. Jason surprises everyone and jumps out of the shadows with his gun. He shoots the one guy...and then Klein says "Save her or shoot me" and shoves Sam into the water (she's still groggy from the drugs). Burton yells 'SAM"!
Valentin and Cass are on the pier to talk Drug-Lording. He brings her a list of people that could run her operation. BUT..she wants Valentin and only Valentin. Val gets a call from Nina to come and get her after the hostage situation.
Felicia, Mac, Anna and Finn at the Floating Rib-- Anna and Finn are trying to explain how they 'got together" Felicia is all giggles. I think Mac isn't so sure about this. Finn says he doesn't dance. Anna drinks another scotch. They kiss. Anna kinda likes it!
Franco gets the death certificate from Dr. Maddox. He's like HOW did you find this when I couldn't. Maddox says it was under Susan Moore's last name and he should drop the whole thing. Franco is skeptical. Later, Franco sees Liz at the hospital and runs to her. Griffin says she'll be ok.
END:
Monica takes Miller over to the side (he's still at GH) and tells him that Sam was taken.
Sam's in the water, I think Burton will go in and get her.
We see what Cassandra is blackmailing Valentin with--she has Claudette!
Mac and Flea approve of Finn for Anna.
GOOD SHOW..WHAT A DAMN WEEK! HOLY HELL!! I can't believe this!! It went SO FAST today!! Sunday Surgery is going to be something-- I'd better get my rest before writing it!