Getting my toes wet here, trying to come back to Surgery. I watched every day..but not always the whole show. These will be a BLAST of impressions instead of in-depth analysis because I didn't watch any of the prior week to this. (So my snark has to be cautious as I may have missed something).

House is still sad, quiet without my Gus. Can't believe how much of my day was spent with him. Kind of 100% when I wasn't at work or out!! It's going to take awhile.
Breakfast is FATHER'S DAY...and Wubby Hubby chooses beans on toast and sausages like a good Brit would.
NOTE: You may want to read my GH Cast Rant post about GH's giant bloated character set.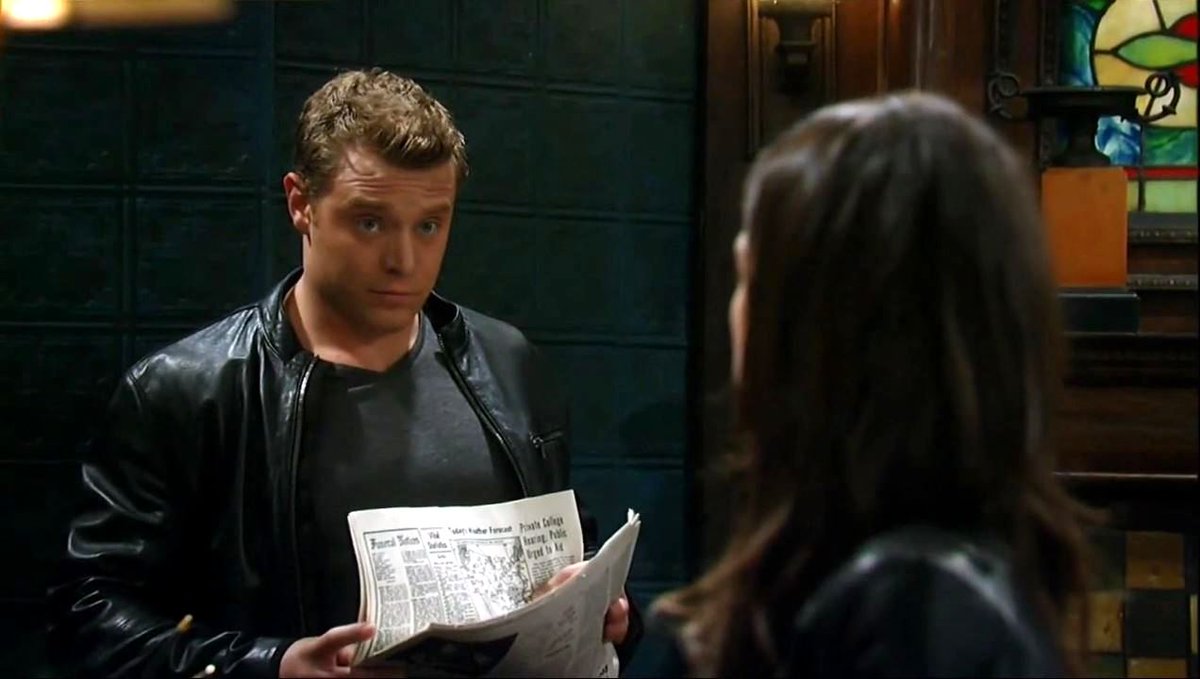 I have to say that GH seems to be in full summer mode; the 'adventure' of "England" and all that. Kids are around more. Sam kicking some guy's butt. TJ shows up out of the blue. Extras. "Guest appearances" yada yada.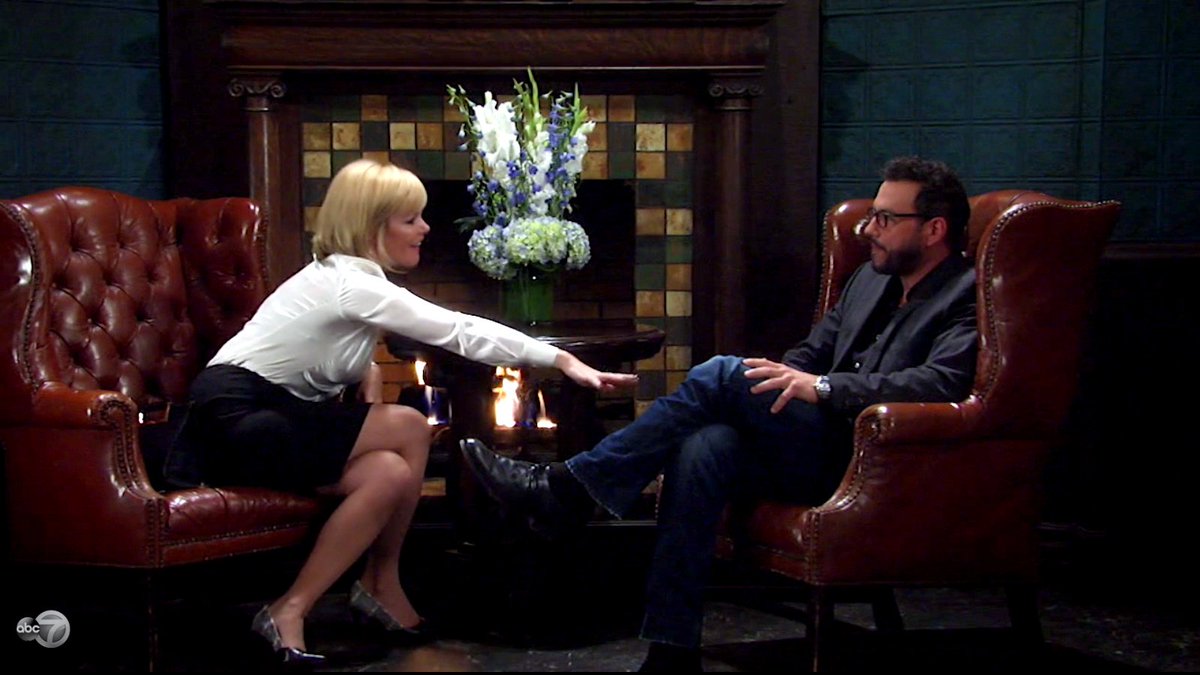 My fave story is/was Ava and Nikolas going to England. NOT because of the story, but because of Maura and Tyler.
But...guess what. Tyler is gone because of contract stuff and this newbie steps in. *sigh* JUST when I was all about their chemistry--:THUD: Thank you soap gods--you really had my back. :eyeroll:
The story itself only got a bit interesting when we find out Huxley is really after Ava and not Nikolas. She'll probably throw him right under the bus: "Don't look at me, he's a Prince and presumed dead, blackmail him"!! Love Maura, she'll do great.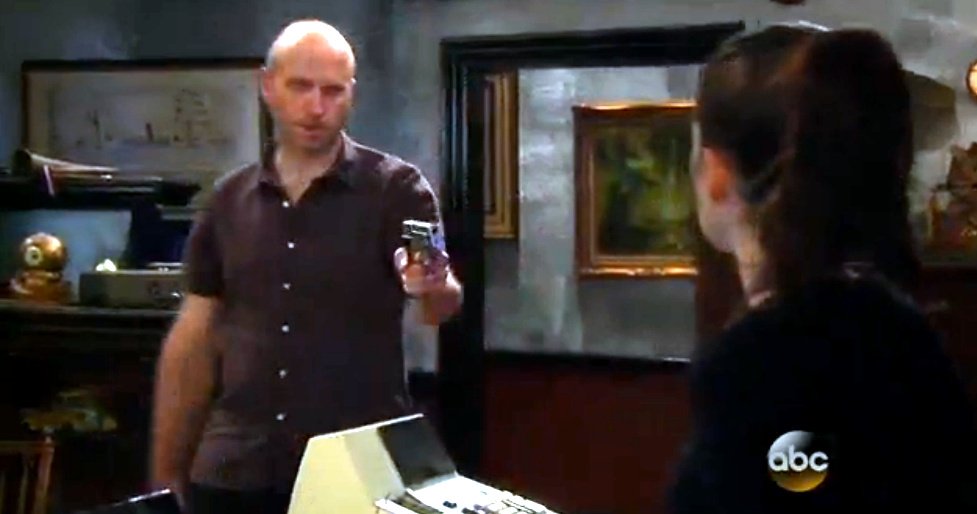 JaSam? Eh.. yawning about how fast they are finding the trail of ol' Nikolas. Seems so formulaic. Sort of like a old episode of Heart To Heart... without the budget. Or sets. Or wardrobe. I am grateful however, they are out of the "want some tequila" at the safe house phase and on the move.
Alexis. OH my Alexis. Wish you could see my face right about now. If she doesn't turn Julian's ass in after them finding the knife with her DNA on it then welp. She had a sick look on her face all during the wedding--and wore it all week. Hated Sonny coming over and getting his butt into the fray. He was just gloating when Alexis was feeling like crap. And anyway, she's "dead to him" so? Why is he even there? to see Jules arrested I guess. (That didn't go very well now did it?) We'll see if Sonny still hates on Alexis now that she's collared for the murder!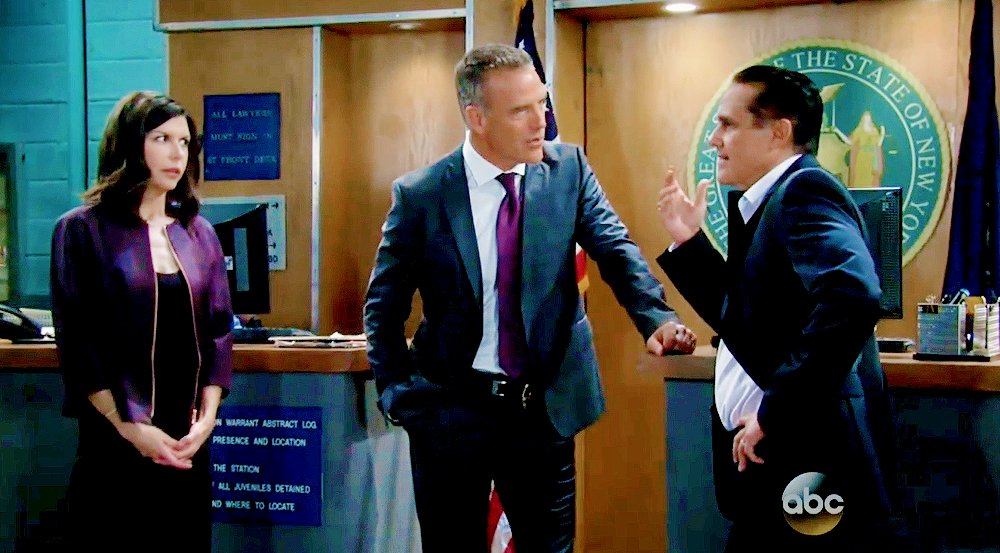 Speaking of SONNY-- um, he's like the daper-Dan town know it all? Hey? Should we let him come in and just hang at the PCPD Graduation? Sure! What about telling him the evidence we have against Julian? Pssshaw, go ahead, he's worthy says Anna. I really need him to start walking around in a beige linen suit though. It's so much more 'summer mobby".
Brucas Wedding. So much for my big blow-out at the Nurses' Ball. No, they were married quietly at the Lake House...to be interrupted by The PCPD searching the place. Oh, and hardly anyone showed up. I'm glad Bobbie was there at least.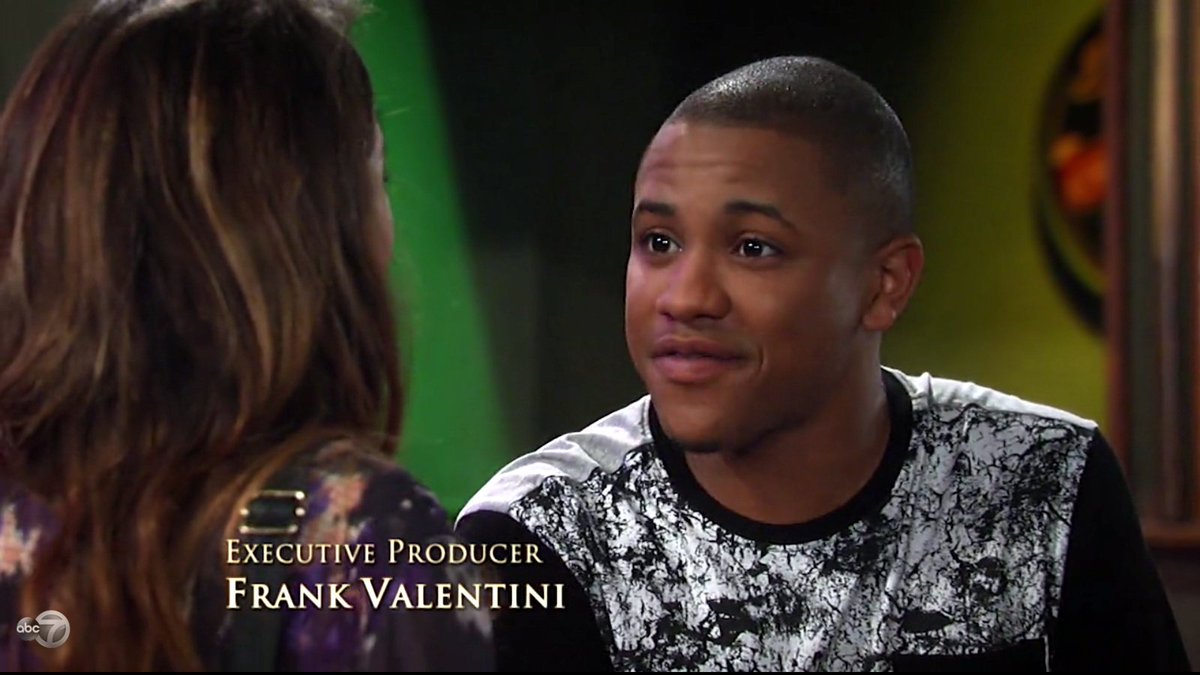 TJ. Oh hi there TJ!! You and Molly want to move in together?! COOL! Let's just burst that bubble with year old information about Sean and Curtis! Seriously do not care. Nope. That train left a LONG time ago and they should have had Jordan and Curtis together talking for the past 6 months. Feels rushed and inserted. Just shove it right in there.
Hayden and Her mama. Sorry I really have nothing to say on this. Just nothing.
Hammy Finn. Dr. O found his needle. (mind out of the gutter--I meant his actual syringe) Monica wanted him to pee in a cup and he refused. The murdering story is soooooo nothing. Like I said 2 old people and almost Lucas. That's not a murder mystery. Get some bodies piled up or kill off someone important. Yes, I love the hospital involvement but you have to write it with some interest to keep me going.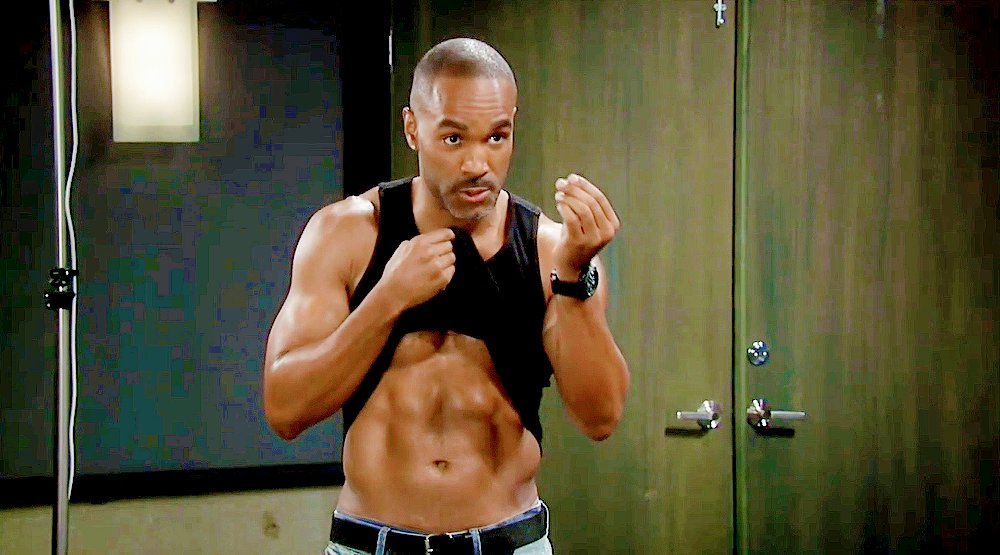 Julian and Nina? Only thing about that scene I liked was Curtis taking his shirt up above his abs. Yes, they have chem but, I miss my Nico.
Felicia was on for a hot minute. Emma set up a dating profile for Anna. Then, she and Mac (unseen) went to take her to California. Maddox came in and gave Anna a weird speech and boy, was he off on his delivery.. EESH..really bad. Awkward and stilted.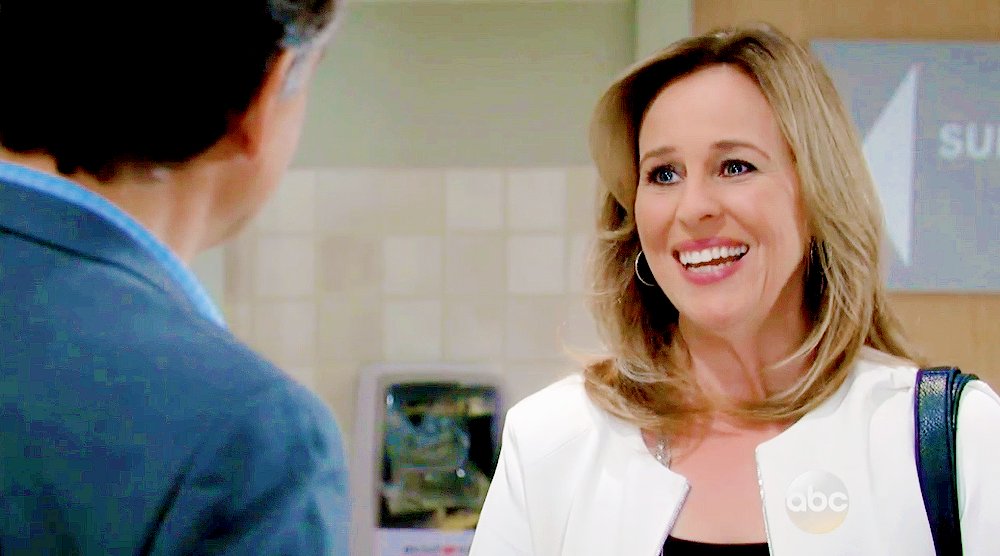 Um..what else happened this week? I can tell you what didn't happen: As far as we know Alexis knows nothing about Nikolas. So stupid --she's his Aunt. Plus, Sam if off on her caper. It's just ridiculous. Kevin and Laura did NOT move forward on the Helena front even though he found out something "interesting". No, they talked to Spencer (who messed up a bit about Nik's disappearance) and sat in the hospital hallway. PS If you are not watching, Spencer does indeed know that Nikolas faked his death.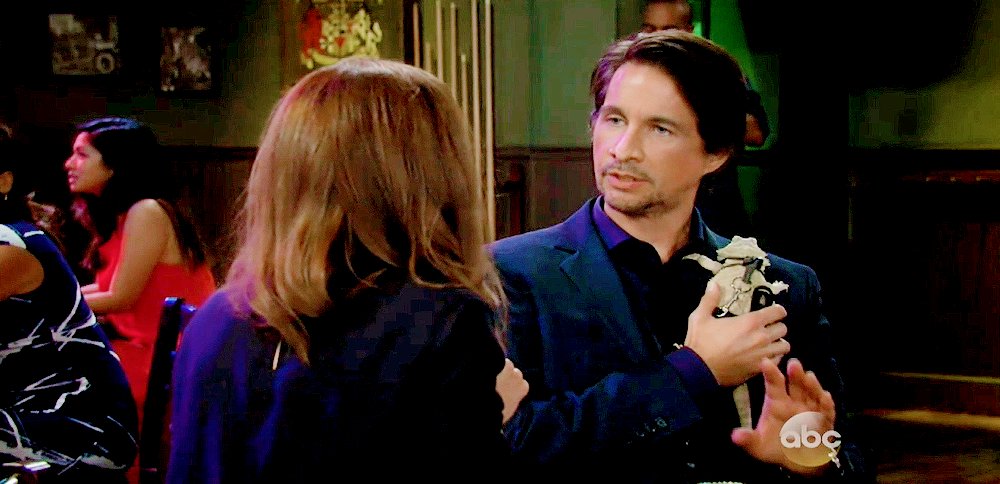 SCENE OF THE WEEK:

I'm going with Hayden and Finn and Roxy. Just because how can you NOT give the scene of the week to booze and a lizard? HOW!? Look at her adorableness up there!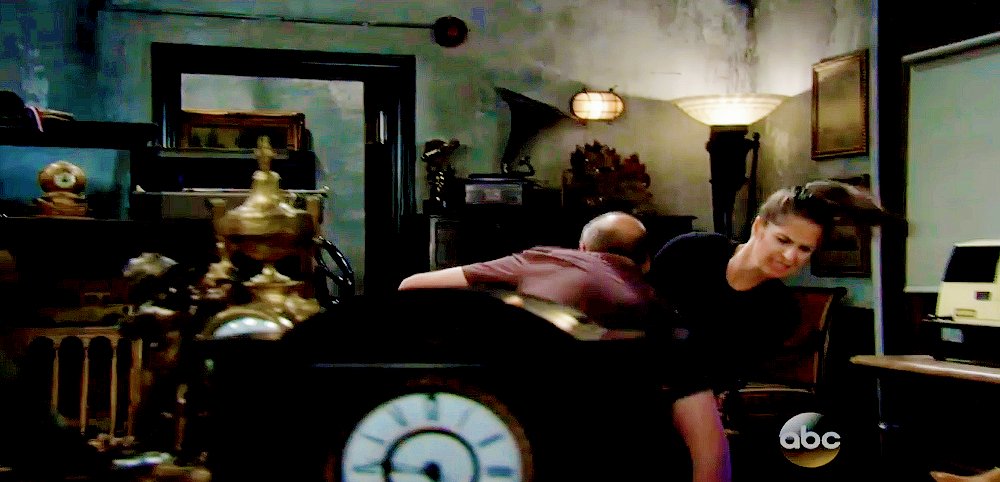 PROPS OF THE WEEK:

ALL the glorious fun stuff in the Pawn Shop. Loved it. Wish I could have walked through it!





FACE OF THE WEEK

: aaahhh, Spinelli. So cute--so you.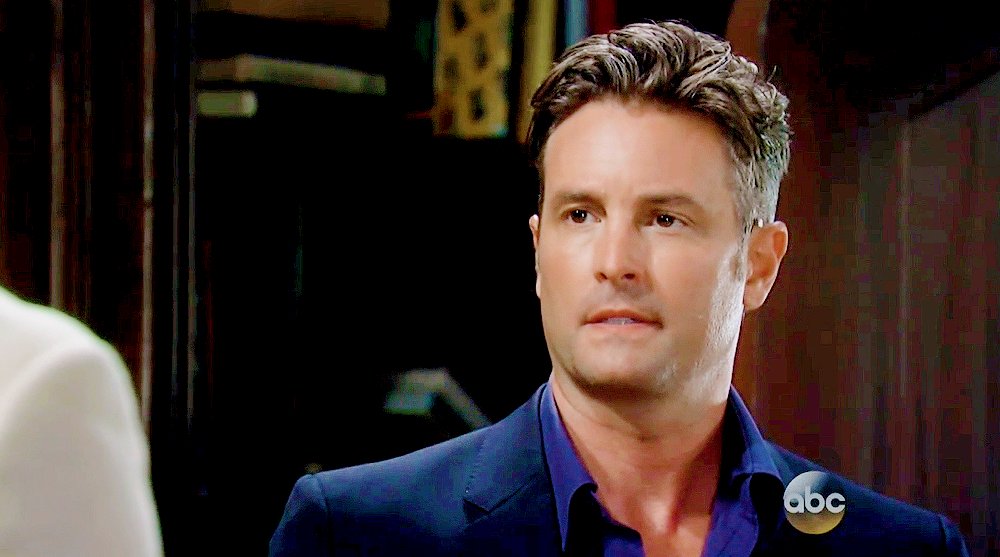 RUNNER UP:

NuNik who I think looks like Sean Kanan a bit

So, that's it. Sorry if it was a bit sketchy but it's the best I could do! I did figure out I don't really get into these "capers" anymore because I saw too many. In 1979 it was a new thing; the 'summer adventure" but over the years? eh..just the same ol' same ol'. SO it's my AGE people LOL. I hope the youngin's are diggin' it!
I'm in the middle of Orange is the New Black binge. My beloved Orphan Black just had it's finale last Thursday. I finished Peaky Blinders as well. "Thirteen" is coming in BBCA Thursdays at 10 and I hear it's pretty good. PLUS I have Unreal on my DVR building up so I can binge that soon! Phew!! Lots to watch.
Have a great Father's Day!
Thanks to: @FyeahGH @daytimespoilers and Lisa V on Fotki for photos ~~