MY SHOW.......MY WAY
Oh it's been a long long week--even though we didn't get a show Monday. Well, not a new show. It was Jason and his Memories. Still as boring as the first day it ran.
Just a very mixed week wasn't it? So many stories, so much dangling. So many WTH moments. Like Maxie suddenly saying Nathan was shot when we all know (and it was said he had head trauma) he was hit in the head with a rock.
But...why quibble at consistency? Hell, I saw a palm tree behind Spencer at that Western New York Park..so.
Let's have Nuts because this is NUTSHELL Surgery today. Meaning VERY SHORT and TO THE POINT.
And we've got the whole Nikolas thing going on. All you really need to know is that Jordan did a really crappy job at the "interrogations" and Sam and Jason basically figured it all out while using post-it-notes in the Safe House. (Nikolas staged everything).

My one shining light was Spencer who was his adorable stiff self, just flying his drone around. That was me; "Whatever, he's either not coming back or he is...yada yada"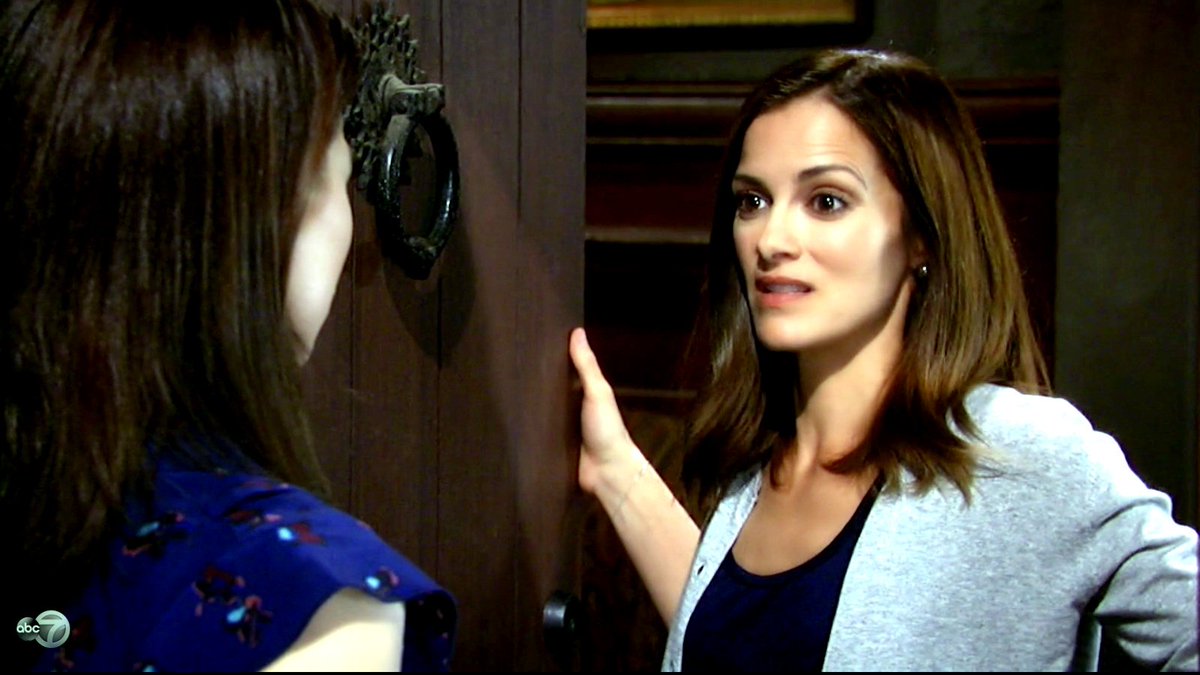 Liz went bitch-wacky at Hayden. Hayden's Mom walked in. Yeah..new character!! (said no one ever).
Nathan woke up. Nathan talked to Griffin because he found out he's a priest and even though he's not Catholic, you know, may as well take advantage. Next week shows the flashback of Nathan shooting in the dark. We know it's Griffin. TempMaxie is coming. Newbie Jessica Buchanan is coming as Claudette. I have no idea how this story is supposed to be good.
Alexis didn't tell Molly about Julian. She went to the hospital in support of him. She did have a sick look on her face while doing it, but hey...it's not like she punched him in the mouth and told him to go to hell. (that was in my head...not on screen).
Lucas woke up after what seemed to the the most stop-start story they have going. Bobbie wasn't even there! She could only tape 2 days so... she needed to go "home". Oh! Dr. Crabby Pants (Dr. Mayes) did show up. He's our prime suspect, so there ya go.
Hayden helped Hammy inject himself. Carly got suspicious. Hamilton Finn has a dead wife. Shocker.
Tracy was a bit out of sorts and uber-nasty (even for her) about Sabrina seeing the baby. Sabrina was arrested by Jordan, btw--- but Jordan "let her go in Michael's care" because she...well, was at the Ball and couldn't be bothered.
Finally, Tracy said Ok to Sabby holding adorable Edward. Who, was ironically named Eduardo by Sabrina. She somehow knew about Eddie Q enough to NAME HER KID after him? Okay.
PS. She calls him "Teddy".
In what was the most painful exchange in decades, Sonny lorded over Ava and relented in letting her see Avery. Why? Oh, well....because see, AJ was able to convince Michael that it was Carly and Sonny that kept them apart (it was). And Michael was suckered into believing it and then hated them for it. Evil, Evil AJ-- who got shot by Sonny because he believed Ava's crazy ass'd lie. (Point blank, while professing his innocence.) But, eh? Who's counting! Sonny and Carly took the "Higher Road" here. They were both so pleased with themselves they needed to sit on the couch to revel in their greatness a bit too.
Both Ava and Alexis being reduced to scared sniveling females is just about all I can take, btw.
These two are interested in a bigger house and an embryo, in that order. Too bad spoilers say something may "tear them apart". Could it be Egg-Mystery #6? The "empty envelope" Hells left her is probably an empty embryo chamber or aka Lulu's womb.
Killon: Still adorbs and NO SIGN of Morgan. (BONUS!!)
Other stuff:
Danny's staying at the Q's for the duration of the JaSam "adventure".
FBI came for Hayden. Found some list Nikolas left. She has to "not leave the area"
Diane showed up, that was fun.
Jordan still dresses very cocktail for her job. I would think wearing white at the station all day would produce a massive dry-cleaning bill as well.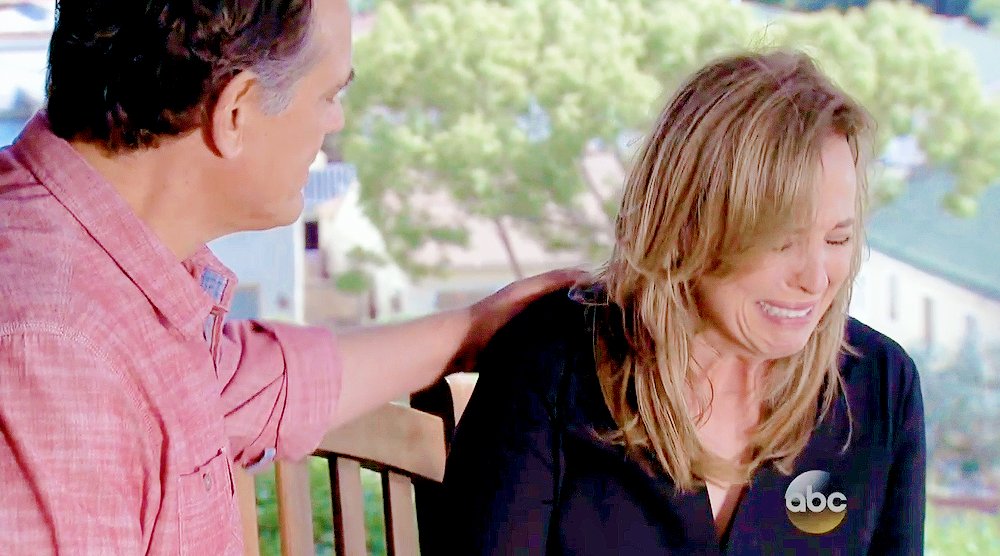 SCENE OF THE WEEK:

Laura breaking down telling Kevin the Nikolas story. Genie is always good.



PROPS OF THE WEEK:

GIVE it up for Romy and Michelle's Post It Notes!!




FACES OF THE WEEK:

Jason. Because you know, they are all the same so it makes it easier on us viewers. Oh, I also checked and every day, he's gotten back into his black T-shirts !! Must have remembered just which Target he went to to buy them. PS. These are indeed, different scenes, different days. :)

So, that's this week. It's getting harder to watch everyday with the good weather here! Is anyone interested in the JaSam adventure? I really am not, and I'm not sure why. The Claudette thing is only interesting to me because of Bree. Now having so many newbies in it, the novelty might be worth watching. :giggle: Hayden's Mom? Um..? Do you think they'll just live in Wyndemere while Nikolas is gone? Liz better get busy moving (she's got 3 boys!) rather than chasing Hayden down. Quick: What did Sonny ask Ric to do? :) Had me stumped for a min too!
Have a good one!