So... whatever...Griffin got shot by Nate just the way we thought he did. Maxie gets mad and goes to stay at her Parents. Wherever that is.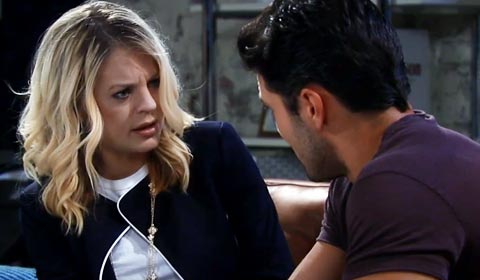 Hayden's mom is a stereotypical soap mom if I ever did hear/see one. Wow. I give NO F's on this. Hayden says "do you know Liz Webber"?? She clutches her pearls.

RUMOR

has it she's her mother (eyeroll). With that reaction, probably true.
Jordan is at the hospital to talk with the staff about Lucas' injector . I missed the first half but I think he "saw a doctor"?? Not sure what he said. Jordan tells Monica that he's wanted for murder. Um, how can they do that? With no body and he's only been missing like a day? Plus it's only the timeline that is any evidence. Just weird.
Jason and Sam think he used a dummy body. So, maybe we didn't really SEE Nikolas...it was just a ruse for our own viewing pleasure. ????????? Jason answers his phone in the safe house. gee.. I hope it was on airplane mode? Monica warns him. Monica wants Hammy Finn to take a drug test.
Lucas and Brad ARE gonna get married.