Laura makes dinner for Ryan... and has on a nice outfit for once...I loved her leopard cami.. Ryan knew all about the wedding/Leslie coming and the blizzard. She wants to dance. HE gives her a "LOOK"...she says "what have you done with my husband" . He makes up an excuse he has to leave.
Charlotte visits Gram with Lulu. She gets a doll but says she's too old. Luckily, Laura brought her a book too. Some french thing. Lulu whines about Dante
Ryan and Kevin together in Ferncliff. Good stuff. He makes Kevin think he's sleeping with Laura lol.
Drew and Franco talking on the docks about Harvey.. and making them swim. They talk about Oscar. Drew wants to get his memories back to help Oscar. He tells Franco that he would have to turn in Jason and Sonny to get them back. "Would you do it"?? He asks. WHY the hell wouldn't Drew just go to the WSB and say: "Um, DA chick has my memories on a stick"??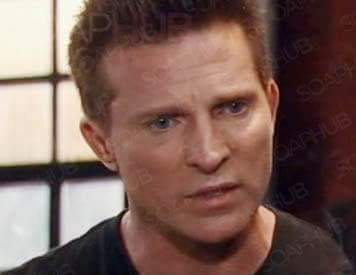 Jason finds out that Marino was really 'dirty"... like that should matter. He bought a house in the Hamptons. Jason wants to know why Scully picked a kid to kill Marino.
Courthouse. Nelle messes up and says to the baby "You've grown a lot since I last saw you"..Carly jumps in: HOW DO YOU EVEN KNOW THAT? huh?? Nelle says she saw it on the internet. Then Carly gets mad she gets computer access in jail!! ahahahaa. So Nelle pleaded no contest. Gets the max.
Liz and Sam (I still would love them as a couple). ..Liz wants to talk about Drew. She says that Oscar is pulling away from his friends yada yada.. and Drew is upset. Then Sam says Drew came over when Jason was there. Liz does NOT approve. Sam says none of your biz. Liz says that people get trampled. They argue. Liz wants to get along for "Drew's sake". They are going to make amends to do that.
SPENCER is on TOMORROW!