Carly's being bitchy to Ava. So's Jason. She said "I helped you escape"!! Carly says, yeah with a paperclip!! Jason also said he payed her back by getting her face fixed. Jason leaves. Carly's egging Ava on about Griffin sleeping with her daughter. Then she tells her she can't have Avery 'tomorrow' because she's going to be with her Family. (Sneer). OMG, Ava needs to knock Carly the hell out!!
Tomorrow is the Anniversary of MORGAN'S DEATH (god help us) and they are having a memorial and Avery's going. Carly then tells Ava she's going to tell Avery as soon as she's old enough how her mother killed Morgan. UGH.
Griffin and Peter in the gym. Whatever. Peter leaves, Kiki comes in. Looks at Griffin. Griffin looks at Kiki. Kiki tells him she really did want to sleep with him and she wants him--even now. Um, where did this come from? She's all of a sudden hot for Griffin? Okay then! They make out and decide to take it where it leads.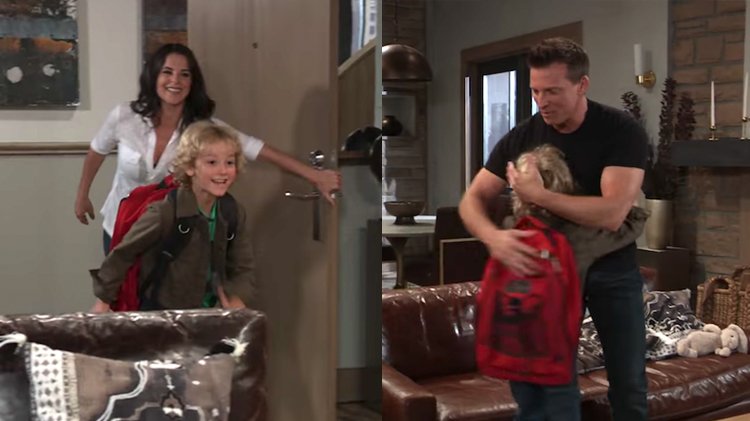 SO, Danny saw Jason. Danny made a family book in school. Yawn.
Felicia and Ryan in his office. She's going on and on about what a horrible person Ryan was. She also reminds him that "HE" had a breakdown after Ryan died. Ryan is all: HMmmmmmmm/ Oh, yeah, that breakdown lol She wants to write a press release together and he wanted to tell the 'whole story'. She says "Oh you thought he could have been rehabilitated, didn't you?? Well, he was evil". So Ryan says they can get together and write the press release. All with a murderous glint in the eye.

Ava comes in later. She tells Dr. Collins she has to talk about the rage she feels. She's tried to be a good person--- but people only judge her on her past. Now she's filled with rage, rage she needs to get rid of and make Kiki and Griffin hate her as much as she hates them. Ryan is loving this! "The way you described your rage was masterful". Ryan says she's really fearful and uses her rage as a force-field. He asks her about why she would want to protect herself. She tells him about a nightmare where Avery sees her "as she really is"... scarred, evil. She's so happy that Ryan doesn't lecture her about her revenge fantasies. She loved her session! Wants more!
Nina telling Maxie she has a daughter. Maxie goes on and on. Like she hasn't heard this story before from 10 other Port Charles residents over the years. OMG then Nina asks PETER his advice about bio-mothers etc. Why is she talking to that scum ?? UGH
Nina calls Sasha and leaves a message "I'm your biological mother"!!
Finn, ChaseFord and Daddy. What's wrong with Dad? I'm saying Lyme Disease since it responds to antibiotics. We'll see if I'm right. Finn won't have dinner with Dad and Chase. Chase is like "It's just a steak"!! Later, Dad is waiting for "Hamilton" (Giggle) he said he wants to patch things up. Finn shouldn't be mad that he moved on after his mother died. Finn moved on after his wife died.
Finn gave Dad a prescription "here, this should take care of that'. UM, WHAT? No diagnosis? WTF. Well, that was ..weird.
I BET: Ryan is going to kill Kiki "For" Ava... heh.