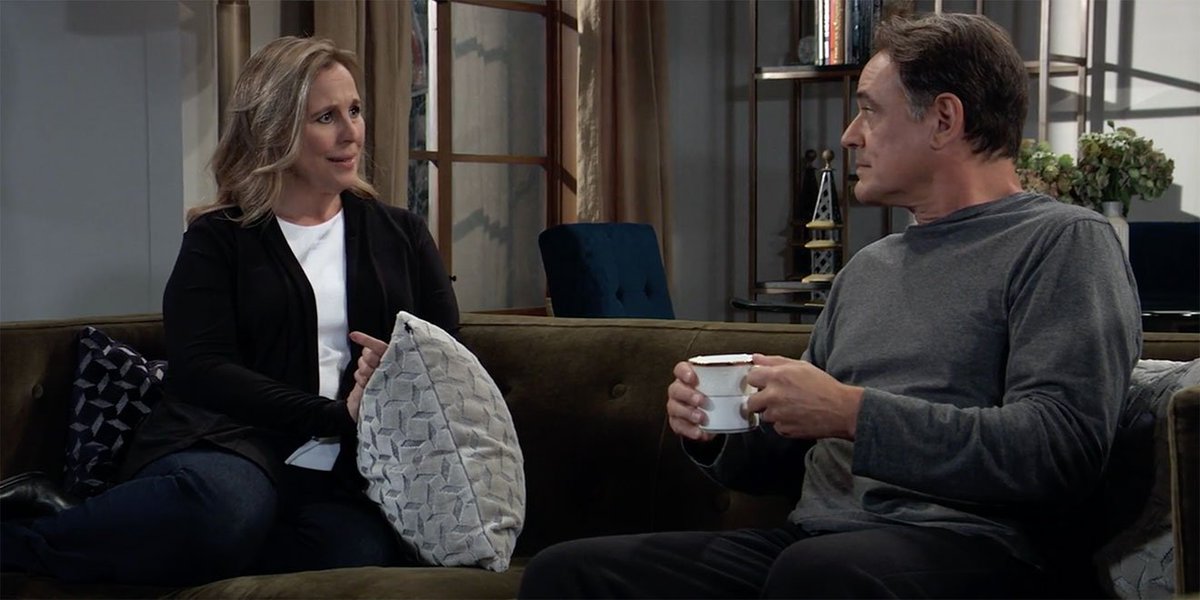 Ryan's trying to keep "Handsy" Laura off him.. "I have a cold"--- "you should go see people, they missed you". He about ran out the door to get to GH. Lulu comes to see Laura and talk about missing Dante. She said that Spencer sends hilarious Snap Chats to Charlotte and Rocco.
Nina and Maxie talking about Dr. O being captured. Nina's looking at Sasha's photo.Nina then talks to Curtis about her. Shows him her necklace. He gets a phone call about the 2nd DNA test.
Felicia wants to take a trip now to get away from Port Charles during the Chamberlain fest. Maxie says they'll take a trip but in 'awhile". Oh she'll regret that!
Kim and Drew tell Monica that Oscar has cancer. She says they'll fight it.
Oscar offers his paper to Cam and tells him he has Cancer. Cam says to tell Josslyn. NOW. Oscar says NOPE.
Carly and Joss talking about Oscar. She doesn't know why he broke up with her. Carly's giving her a pep talk about it and telling her to be strong. She's staying home from school. Later she calls Cam to stop by. Says Oscar dumped her... he's like: really?!! She wants to know why.
NOTE: A REAL old-timey soap would have Cameron totally take advantage of Josslyn's distress. HE WOULD. That's what SOAP TEENS DO.
Josslyn knows Cam knows. She wants answers.
STUPID FEMA TEST..it froze on my TV and I had to reboot.
Carly wants to meet with Ryan..he grumbles at her, then apologizes. Carly wants to talk to Kim about Oscar and Joss.
Felicia: Can I talk to you Kevin?? Ryan: HELL YA!! LOL He takes her into his office. Squee! Ryan pretending to be Kevin around Felicia? I'm so here for this!!
NEWS: Hayley Erin is leaving GH due to her pilot getting picked up on FreeForm. Ergo, bye Kiki. Will she be the one Ryan kills?? Hmmm...