Ned is leaving ELQ-- and running for mayor. Hmmmm, ok. that might be interesting. Olivia is glad he's out of ELQ.

So, this new character? The guy from BJ and the Bear? Oh, he's James someone-- he seems to be buying up Charles' Street.
WHY does ALEXIS KEEP GOING TO JULIAN'S PUB?
Alexis tells Molly that she can't go all out after the landlord. Molly is confused. I'm confused. Something about Curtis? I must have missed that day.

Laura and Liz-- nice to have them have some coffee together. Laura explains why she loves Kevin. Tells Liz sometimes you just has to "go for it". Liz smiles.

Laura goes to The PUB and sees Jim Harvey (the guy buying up property). She sits to talk about the redevelopment project with him. Laura wants to know how the redevelopment will help families and kids. He won't compromise..he thinks the neighborhood will reach his full potential. She's like Nope.

Kevin stops in Franco's office. They talk about Kevin's rage-brother-twin Ryan. Kevin analyzes Franco's painting. He sees "peace" in the painting. That damn painting has been dragged around more than the egg salad one!

Franco comes home. Liz wants to set a wedding date. He says let's do it! She wonders about Feb-- and then Franco starts chugging milk, strangely and then has to go get more at the store. I think he's trying to get out of the house?
Carly and Michael...Carly told him Nelle's working at Ava's gallery. Carly thinks she's going to be influenced by Ava. (to be more devious). Michael says he has to play along with Nell, and make her think she's going to win him over. Michael knows what it's like to be in a tug of war as a baby/kid. He doesn't want that.

Michael goes to Ned's table and tells him that the company strength comes from being a family. Michael is sorry if he didn't respect Ned enough. Ned thinks that means Michael wants to do the Charles Street project. He says NOPE, I wanted you to run the South American division. Ned is like: SOUTH AMERICA?? Ned is like, are you scared of me?? Is that why you want me to work in the boonies? Do you think it will be obvious if I stay here everyone would know I should be running the company, not you?? Ned won't go back. Olivia says he should run for mayor. Ned is thinking of it.

Carly and Olivia talk,. Olivia is #TeamCarly when it comes to Nell. Olivia's like, I'm down to get that bitch lol.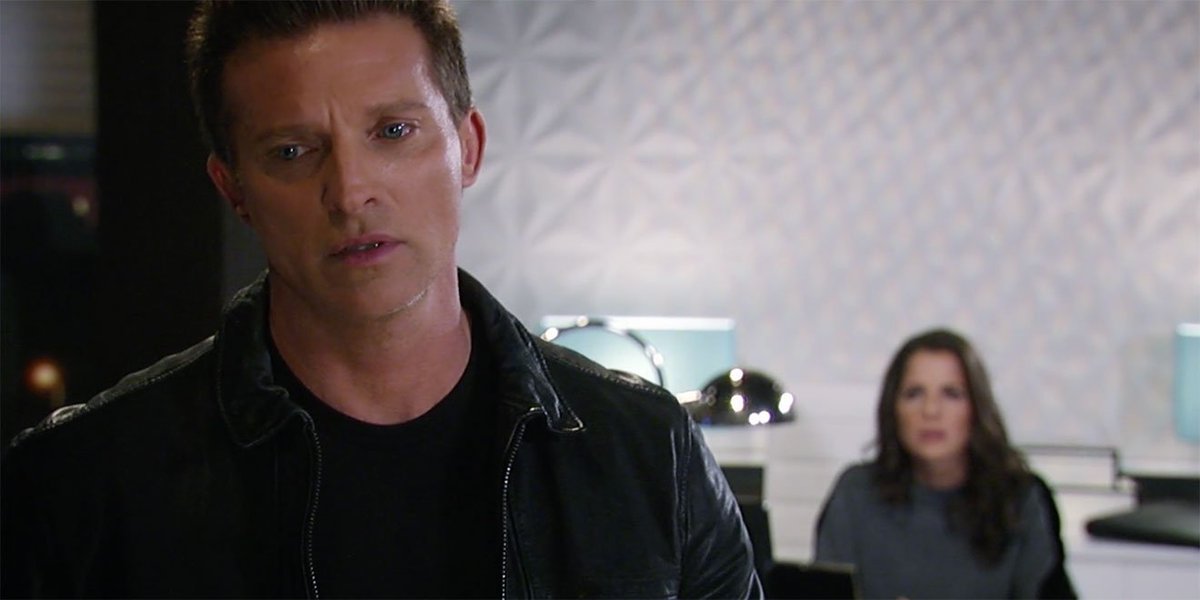 Jason and Sam are still technically married. Sam needs a divorce from Jason--he says ok. "It's really important to me and my family"-- Jason says he gets it and draw the papers up and he'll sign them. They have to have a reason for the divorce in the state of NY even if it's uncontested. They look through the reasons and don't find a good one at first. She apologizes for New Year's Eve kiss. They wouldn't change the past though, and aren't regretting they got married. Jason just wants to make Sam happy. If divorcing her will make her happy, he'll do it. Sam says Jason made her really happy back then and he helped her be "whole". Jason said he couldn't give Sam the life she wanted (Baby, stable family).
They choose 'irreconcilable differences" for the divorce reason. "Because I love you and you love him". Jason leaves.

Jason goes to the Metro-- and Carly just blabbers to Jason about Nelle and on and on. Carly's like WAIT: You were WITH SAM at her office right? Jason says: Yep, but she wants a divorce.

Sam calls Alexis in to do the divorce for her. Then she pops out with "We kissed on New Years, Mom"!! It was like being transported to the past--we have to let go now. Alexis thinks Sam shouldn't do anything (like Marrying Drew) right away until she's thought about things and knows what she wants. Sam says she does love Drew and knows it so Alexis says "let's get you that divorce'!
SO James Harvey knew Bobby Frank when he was a kid.... Franco comes back. "Bobby Frank, Man have you grown". He says Franco is all @@

UPSHOT: Both Ned and Laura agree to run for Mayor. Wonder who's GOP and who's DEM? LOL LET ME GUESS....hmmmm..