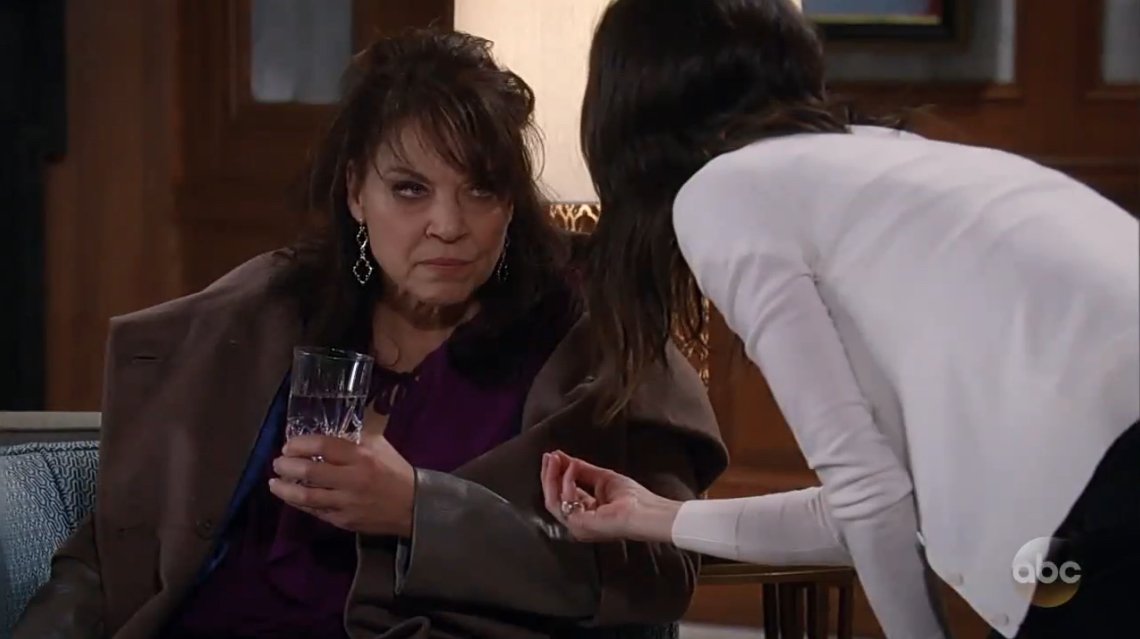 Anna opens the door--OBRECT'S DOWN!! OMG she's drunk..she took an Uber over. She's looking for Faison. She thinks Anna has him. Then she says Faison is going to get Nathan, then kill her. (and Anna too). She tells Anna about Faison's other son--"Heimrick" (so German!) and that Faison put him in boarding school..and the only person Faison ever wanted a son with was Anna.
Sam has her dress, they are going to be married! They need flowers. All kissy.
Sonny tells Jason that Sam will always love him, and he'll always love her.
Jason goes to Sam's place--really quick in a weird edit thing. Oh he went to tell them about Faison being close to being captured. Sam says they might take the kids on the trip to keep them safe. Later, Drew books their honeymoon to Tahiti...they are taking the kids. He doesn't care what Fiason has to say about his past, he only wants his future with Sam.
Laura's taking down her mayor posters. It's SPENCER'S FAULT!! lol... Not sure why? But she has to go see him. Valentin wants her hospital board seat as well. Oh, Spencer broke both his legs and Laura is going to France to be with him Six weeks. Must be Genie needs a vacation? Anyway, she wants Kevin to run in her place. Kevin is like NO WAY--plus "my serial killer brother" would derail that idea.
Kim and Jason are at the bar together. She's freaked out about how Jason looks-- and says that Drew was a lot different from him. Drew was cocky and had a swagger. She finds out that Drew and Sam are getting married. Julian comes in and tells Kim that Jason is a mob killer.
END: Obrect gets knocked out when she walks out of Anna's house--it's "Faison". We can tell by the ciggs.
SAM GOES TO SIT DOWN and get ready and FLASHES BACK TO HER WEDDING TO JASON!! Whoosh!!