Carly and Joss--with the Mad Hatter Ball...Carly thinks Joss is growing up so fast. Josslyn is going to be a great character. Well, IS a great character. Now just get another guy interested in her besides too nice Oscar.
Oscar is all weird ....he loved the book but he's all nervous. He doesn't ask her to the ball and she gets pissy and throws him out. BUT!! He comes to the front door with a Mad Hatter hat on and asks her to go. Awww..
Joss is being a perfect snotty teen girl --well, I think so anyway.
Carly is walking around in some red cocktail dress. In the middle of a winter day--while not even working. *sigh*
Jason and Sonny go to Anna about Faison's son. Nathan and his OTHER son. Anna knows someone who could have been carrying Faison's other child. She says Desire--and she's dead. Anna says she'll tell the WSB-- and leave this ALONE. She's adamant they leave it be. There's a lot more she's not saying, says Sonny.
Jason thinks Anna's right-- "answers aren't going to change anything".
Sam and Drew talking about his past. They decide to get married at city hall--today. They get everything together to go and get it done and then Drew says "we've got a problem" --they can't get married until 24 hours after the license is issued. Then, Sam finds out she's still married to Jason. She asks him to come over.
Jason goes over to Sam's office. Previews show her asking for a divorce tomorrow.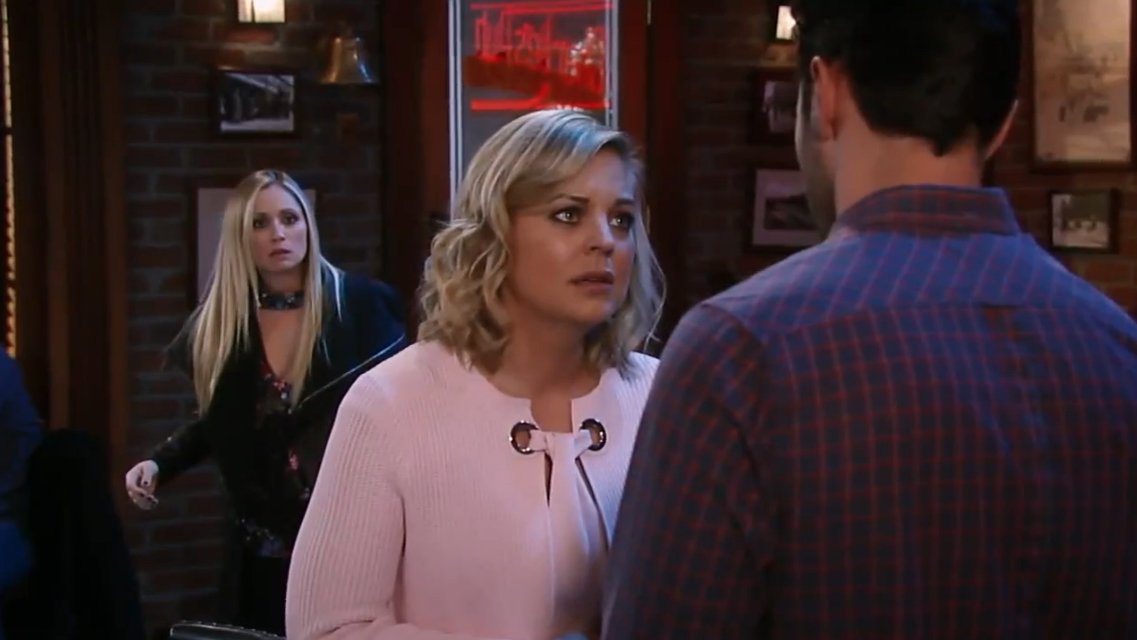 Lulu finds out Nathan is Faison's son. All she wants to do is interview Faison and Maxie is like "you're nuts"!! Maxie is being all cool around Nate saying nothing's wrong-- and then to Lulu she's like: OH MY GOD, I'm TERRIFIED!! Lulu says that Nathan isn't a psycho, so why should her baby be?
Finn wants to leave the hospital to find out what happened to Cassandra. He thinks he stabbed her with the needle. He wants to tell the police he drugged her. Anna says no, it was self defense yada yada. Jordan actually shows up at Finn's hospital room after Anna leaves. She looks really gorgeous today. Finn almost tells her but Anna comes back and Jordan says "they know who drugged Cassandra". Her accomplice Eric did it (he confessed). So I guess Finn was too out of it to know that happened. Anna wants Finn to stay at her house so she can keep an eye on him.
Then, Maxie charges into Sonny's office---she needs him to SWEAR TO HER that he's not going to tell anyone about this. (whoops, already did!!) And geesh, Nathan is blabbing it all over lol. Bob the Badger looks on. Sonny says "Anna Knows"?? What's going to happen?
KS kinda looks PG doesn't she? I don't know--and ...not saying but..hmmmm.
I was totally off grid most of yesterday--social media is wearing on me. So badly. I'm just so done with so much. Guess it's just a lull for me. I feel like screaming at everyone on Facebook to just STFU lol. At least I'm ok with the blog (so far). I didn't even watch the GG last night even tho Franco was on with Tommy!! I just went to bed. Oh well..boo.