Laura tells Liz NOT to have Franco sell his studio. Meanwhile, James is trying to buy the place from Franco.
Liz goes over to the studio and tells Franco not to sell to him. Then, she gets a phone call about her wedding dress. She goes out in the hall.
Franco asks James about when he was seeing his mother--"Did you see another little boy there too"?? Can James be that OLD?? Huh??
Did he abuse the boys and that's why he's interested in Andy? Hmm??
Molly and TJ kicked out of their apt. Kiki feels badly. FINALLY KIKI AND TJ! YES.
All of the tenants in the apt building have been evacuated --the landlord let it go to ruin, now will sell it. Then the new company will come in, fix them up and make the rents sky high. And--this is THE TRUTH not a political statement, --Trump did this to numerous buildings in NYC. In Fact, this is how many real estate business men operate. Laura is mad at Ned --they are all in Julian's Pub right now.
Why does Molly even go there if she hates Jules so much?? WHY??
Julian tells "Ted" he's privileged and has no idea what it's like to pay rent. Alexis is impressed.
Ned tells Julian to STFU because he doesn't even PAY TAXES-- he's in the mob! And...he knows he's just trying to impress Alexis who "you held a knife to"-- oh GO NEDLY!! Remember the Gatekeepers? He still sticks up for Alexis.
Laura gets a phone call, says "OMG is it bad" ?? Tells Alexis that she has to withdraw from the race but doesn't say why. (probably will Monday).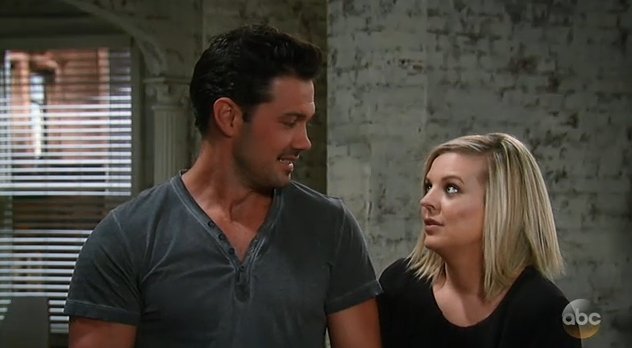 Maxie and Lulu make up and hug. Dante says they have a ton of security.
Meanwhile, we see "Faison's" head and hands. Only it's way too tan and big to be Anders. Just sayin, Maxie thinks she sees Faison go into an apt building opposite their's. It's the new super....with AN AWFUL wig. geesh! Lulu and Dante brought Naxie some wedding cake to eat in celebration of their anniversary.
The "Other Faison" is still being shown (only hands/hair) going through Pictures of Anna, Nathan-yada yada. Circles Maxie's pic and gets mad.