THORAD condoms makes me think of NORAD lol... Carly sees Bobbie at GH and shows her Joss' condom box.
Josslyn and Oscar talk at Kelly's "you sure you wanna do this"?? "I think so..."
*PREDICTION: They aren't going to have sex at all. Those condoms are probably for sex ed or something. (they look ancient don't they? LOL) You know, Three's Company type misunderstanding.
Carly tells Kim about the condoms. Kim is like: eh, at least they are being careful"== Carly freaks out, says Oscar is the one doing it and Kim is like How you know it's not JOSS?
Finn and Anna--Anna was seen for her blood issues. She's getting "back to Normal" . They say goodbye (seems like for good). Go their separate ways. Awww.
Charlie's PUB: Diane and Alexis go to lunch. Kim and Jules are still flirting. GREAT lines between Diane and Ava!! Alexis has the menu upside down too because she's so busy staring at Jules!! She and Diane leave. Ava and Jules talk about the brick in the window. THE BRICK.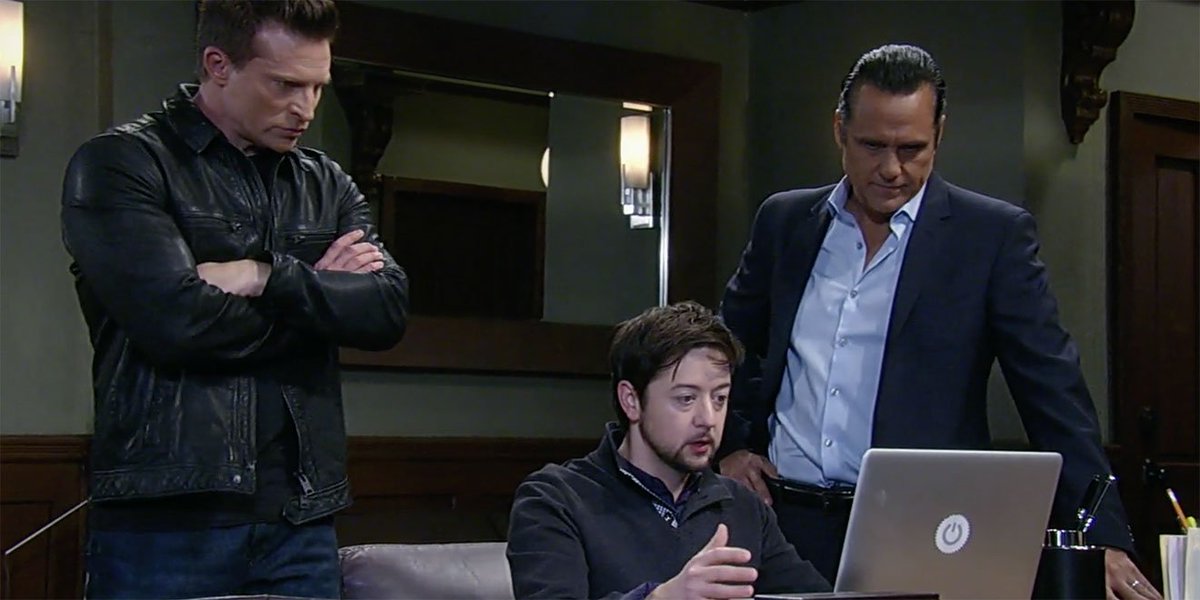 The "Traitor" answers Spinelli's email--"Who's this"? It says.... Spin types "I know you, you're Faison's son." Spin finds out that the Faison story has gone viral and is worried about Maxie, he runs out.
Maxie's all hysterical over Faison. Lulu says it's gone viral. Everyone knows. Maxie is pissed at Lulu. I swear her belly has gotten bigger since Friday lol. Maxie starts having pains..she goes to GH and yells at Lulu to stay behind. Haven't you done enough?? Lulu cries. Then Pete August HUGS HER (ugh. she'd better not have a damn affair with that noodle) -Spinelli runs in and says..hey..they stop the embrace. Spinelli and Lulu talk--he's not happy with her spilling the story either.

Maxie and Baby are ok. Kim tells her to get rest, NO STRESS.
Later, Anna is boxing at Sonny's gym..Felicia walks in. They talk about Nathan being Faison's Son and that he has another son. Anna is protecting Finn from Faison if he comes back, btw. Both KW and FH look GREAT by the way. I need to eat what they are and not what I am! LOL.
NICE twist!! Finn and Alexis go to the same AA meetings! WOW--what a great idea. That's perfect to get other characters interacting. Good to have new friends created. Anyway, Finn wants to spill to Alexis and Alexis tells him to give her a donut. He does and she says she's now her lawyer. They talk about their lives. He tells her about his wife and Hayden. He asks about Alexis and she says she's addicted to a "person" she can't let go of. That makes her make bad decisions but she still loves him. Good scenes.
NOTE: there was a Diane/Sonny/Jason scene. We found out Jason has a LOT of money offshore and that she thinks Sam still loves him. ("You don't need to be a lawyer to see that")
son.